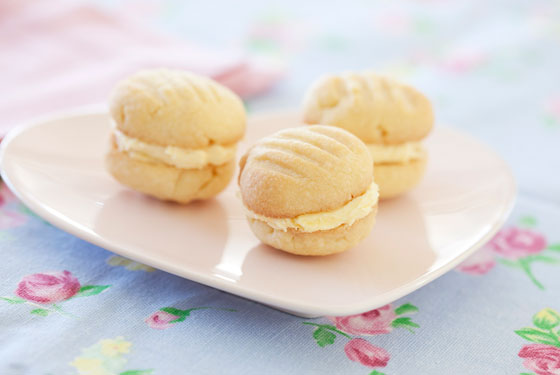 Makes 16
185g butter
1/2 cup icing sugar
1 teaspoon vanilla extract
1 1/3 cups flour
1 teaspoon baking powder
1/2 cup cornflour
25g butter, melted
3/4 cup icing sugar
hot water
Method
Preheat oven to 160 C.  Beat butter and sugar until pale and cream and then add vanilla and combined flour, baking powder and cornflour.  Mix well.
Roll mixture into small balls and place on a cold greased or lined tray.  Press with a fork dusted with flour.
Bake for 15 minutes until biscuits are firm but still pale. Cool on a wire rack .
Mix together butter, icing sugar and enough hot water to make a thick icing.  Spread half of the cooled biscuits with icing and then sandwich together into pairs.