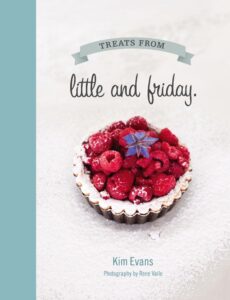 Just when cafes were starting to get a bit of sameness about them – think Belgium biscuits and raw energy slice, along comes one (well actually two) that stand unique in home baked goodness and in particular their buttery light pastries and "drive out of your way" donuts.
Little and Friday, like all good stories started from humble beginnings.  Kim Evans was looking for a way to earn a living from her pastry making and started baking at a small commercial kitchen in Takapuna  (Auckland) each Friday to sell at the weekend markets.  The aroma of brioche, donuts and cheese straws wafted out and very soon there were knocks at the door from those wanted a taste of Kim's wares.   From this a cafe was born, followed by a second in Newmarket.
With a background in arts – Kim studied at art school in Sydney – it is only natural that Little and Friday have the x factor in attention to detail.  While the tall glass vases on the rustic communal tables may contain flowers they make also be stacked with chocolate chip cookies.  Old fashioned glass milk bottles are filled with not just water but a cinnamon quill and mint as well – very refreshing.   There are many other touches that make Little and Friday quirky and interesting but you may just have to go and find out for yourselves or buy yourself a copy of Kim's book Treats from Little and Friday.
As soon as I opened the pretty padded cover, I knew I was going to like Kim (interviewing her on radio confirmed it). Anyone generous enough to share the recipes she is earning a livelihood from is a good sort.  Cream donuts, chocolate brioche, baci cakes, Eccles cakes, cheese straws…. all of the Little & Friday favourites are here.  Each recipe has an image along with snaps of Cafe life.  While Kim and her team make pretty much everything from scratch you can of course buy your pastry and take a few shortcuts if needed.
While the sweet stuff are extraordinary there are also recipes for savoury tarts & pies, doughs and the very important finishes & fillings.
Little & Friday would of course make a  lovely gift but I like the thought of having my own copy to absorb in a cosy spot over an afternoon or two.
I am off to the kitchen now to master donuts to surprise the kids for afternoon tea!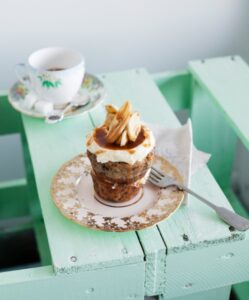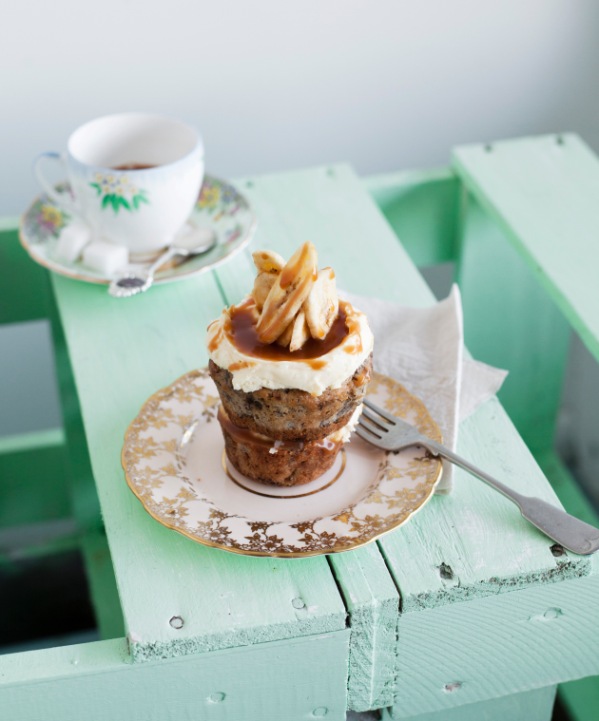 Banana Cakes
This is our interpretation of the Edmonds Cookbook Banana Cake. We make it as a double-layer cake sandwiched together with gooey caramel and mascarpone.
2 cups flour
1 tsp baking powder
pinch of salt
125g unsalted butter, softened
¾ cup caster sugar
2 eggs
3 cups mashed banana
1 tsp baking soda
4 tbsp hot milk
1 cup walnuts
To assemble
½ cup Caramel
¼ cup mascarpone
1 recipe Cream Cheese Icing
chopped walnuts or banana chips, to decorate
Makes 12 small cakes or one 23cm double-layer cake
1. Preheat oven to 160ºC. Grease two 6-holeTexasmuffin trays or two 23cm cake tins and line the bottom and sides with baking paper cut to fit exactly.
2. Sift flour, baking powder and salt into a bowl and set aside.
3. Using an electric mixer, beat the butter on a low speed until light and creamy.
4. Slowly add sugar and continue to beat on low speed until light in colour and fluffy.
5. Add eggs one at a time, mixing well after each addition, and making sure to incorporate each egg before adding the next. Stop the mixer and scrape down the sides of the bowl with a spatula. With the mixer on low speed add the banana.
6. Dissolve baking soda in hot milk.
7. Fold flour mixture and milk into the banana mixture in three equal measures. Lastly, fold in walnuts.
8. Divide mixture evenly between prepared cake tins and bake for 20–25 minutes for small cakes or 45 minutes for large cakes, or until the tops spring back when touched lightly and a skewer comes out clean when inserted into the middle.
9. Let cakes cool completely in tins before turning out.
10. If making small cakes, carefully cut them in half horizontally. To assemble the cakes, spread Caramel over bottom layer, then spread a thin layer of mascarpone over the top. Place second cake layer on top. Spread with a thick layer of Cream Cheese Icing. Drizzle with extra Caramel and decorate with walnuts or banana chips.

Kitchen Notes Place in an airtight container and store in a cool place (not the refrigerator) for up to three days. The banana flavour gets better with age at room temperature.

Caramel
2 cups caster sugar
600ml cream
Makes 3 cups
1. Place sugar in a small saucepan and just cover with water to achieve a wet sand consistency.
2. Bring to the boil but do not stir. Using a wet pastry brush, clean down sides of saucepan to remove any stray sugar crystals.
3. Continue to boil until the sugar turns amber. At this point, quickly remove from heat.
4. In a small saucepan, heat cream to boiling point. Gradually add this to caramelised sugar, stirring constantly to achieve a smooth consistency. This may take a while but it will eventually combine.
Kitchen Notes Timing is paramount with Caramel. Both the cream and the sugar need to be really hot when they are combined.
Cream Cheese Icing
Makes 3½ cups
125g unsalted butter, softened and cubed
500g cream cheese, cubed
1 cup icing sugar, sifted
1. Thoroughly cream butter in an electric mixer on high speed, continuously scraping down sides of bowl.
2. Soften cream cheese by squeezing through your fingers and add to butter. Continue beating on high until there are no lumps, scraping down sides of bowl frequently.
3. Turn mixer to slow speed and add sifted icing sugar. When icing sugar is fully integrated, turn up speed and beat until mixture is smooth. Refrigerate in an airtight container for up to 2 weeks.
Reproduced with permission from Treats from Little and Friday by Kim Evans. Published by Penguin Group NZ. RRP $44.99. Copyright © Kim Evans, 2012.
 To win one of 3 copies of Treats from Little and Friday email your name and address to [email protected] with Little and Friday in the subject line.
Competition closes May 30th 2012.