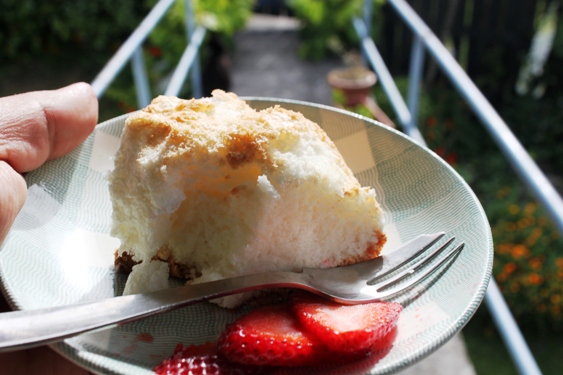 Virgil Evetts
I'm not really a cakey sort of guy. Never have been.  Well, there are exceptions: I like a plain sponge, ultra fresh, smelling of butter and duckling-yellow from so many free-range eggs; Black Forest cake too -made the traditional way with suet and buttermilk- has been known to rouse my interests. But really, there is only space for one cake in my heart. Only one that truly makes me swoon- the delectable, impossible and quite confounding, Angel Food cake.
Although some of the greatest travesties of the culinary world have emerged from the United States in recent decades (aerosol cheese anyone?), not so long ago the country was known for some very fine food traditions indeed.  Many of the most revered cakes, cookies and sweet pastries of all time emerged during the golden age of American baking- that being the 1920s though to the late 50s.  During this era the nation's Dutch, German, Italian and Swedish communities delivered up some true miracles of kitchen chemistry, wonderful things, and excessive, outlandish, superlative things. But none, to my mind was ever greater than the Angel Food cake.
Despite my consuming love of the Angel Food, I had never, until very recently, attempted one myself – it was always the express domain of my mother, not a cake for the occasional baker like me. I'd look at her recipe from time to time, hoping greed would see me though, but inevitably I'd throw my hands in the air. Too fiddly, too many eggs, too much risk of failure. So on occasion, when the mood took me, I'd call mum and ask if she fancied making me an Angel Food.
But sooner or later we all have to confront our demons…or angels as it were.  With my hens in full laying mode, and a growing surfeit of eggs, I decided to finally tackle the fluffy minx (i.e. the cake, not my mother). So I sat down and read the recipe over and over, until I understood not the just the method but the reasoning behind it.
I'm being presumptuous though.  On this side of the world, and in this far-removed time, many people may have heard of Angel Food cake but, few have ever eaten one- let alone made one. Recipes are scarce in modern food books, and are probably too anachronistic to be considered even passé.  So what is it exactly? Although it largely evades description, Angel Food cake is a blindingly white hybrid. Within its cryptic gene pool are hints of cake, bread, soufflé and pavlova. It looks feels and tastes like nothing else.
Yet the Angel is a cake of few parts, consisting of nothing more than egg whites, beaten with sugar and cream of tartar (a wine industry by-product, used here stop the cake darkening) until stiff, and then folded together with a small quantity of flour, corn flour, soda, salt and natural flavouring. Once understood, the method is really very straight forward. If you need some sort of comparison, it's harder than a banana cake and quite a bit easier than a sponge. However, if you don't have an electric beater or cake mixer it could be an extremely laborious undertaking.
My prototype cake came together very quickly and cooked perfectly, with a high, orangey-gold crust. It stood well proud of the tin, which meant a degree of compression when I duly followed the instructions to invert the cake while it cooled. Next time around mum gave me the gem of cleverness to invert the ring-tin over the neck of a wine bottle. Smart. But compression or no, the cake ate beautifully. It was, and has consistently remained on every attempt since, quite perfect, blissful, ethereal and fine.
Although wonderful under a layer of marshmallowy Italian meringue icing, or served with a red fruit coulis, I've come to best enjoy my Angel simple and unadorned.
So here it is. My version of my mother's Angel Food cake, which she in turn adapted from some lurid and long since lost 1960s cookbook.
Make it. Eat all, and don't feel obliged to share.
Angel Food Cake
Ingredients
1 cup of egg whites (about 6-8 eggs)
½ cup flour
2 Tbs Cornflour
1 cup sugar
½ tsp baking powder
1 scant tsp cream of tartar
Pinch of salt
1 tsp pure almond essence (optional but highly advisable)
Method
Pre-heat oven to 200c
Sift together the flours, baking powder and half of the sugar, stir with a a fork and sift again.
Beat the egg whites with the salt, cream of tartar, essence and slowly add the remaining sugar. Beat until very stiff and fluffy.
Gradually and gently fold the dry ingredient into the egg until roughly blended.  Use a spatula to gently scrape the frothy batter into a medium sized ungreased ring tin.
Bake around 25-30 minutes until well risen and golden. It's ready when it resists a light prod from a brave finger.
Remove from oven and invert of the neck of a wine bottle. This prevents the very delicate cake collapsing during cooing (no, it won't fall out!).
When fully cooled, gently easy out of the tin. Serve with a dusting of icing sugar and sharp, red fruit coulis.