To Natalie Oldfield, her Gran's (Dulcie May) sweet pantry 'was nothing less than spectacular and like nothing else I have seen since'.  Always excited by what she might find, the pantry could contain anything from a batch of scones to a freshly baked cake or a
tray of slice.  Those delicious sweet recipes were thankfully written down by Dulcie May and have featured in Natalie's food store Dulcie May Kitchen (Mt Eden Auckland) since its inception in 2009 and now have been put together in her aptly named named book Gran's Sweet Pantry.

Gran's Sweet Pantry takes you through a lovely selection of sweet treats that you can make to share with family and friends.  It is the best recipes from Dulcie May.  Continuing the home cook's tradition of sharing recipes, tucked in with Dulcie's recipes are favourites from family and friends, some old, some new.
Gran's Sweet Pantry is split into practical sections: scones and muffins, biscuits and sweet treats, cakes and loaves, slices, desserts and preserves. All are sure to keep the pantry full.
Natalie's previous books include Gran's Kitchen, which sold more than 15,000 copies in New Zealand alone, won the Gourmand Book Award in Europe for best local cuisine in New Zealand and is published in Australia and Great Britain. She is also the author of Gran's Family Table, which won a Gourmand Cookbook Award in 2011,
and Dulcie May Kitchen: Everyday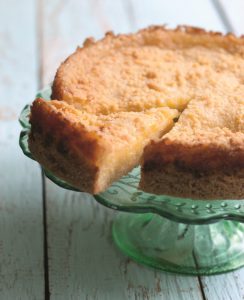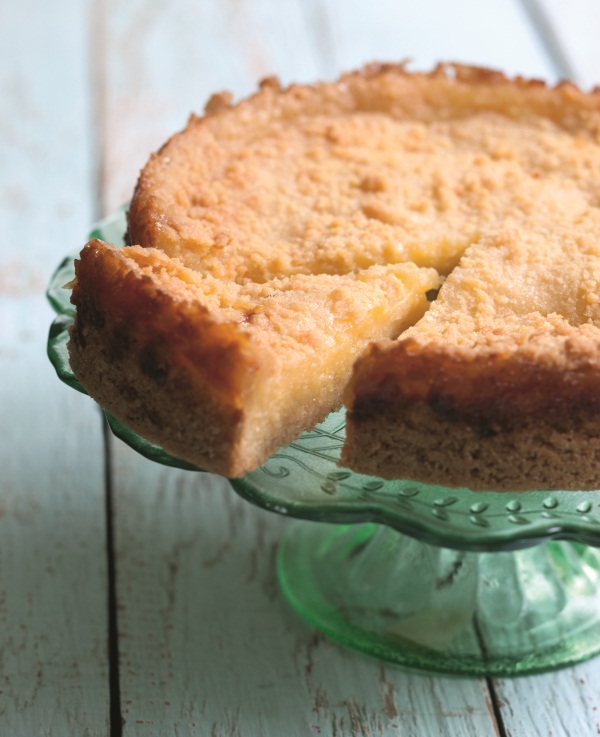 GRAPEFRUIT AND GINGER TEACAKE
When I spoke with Gran about this recipe her face would just light up. She
loved this teacake; it is light and has a great flavour. Feel free to change it
by using lemon or lime — any citrus variety will work well here.
1 cup self-raising flour
½ cup sugar
60 g butter
2 eggs, lightly beaten
FILLING
½ cup grapefruit juice
1 tbsp freshly grated ginger
1 cup sugar
2 eggs, lightly beaten
120 g butter
Preheat oven to 180°C. Grease and line a 17 cm round cake tin. Set aside.
To make the base, sift flour into a bowl, add sugar and stir well to combine.
Rub in butter until it resembles fine breadcrumbs. Add eggs to form a soft
dough. Divide dough in half. Press half of the dough into cake tin.
Place all the filling ingredients in a small pot and cook over a low heat till
thick. Pour the hot filling over the dough in the cake tin. Crumble remaining
dough over top.
Bake in the preheated oven for 20–25 minutes. Serve warm with cream, or
cold, if you manage to have any left over!
MAKES 1 x 17 cm CAKE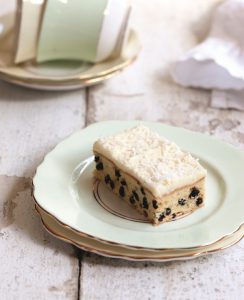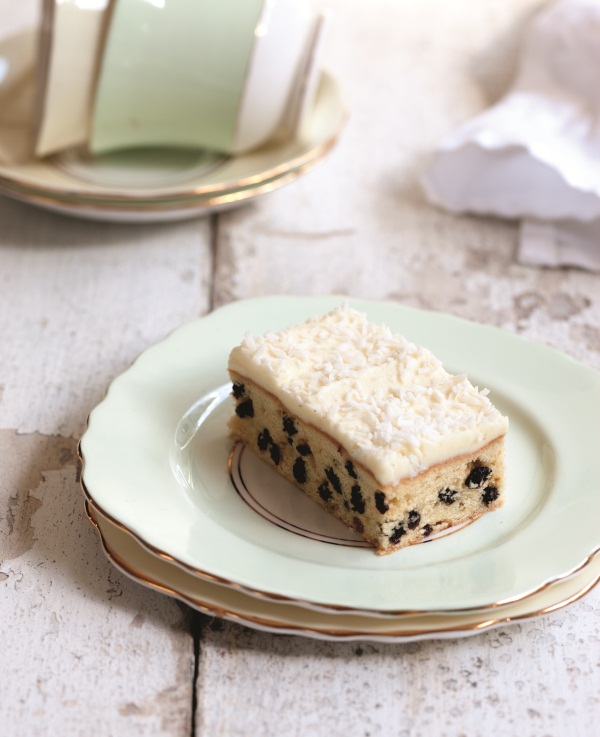 ALBERT SQUARES
Helping Gran as she baked a treat, then sitting at morning or afternoon tea with her and her friends as she shared the baking has special memories for me and my brother and sister. In this recipe, adding a little lemon zest
to the base or to the icing will make it a bit different. Make sure you don't
cook it too long, as it will dry out quickly.
BASE
115 g butter
1 cup sugar
1 tbsp golden syrup
2 eggs
2 cups flour
2 tsp baking powder
1 tsp vanilla essence
pinch of salt
1 cup currants
milk to mix
Preheat oven to 180°C. Grease a 20 cm square sandwich tin. Set aside.
Cream butter, sugar and golden syrup and add eggs, one at a time, beating
well. Add remaining ingredients and fold together. If the mixture is too dry,
add milk to make a thick dropping consistency.
Spread mixture into sandwich tin.
Bake in the preheated oven for 20–30 minutes. Cool in tin.
To make the icing, sift icing sugar into a bowl, add butter and vanilla essence
and beat. Add milk until you obtain the desired consistency. Spread on cooled
cake and sprinkle with coconut. Cut into squares or rectangles of desired size.
MAKES APPROXIMATELY 8–10 PIECES
Recipes reprinted with permission
Published by HarperCollins on 19 April 2013
RRP $44.99; ISBN 9781775540182
To win one of 3 copies of Gran's Sweet Kitchen enter your details below.
Competition open to NZ residents and prize will be delivered within NZ.