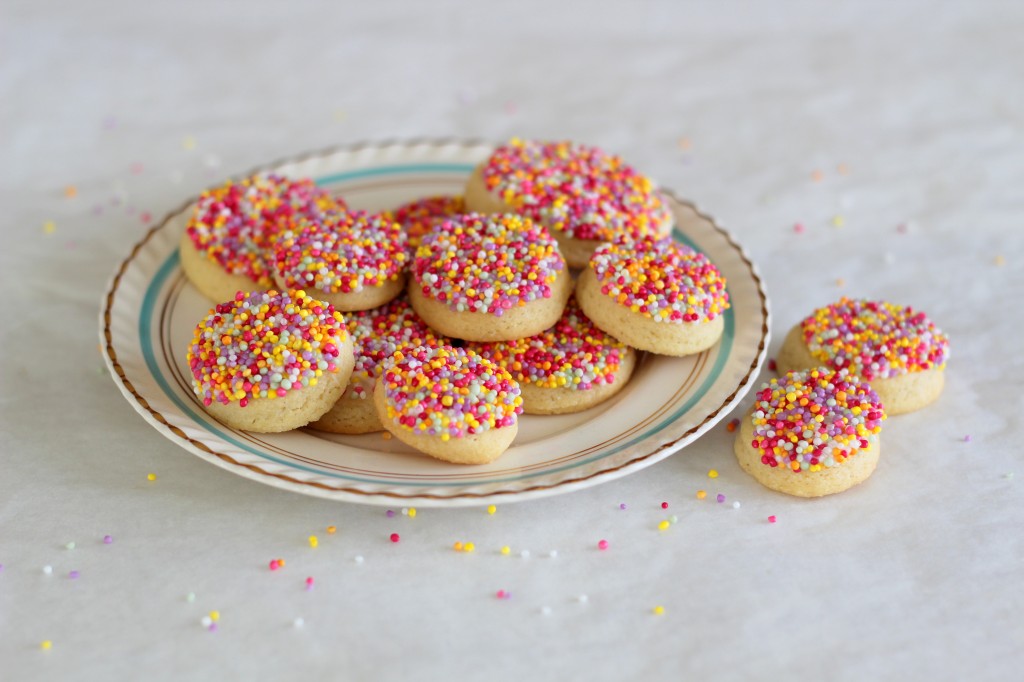 Hi, my name is Melissa Kelly and I blog over at Baking Makes Things Better, a baking blog that I share with my best friend Courtenay.  We met and became friends while studying at University and both found jobs teaching English at the same Secondary School upon graduation.  Both of us have a love of baking and all things yummy!  We started blogging in 2010 after receiving requests for our recipes. What started as a bit of fun has grown and evolved to the website we have today, which has more than 300 recipes accompanied by mouthwateringly beautiful photography.
I just love these Homemade Hundreds and Thousands Cookies.  They are simple to make and are so irresistibly cute.  The recipe makes a beautiful shortbread-like biscuit.  Kids will love them and can help make them by cutting out the dough or decorating them.  I think they would make a fun party treat, just change the colour of the sprinkles to suit your event.
 Hundreds and Thousands Cookies.
Prep time: 40 minutes
Cook time: 8 – 10 minutes
Finished in: 1 hour 30 mins
By Melissa Kelly
Yield: 40+ Cookies
Ingredients
175g butter, chilled, chopped
⅔ cup caster sugar
2 cups flour
1 egg
2 teaspoons vanilla extract
180g white chocolate, melted
190g hundreds and thousands / sprinkles
Method
Process the butter, sugar and flour until the mixture resembles breadcrumbs. Add the egg and vanilla extract. Process until the mixture just comes together.
Turn the dough out onto a lightly floured surface and knead gently. Divide the mixture into two, and shape into two discs. Wrap both portions in plastic wrap and refrigerate for 30 minutes.
Preheat the oven to 170°C. Line two trays with baking paper. Roll one portion of dough between two sheets of baking paper until 5 mm thick. Using circular cookie cutters (between 3 – 5 cm round), cut out rounds from the dough. Place onto the prepared baking trays about 2 cm apart.
Bake one tray at a time for 8 – 10 minutes or until the cookies are firm to touch, but not browned. Transfer to a wire rack to cool. Repeat with the remaining dough.
Spread the tops of the cookies with the melted chocolate. Dip into the hundreds and thousands and leave to set on a rack before serving.