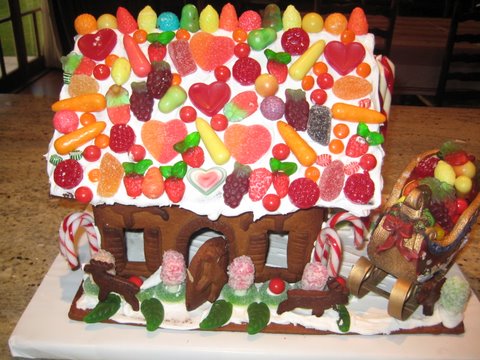 Originating several centuries ago in Germany and made famous by the Brothers Grimm – Gingerbread houses continue to have an irresistible charm to all.
While they make look complex they really are not as difficult as they look especially if, like me, you don't rely on your own measuring and instead use prepared templates.
I find the bought templates just make it that much easier and mean that your time and ingredients are not going to be wasted.   My friend Vetty, from who I owe thanks to for her photos, recipe and advice used here, has made gingerbread houses each year for the past 25 years and has never relied on commercial templates.
Gingerbread houses can be made well in advance – they last for at least 4 weeks. They do go softer over time, but this makes it edible.
If you are making your own template then I suggest you cut it out of cardboard and laminate so you can use it repeatedly and just wipe it clean.
Use royal icing for joining and creating frames and snow –  make sure that the icing is wet enough with egg white not with the vinegar or lemon juice. It is the egg white that hardens the icing NOT the acid. The acid will speed the process up but you only need a tiny bit. Apparently you can make royal icing without acid and it is just as successful.
Wrap your finished house in cellophane so that it doesn't attract unwanted visitors – eg flies  Beware of ants – that is the biggest killer,  as are drunk people who think its funny to pull things off it.
If you want to create brick work around windows etc, you simply cut strips and lay it on before baking. Then you mark in the bricks or lines. It sticks as it bakes, very effective.
Make sure your recipe doesn't have a rasing agent in it as you don't want the gingerbread to rise.
Some lollies colour  tends to run to be careful as to what you choose. Jubes, wine gums, jelly beans and smarties are all good. Keep candy canes in their wrappers and those boiled type lollies run in humid conditions.
Gingerbread House Recipe
7 cups flour
pinch salt
3 teaspoons ground ginger
1/2 teaspoon ground cloves
1/2 teaspoon ground cardamom
1/2 teaspoon ground nutmeg
1 teaspoon ground cinnamon
125g butter
1 cup golden syrup
4 cups white sugar
1 tablespoon lemon juice
1 teaspoon grated lemon rind
2 eggs
Sift dry ingredients together into a large bowl.
Melt the butter in a saucepan and stir in the golden syrup and sugar.  Stir over a gentle heat until sugar has dissolved.  Remove from the heat and mix in lemon juice and lemon rind.  Allow mixture to cool until luke warm.
Lightly whisk the eggs.
Make a well in the centre of the dry ingredients and pour in the butter mixture and eggs, mix until well combined and dough is smooth.  You can knead it if this is easier.
Turn out and roll out until 3-4 mm thick.  Using templates or moulds form the base, walls and roof of the house.
Bake at 160 C for 30 minutes or until a rich golden colour and firm.
Cool gingerbread on a wire rack until completely cold.
Ice together with icing made from 1 egg white, 2 1/2 – 3 cups icing sugar and 1-2 tablespoons lemon juice or vinegar.
Pipe icing window and door frames onto house and assemble the house using icing to join.  Hold pieces together so that icing can dry.
Use remaining icing to decorate with snow and attach sweets onto house.  Dust with icing sugar.
With the horrible wet weekend we are having I am now off to the kitchen to make a Gingerbread House!