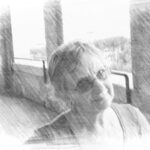 Irene Field
This week's challenge is all about Microwaves. Hands up how many people actually cook a meal wholly in their microwave. The modern appliance has all the bells and whistles and yet even I am guilty of using it for porridge, white sauce, melting butter, reheating my coffee and um, yes, then I use it for um and ah. You get the picture.
Back in the 1970s/1980s when Microwaves burst onto the scene, they were newfangled. In fact I can remember Microwave Cooking classes being offered at time of purchase. I can even remember purchasing a recipe book to allow me to add to my cooking repertoire. Confession time! I have never cooked one solitary recipe from the book. It is entitled 'Microwave Cooking Made Easy' first published in 1979 with a reprint in 1982. The introduction gives credit to the author, a Douglas Marsland who is/was an experienced chef.
Microwave cooking of main meals has never appealed due to the lack of browning and what resembles to me a general bleurgh appearance. So the book has sat and sat on my bookshelf. No doubt crying use me, use me and I have thumbed my nose at it. Until now and the Great Recipe Challenge – and you guessed it,  this book was next. No longer could it be ignored.
The recipe decided upon was 'Cabbage Rolls'. Yes I have made cabbage rolls before but never in a microwave oven. I also must confess here to another cooking anomaly. I often read a recipe and decide how I can improve it, add to it, leave things out. Douglas Marsland's Cabbage Rolls have received the same treatment.
First up – place cabbage leaves in two tablespoons of water in a covered casserole dish. Cook for eight minutes or until soft. This is so easy. I kicked myself as to why I had never, ever done this before. Much easier then softening in a pot of boiling water.
The filling is a combination of beef and pork mince. I used pork only. Add to this chopped onion, cooked rice, a beaten egg, thyme, cumin, garlic, salt and pepper. The recipe then has one cup of tomato sauce, half of which was to be mixed into the meat mixture. I substituted home made tomato chutney for the sauce, to allow a bit of an oomph factor.
The stuffing is then placed on each cabbage leaf and the leaves are wrapped tightly around this Place these into a microwave safe casserole dish, dot with butter and pour over the rest of the tomato sauce (or chutney in this case). These are then cooked covered, on high, in the microwave.
Well knock me down with a minute dose of microwave radiation. These were beautiful. Yet again another recipe challenge has exceeded expectations. What a wonderful, easy way to make cabbage rolls. No boiling in a pot or an inordinate time spent in the oven.
I am looking at this book with new eyes and may have to venture further into other recipe offerings. I think I will send my dear other half out on a fishing expedition, as the Whole Fish with Black Bean Sauce looks fairly appealing!
In the meantime, Bon Appetit and a Happy Easter to all.