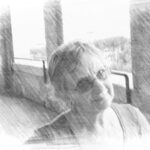 Irene Field
This recipe challenge has bought home to me what a small world we live in. Think Six Degrees of Separation to Twilight Zone music. My recipe bookcase  is in no particular order. Actually my other bookcase is exactly the same. They look nice but total chaos when I am searching for a particular book. As previously mentioned for this blog, when selecting a recipe, I take the next book in line.
Next up was Jo Seager, particularly well known to New Zealanders for her range of books and televison shows and appearances. I have no idea where or when this book was purchased or if it crept into my bookcase on a dark night to make itself at home (it may have been turning over a new leaf!). The book is titled 'Jo Seager's Easy-Peasy Summer Entertaining'
Which is where the 'Six Degrees of Separation' enters the fray. I opened to the foreword to advise you of when it was published, which incidentally was 1998. Lo and behold, guess whom I found in the Acknowledgments.  Our very own Helen Jackson, esteemed New Zealand Foodie, owner of the wonderful foodlovers.co.nz website, and many other food and other accomplishments to her name. Jo's words to Helen are "To Helen Jackson, my assistant extraordinaire – she cooks, she types, she tests recipes, and her food styling abilities are exceptional" Little has changed from 1998. So before I discuss my next challenge from Jo's book, a round of applause for our wonderful Helen please!
Moving on to the point of this blog. The recipe selected by my better half was 'Lasagne Pasta Rolls with Shaved Ham and Parmesan'. The reason for my trepidation? I am totally biased and believe that no one can match my very own Lasagne. Here I was being asked to follow a recipe. But in the interests of my readers and this blog, I would go where this Irene has never ventured before. I would attempt someone else's Lasagne recipe. Nobel Peace Prize – here I come.
Jo's recipe calls for fresh lasagne sheets. I have always used dried, so this was not a good start for me. But fresh it was, but it still felt stiff and starchy? Jo states to cut the sheets in half and place shredded ham and Parmesan along the sheet. Roll tightly (the lasagne, not yourself – this is not a Pilates exercise) and place in a dish. I tried this with two pieces and it split. As I say, it may be the pasta itself that was at fault here. In the end I forgot the rolling and my Pilates, and layered the flat sheets in my dish with the ham and cheese filling.
Next step is to take cream and bring to a gentle boil with lots and lots of crushed garlic. Add tinned tomatoes, white wine, button mushrooms and pitted black olives. Pour this over the pasta rolls, which in my case were not rolls. A sprinkling of mozzarella and into the oven she goes.
Total honesty here. The first night we ate this, and my better half loved it. As for me, I was ho hum (mine's better than yours). However the next day I was forced to eat humble pie (is there a recipe in existence actually for humble pie?). When heated the next day, the flavours had absorbed into the pasta, it had thickened and was oh so wonderful. It was lovely.
This lasagne will have weight watchers the world over going egads. However just between you and me, I will be making this again. Am now off to see if an actual Humble Pie recipe exists? And a clue as to my next blog. Think Destitution!