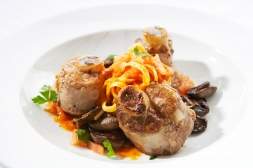 Alison McKee
Veal was not included in my mother's repertoire of dishes. It must have been widely available, despite it being unheard of in our house, as many early community cookbooks from the first half of the twentieth century and the 'iconic' Edmonds Cookery Book include several veal recipes, mostly for Roasted and Stuffed Veal Fillet or Veal and Ham pie.
Although the morality of veal production has been, and quite rightly, debated in the past there is a trend today towards more humane production. Veal has the least fat of all the red meats and is rich in vitamins and minerals particularly magnesium and zinc. Veal cuts mirror those of beef but are smaller, leaner and tenderer. Veal is best cooked medium, not rare, but care must be taken so it doesn't dry out during the cooking process. Often recipes that are grilled or fried have an additional component of 'fat' added, such as prosciutto, bacon, butter, cream, cheese, ham or pork fat cut into lardons.
However, it's not all bad! Classic dishes include Osso Buco (braised), Blanquette of Veal (stewed) and Vitello Tonnate (poached) – veal with tuna and anchovy mayonnaise. Veal racks are a relativity inexpensive cut when compared to lamb racks. Like lamb racks they are delicious with a herb crust. Add lemon zest for a 'zing' in your crust mixture and cut back on the butter by substituting a small amount of the butter for softened honey. Try serving the herb crusted veal racks with Porcini Oven Baked Risotto. For a further Italian inspired dish add chopped olives to Veal and Pork Mince meatballs.
Unfortunately I have no willpower and my favourite veal dish is Saltimbocca – escalopes of veal, sage leaves, prosciutto, copious amounts of butter and dry Marsala.
Porcini Oven Baked Risotto
Osso Buco
Tuna Mayonnaise
(Photography courtesy Gourmet Direct Ltd.)