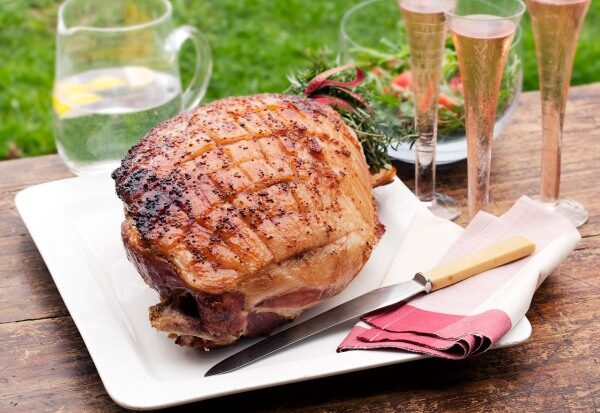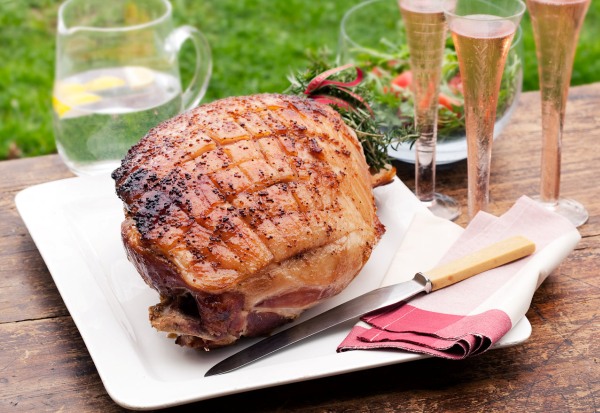 A glazed ham at Christmas is essential for many of us and a treat we really look forward to.  Warm from the oven and served with new potatoes and steamed greens, it is an annual favourite.
The left overs can be pan fried for Boxing Day breakfast with eggs and stuffed into rolls and sandwiches for quite a few days to follow.
The type of ham you buy will depend totally on your family requirements and also personal preference.
For smaller numbers you are probably best buying a half ham but if you like the aesthetics of the shank then you will need to get in early or at least pre-order.
A champagne ham has had most of the bone removed so therefore you are not paying for the excess bone but often there will be gluten or another additive to help the meat stick back together from where the bone has been removed.  A champagne ham, if cared for, should last longer than a traditional ham on the bone as meat on the bone will sour first.
Traditional hams have a bone running all the way through them and are trickier to carve.  The benefit is hopefully that they haven't had any extra "glue" to hold the meat in shape.
In New Zealand much of our ham is imported from Canada, China etc…  If this is an issue for you then check the origin of your ham.
Free range hams are also available but these are in smaller quantities – the most authentic free range are from farms such as Havoc in South Canterbury.
(available from both Havoc and Gourmet Direct).
My family like the flavour of Freedom Farms free farmed hams.
*A large amount of ham is uses imported pork. NZ pork should have a sticker that identifies itself as being so but if in doubt read the packaging carefully.  Words such as "manuka smoked" do not mean that the pork is from NZ.
* Ham flavour is often a personal preference but if you are buying an unknown ham then look at the ingredient list and pay attention to water content.  Water is always added to ham as this is how the salt and flavour get into the meat.  This is generally done by injecting the liquid in during the curing process. How much liquid goes in will depend on the company and sometimes you will find cheaper hams have more added liquid.
* Ham when purchased is generally cooked and only needs to be heated for the glaze to caramelise and for taste preference – warm ham is much nicer than fridge cold.
* Glazes are generally high in sugar from either fruit juice, jam, maple syrup or brown sugar – this then caramellises and you get lovely flavour and also an attractive ham.
*Hams can be studded with cloves, covered in pineapple slices and cherries or simply scored and glazed.
Below are some of our favourite glazes and a simple method for preparing your ham. Please do post your favourite glaze combinations as well.
Apricot Mustard Glaze
1 cup apricot jam (I use Anatoth brand)
1/4 cup orange juice
1 tablespoon wholegrain mustard
Marmalade and Bourbon Glaze
1 cup fine-cut home made marmalade
1/2 cup Dijon mustard
1/2 cup Bourbon
Apricot Glaze
420g can apricots
1/2 cup brown sugar
(puree together)
Pineapple Glaze
3/4 cup pineapple juice
2 tablespoons wholegrain mustard
Maple Glaze
3/4 cup maple syrup
2 tablespoons wholegrain mustard
Kate King from Gourmet Direct Glaze
1/2 cup maple syrup
1 cup soft brown sugar
finely grated zest of 1 orange
cloves to stud
Preheat the oven to 180 C. Remove the ham from all packaging and using a sharp knife make a zig zag pattern in the ham skin where the shank (narrow end) joins the ham leg. Be careful not to cut into the white fat, the aim is just to cut through the skin.
With the shank towards you, lean over the ham and gently use your thumbs to loosen the skin of the ham away from the fat layer across the rounded end of the ham, (ie the opposite end to the shank) carefully ease the skin off, trying not to disturb the layer of fat.
Once the skin is removed then score the fat by marking lines with a sharp fine blade knife, horizontally and vertically across the ham to make diamond patterns. Take care not to cut below the fat layer and into the meat.
Sit the ham in a large roasting dish,  stud with cloves if using or cover with pineapple slices.  Spread your glaze of choice evenly over the ham. Any excess can be used to baste during cooking.
* Pour 1 cup of water into the pan to prevent the glaze from burning as it drips off.
Cook for 30-45 minutes until the ham is a rich golden colour, basting with extra glaze several times during this time. You may need to turn the ham around during cooking if one side colours too quickly.
Serve the ham warm or at room temperature.
* Left over ham can be covered with a clean, damp tea towel or in a ham bag and stored in the fridge for 1 week. Change the tea towel daily or wash the bag.
* Ham can be sliced and frozen and used later in soups and quiche.  It will lose texture once thawed so not ideal for sandwiches.
What is your favourite glaze combination and any interesting ideas for using up left overs?