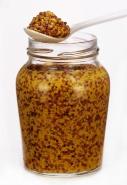 Making Mustard – Alison McKee
Revealing the contents of your pantry is the same vain as unpacking your handbag in public. I feel I need to justify why I have wholegrain mustard, Dijon mustard, Coleman's mustard power, sun-dried tomato mustard, olive mustard, mustard seeds – brown and yellow, tarragon mustard (fabulous colour) and red wine mustard.
I like mustard!
There is no denying that mustard has an affinity with cheese, is a classic with roast beef and the humble ham sandwich, and is an important ingredient in vinaigrette and mayonnaise. Mustard seeds or prepared mustard makes an appearance worldwide in most cookery, which is not surprising since the seeds of the mustard plant have been used as a spice, a condiment and a medicine since 2,300BC.
The degree of heat found in prepared mustard is dependent on the type of liquid the seeds are soaked in during the first stage of the mustard making process. Water and beer for example produce a hotter style mustard, whereas, vinegar, verjuice or white wine (champagne) produces milder styles.
Wholegrain mustard is simple to prepare as it requires no cooking but does require time for soaking. The great thing about this recipe is that you can vary the type of vinegars, wine, verjuice, beer, honey and flavourings to produce a mustard that is truly your own creation.
Honey Wholegrain Mustard – Basic recipe
500gm yellow mustard seeds
500gm black mustard seeds
1 litre soaking liquid (verjuice, wine, vinegar, beer)
125ml oil
375ml honey
2 tablespoons salt
Mix to combine the seeds and soak overnight. Stir at least once during the soaking process. The next day combine the oil, honey and salt and add to the soaked mustard seeds. Mix well then add your own flavouring – spices (chilli), garlic, herbs (lavender), chopped olives, sun-dried tomatoes, green peppercorns, orange rind, or cherries (great for duck). Spoon into hot sterilised jars and seal tightly. Makes approx. 10 x 275gm jars.
Strangely enough mustard it is also delicious when combined with fruit. I frequently make the following recipe  created by Alexandra Denton and serve it with cheese, sliced ham off the bone and fresh bread.

Mustard Fruits
1.2 kg combined dried fruit – figs, pineapple, peaches, nectarines, pears.
1 litre white wine vinegar.
1 cup water
2 ½ cups sugar
4 tablespoons wholegrain mustard
2 teaspoons yellow mustard seeds
½ cup lemon juice
4 cloves of crushed garlic
Soak the dried fruits in warm water for ½ hour. Place the remaining ingredients in a non reactive saucepan – stir and bring to the boil. Add the soaked fruit and simmer until the fruits are soft. Ladle into sterilised jars and seal. Makes 2 litres.
Many Indian recipes begin with the frying of spices, including mustard seeds, to release flavour and aroma. Mustard seeds pop when they are ready. Serve these Mustard Seed Fried Potatoes  hot or cold with Indian breads, as a side dish or as part of a "small-bites" menu.
The Coleman's Mustard Club 1926:
Rule No. 4 – Every member who asks for a sandwich and finds that it contains no mustard shall publicly refuse to eat the same.