Tahiti is the perfect stopover on a long trans-Pacific flight, and a great place for children to garner some foreign language skills, writes Tracey Mehrtens Editor, of on location, Harvey World Travel's magazine.
After two busy weeks on a recent road trip holiday in the USA, the relaxing islands of Tahiti offered a welcome change of pace, beautiful scenery and tropical warmth before we headed home to New Zealand. Only one hour ahead with daylight saving – but a day behind – Tahiti also provides a gentle way of easing yourself back into your usual time zone. And from Papeete, it's less than a six-hour flight home.
 Tahiti et ses îles (Tahiti and Her Islands) comprises five archipelagoes in the southern Pacific Ocean, sprinkled over an area the size of Europe. Home of the stunning black pearl, this overseas territory of France possesses a romantic South Pacific charm with more than a dash of Gallic style.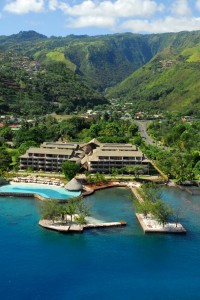 Arriving at our hotel, the Manava Suite Resort in Papeete, the beauty of Tahiti – as always – amazes me. From the terrace of our suite, the wide views are breathtaking, the infinity swimming pool blending invisibly into the lagoon backdrop and the craggy outline of the mainland's nearest island, Moorea, which dominates the skyline. Colourful lagoon sea life encircles the pool where the reef drops away for some magical snorkelling.
The Manava Suite Resort isn't far from Tahiti's main hub of Papeete where we head for a taste of local cuisine. Every night, the town square comes to life crammed with les roulottes – food caravans – to satisfy every taste at a very reasonable price: Chinese, French crêpes, fresh seafood, even good old steak frites (steak and chips).  
 Pull up a stool and settle at a picnic-style table in the balmy evening breeze, soaking up the local atmosphere as you feast. It's not only a place to dine but also to catch up with friends over a relaxed meal, with lilting Tahitian verse and ukuleles twanging in the background.  The adjacent band rotunda is circled by children on bikes and skateboards, not overly interested in eating and more intent on playing.
 Surrounded by French banter, you could almost be in the centre of Paris. Many Kiwi kids learn French at school, so it's a chance to try out their language skills. The local greetings of bonjour and bonsoir, merci (thanks), au revoir (goodbye) and, of course, how to order a Coke (un coca, s'il vous plaît) – are soon rolling off the youngsters' tongues, bringing smiles to the locals. The signage around town also has them reciting French out loud.
 The next day dawns and we catch the ferry to the nearby island of Moorea. A short 30-minute trip away, it's a true slice of island life, tranquil, laid-back and beautiful. As we loop around Cook's Bay, it isn't hard to see why the great navigator, Captain James Cook, fell in love with the island and its people.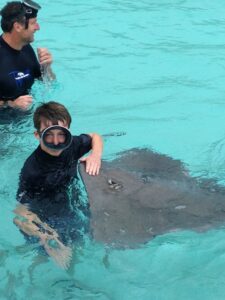 We head off with Moana Adventure Tours to swim with stingrays and feed the sharks, as well as hopefully catch a glimpse of a moray eel.  The warm water is crystal-clear, a calm contrast to the booming surf break along the encircling reef. Huge gliding stingrays surround the boat even before the boat anchors and our Tahitian guide jumps into the water carrying their petit déjeuner (breakfast) of squid and fish.  The darting reef sharks keep a wider berth.
"They love the taste of people," the boat's captain quips with a wry smile.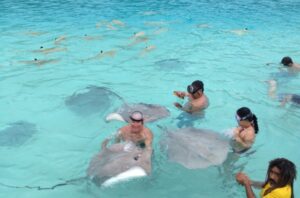 The almost-tame rays slither up the guide's side, gently snuffling for their petite morsels. The rest of the boatload gingerly follows him into the water and he weaves the rays between them. Apprehension is soon all but lost as the swimmers first touch the silky-smooth creatures and then offer them titbits of seafood. The sharks stay further at bay.
 "Please don't touch the sharks," our guide cautions. "They're not quite as friendly!"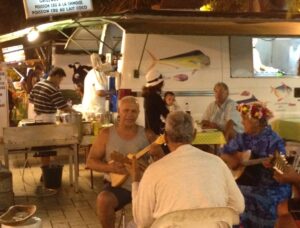 The local wildlife's appetite appeased, we anchor off a small motu (islet) to satisfy our own hunger. Especially delicious is the local dish of poisson cru (raw, marinated fish). There's cubed marlin tossed with lime juice and coconut milk and mixed with onion, cucumber, tomato, chilli and seasoned with salt. There's also barbecued marlin and chicken, rice salad and fresh sweet pineapple washed down with the local Hinano beer to round off our feast.
 Back at the dock, it's time to bid Moorea a reluctant farewell, and the next morning it's also au revoir to Tahiti. Next time, our stay will be longer as a couple of more days in the sun would have been perfect. A bientôt! – See you soon.
 Family haven at Manava Suite Resort Tahiti
 The Manava Suite Resort Tahiti, located at Punaauia, a short ten-minute drive from Tahiti's Faa'a International Airport, is a family-friendly resort nestled on the edge of a lagoon with panoramic views of Tahiti's closest neighbouring island of Moorea.
 Offering a welcoming and contemporary Tahitian ambience in a lush, tropical landscape setting, the four-star resort has a selection of 121 luxury rooms and suites, including spacious one-bedroom Lagoon View and Garden Suites and Studio Suites with kitchenettes, as well as multi-bedroom duplex apartments. The spacious balconies of the Lagoon View Suites frame a sweeping view of the resort's pool and the lagoon, with Moorea beyond. It's a perfect spot for relaxation.
 Each guest room at the Manava Suite Resort Tahiti has been designed by Tahitian architect/designer Bruno Hervochon to reflect authentic Polynesian décor, and is fitted to the very highest standard.
 Sip a cocktail at the Taapuna Pool Bar and watch the sun slip below the horizon before sampling a fusion of Polynesian and international cuisine at Vaitohi Restaurant, which also serves breakfast. Children eat free with dining adults. The trendy Punavai Lounge Bar serves a selection of tapas-style, Polynesian-inspired bites.
 For those heading out to the islands, Manava Suite Resorts has sister properties on the islands of Moorea, Huahine, Bora Bora and Tikehau.
 Tracey was hosted by Air Tahiti Nui, Tahiti Tourisme, Manava Suite Resort Tahiti and Marama Tours, a family-owned and-operated, full-service service, travel and transport company.
Air Tahiti Nui, the international airline of Tahiti, flies from Auckland to Tahiti four times a week, with a convenient choice of morning or afternoon departure times. Services on Thursdays and Sundays are operated by Air Tahiti Nui's Airbus A340 aircraft; Air New Zealand codeshare services on Mondays and Fridays are by Boeing 767. From Papeete, Air Tahiti Nui offers daily connecting services to and from Los Angeles. 
Papeete to Auckland services depart on Wednesdays, Fridays, Saturdays and Sundays.
Contact your local Harvey World Travel Professional for the latest travel deals, visit www.harveyworld.co.nz or call 0800-75-87-87.