"Always do sober what you said you'd do drunk. That will teach you to keep your mouth shut."
― Ernest Hemingway.
Drunk is overstating things, but I probably wasn't completely sober either when I spontaneously suggested we should do a trip to Samoa to celebrate a friend's 40th birthday – being her birthplace.
One excited conversation and 5 months later we are boarding our flight to Samoa for 4 nights (but 5 whole days) of "girl" time, leaving families behind at home.   The weather map has been showing thunder storms for the foreseeable future, there are 12 of us to get on with and I am sure that there are those of us with a few qualms.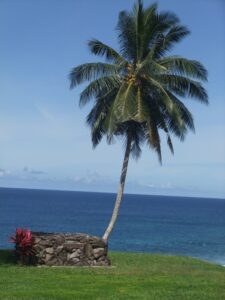 As we step out onto the tarmac in Apia there is not a thunder storm in sight, in fact the sky is blue and it is hot, balmy and gorgeous as is our tour guide and soon to be best friend Fats (ie Peter Fatialofa).  Fats quickly and efficiently (yes even in Samoa) gathers our bags and whisks us 5 minutes down the road to cocktails and lunch at Aggie Greys Lagoon resort.  It is only 11am NZ time and we are reclining with drinks in the sun, the chill of NZ quickly forgotten and realising that the days to come are going to be something more than special.
Upolu, the island where the international airport is based, is relatively spread out, dotted with immaculate villages, where houses in a rainbow of colour stand out against the lush green landscape.
It is a good hour's drive until we reach our resort along a well maintained yet narrow road that we share with pigs, pedestrians and other vehicles.  We are staying at  Seabreeze,  on the south coast  of the island, the southern and eastern sides were those hardest hit by the tsunami.  The tropical vegetation has been quick to recover and a huge effort  put into restoring and rebuilding property.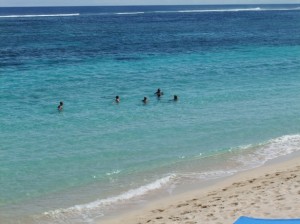 Lalomanu, a picturesque beach on the Eastern coast of Upolu is touted by Lonely Planet as being one of the most beautiful beaches in the world.  It really is a post card beach with silken white sand, iridescent blue water and palm trees to frame your photos.   It is where we settle in for a full day of beach and water activity (or not) and then return again for our Saturday night champagne on the beach and special dinner that gets slightly lost in translation…
The sandy coast of Lalomanu provides good swimming and the beach gently falls away making it safe for young and old.  It is once you start to snorkel that you appreciate the extent of the tsunami devastation.  Layers of decimated coral will take quite some time to recover but the fish are coming back and the electric blue flashes of new coral life help to imagine the lush seabed as it would have been prior to 2009.  One of our group claims she has seen a turtle while snorkelling, although the rest of us take some convincing.  I head into the water, turtle spotting with renewed vigour (swimming with turtles being high on my bucket list). I have water wrinkled fingers and am almost feeling cold when a turtle glides out  beneath me.  My breathing is so loud I worry it may scare it away but it allows us to follow it for quite some time, as it moseys silently around the coral.
Another great snorkelling spot is on the fringe of Apia at Palolo Deep Marine Reserve. With the port so close by it seems an unlikely destination, but once you are beyond the kelp growth that borders the shore there are a myriad of fish to see and once again we were lucky enough to swim above turtles.  The coral drops off in places allowing scuba diving experiences or more adventurous snorkelling to spot reef sharks and more.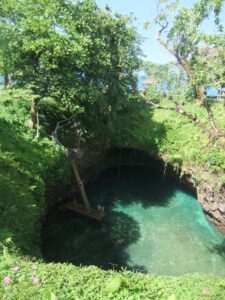 Unfortunately my sense of adventure with snorkelling doesn't extend to heights or ladders and I am the self appointed photographer at the To Sua Ocean Trench, just walking distance from our Seabreeze resort.  To Sua – meaning large hole – is a large natural swimming hole which is only accessible by ladder or through the caves that water surges into the trench through.  At high tide it is possible to leap from varying points on the ladder down to the brilliant blue water.   There is a small fee to enter and at high tide there are also blow holes along the rocky coast bordering the lush and well maintained gardens.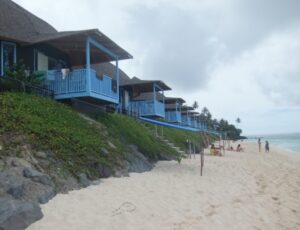 Samoa is well catered with resorts for varying budgets and travelling styles.
When we take the family back I plan to go to Litia Sini Beach resort on Lolomanu Beach.  It is more rustic than we would ordinarily choose, the ablution block is communal and the clean but basic rooms contain just beds and ceiling fans. The beach is your playground and the bar/restaurant facilities are perfect for most families needs.  Rates include buffet dinner and breakfast and work out to be very reasonable.  We would rent a car from Apia as I think that after a few days of beaching I would probably need a day trip either into Apia or to other villages around the island.
Coconuts Resort is also a good option, although the menu could do with some local input instead of trying to recreate French classics.
If the kids have grown up or you are leaving them at home then Sinalei Resort offers the ultimate in luxury.  Covering over 30 acres with a maximum of 60 guests you really do feel as if you own the place.  The restaurant, under the watchful eye of food and beverage manager Sharon Greene, supports local produce and the food is deliciously fresh and better than many island resorts offer.  Coconut crusted parrot fish with a watercress salad and island fries is such a hit that I have to return for a repeat the next day (Samoa has fabulous fish from reef fish such as parrot fish to delicious fresh tuna). The frozen margaritas on the beach as we recline on our loungers immersed in books, are a complete indulgence!  Another choice of indulgence is a massage in the island style bungalows with views out to sea.
Snorkelling at Sinalei is especially good at high tide – otherwise the water can feel quite  shallow. You can also organise a short boat trip to a small island nearby that reputedly has the best snorkelling around.
Sinalei is one of those places that you just don't want to leave and I know that we will be back once child free holidays become a reality or the kids are over 12 and can come too.
With a local population of close to 40,000 Apia has all of the services of a Pacific Island city.  Shopping includes the traditional island carved wooden bowls, ornaments from coconut shell and fibre along with colourful sarongs.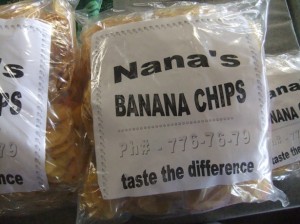 The Apia produce markets are definitely worth a food lovers visit, amongst the traditional taro and coconut are gems such as freshly picked lychees and mangosteen and I buy a bag of each (mangos, melons and pineapple are also available when in season).  The delicious salted banana and taro chips are eaten with drinks and the block of cacoa paste makes it past NZ customs without a hitch. The sago drink is a bit thick and sloppy for my liking although proves to be popular with locals.
Robert Louis Stevenson spent his last years in Apia, his house as a museum and grave site are open for viewing at certain hours.
Apia has a selection of restaurants, with Chinese business influence there are Chinese restaurants along with Italian and other cultural influences.
For a great coffee and cafe style food head to the Coffee Bean Cafe (just behind Aggies hotel), their coconut muffins are seriously good!  In fact Samoa do coconut really well, fresh coconut versus dried makes the world of difference to baking and one day I vow to experiment at home.
Our days roll by into a blur of sun, laughs, good food, not so good food and a sense of general well being.  Our final afternoon is spent again at Aggies Lagoon where birthdays are celebrated in true island style.   We marvel at how incredible our trip has been, how far our $$ have stretched and whether anything could be quite so perfect again.
Maybe, maybe not, I am prepared to give it a shot though and am currently checking out the very reasonable airfares so I can share Samoa with my family.
Extra info.
* Air New Zealand fly Auckland to Samoa 5 days a week.  Some flights are at completely unsociable hours but if you are flexible with days then you can tailor your schedule to suit.
* Peter Fatialofa  has a wealth of experience and is worth consulting as a group tour guide.  He can take you to discos, restaurants or a quiet beach…. (he can also move your piano if needed).
* Women in business is an organisation in Samoa, established to assist families in villages  to earn an income with the resources they have.
* Allgood Fairtrade bananas from Samoa
* Samoa, baby (aka Samoa with a toddler) – Virgil Evetts
* Sinalei and Seabreeze resorts are both restricted to people over 12 years of age.
* Sinalei dining is highly recommended and we applaud the way they work with their local farmers and producers to source the best local produce that the island has to offer.
* NZ wine and local beer are well priced in the supermarket or liquor store in Apia.
*  Bottled water is often not needed, so therefore it is good to reduce plastic waste and refill your bottles with tap water.  Do check with each place as to their water source.  We drank tap water with no ill effects.
* Self catering accommodation is not the norm in Samoa although Sinalei have houses on the outskirts of Apia.
Oka – Samoan style cerviche is available at most restaurants.  It is often made with freshly caught tuna and is delicious.
All of this is based on my brief experience so it would be wonderful to hear of your Samoa travel experiences.