Along with location, weather and food, where you stay can make or break a holiday experience.
Although I haven't always been a Resort convert, a recent trip to Club Med Phuket shows me exactly how good a family holiday can be!
Our last year's trip to Koh Samui, while lovely, was not quite the success it should have been.  Renting a house may have been an adult ideal but the kids wanted other kids and way more action than we could provide.  Also the daily driving to restaurants or beaches often meant parking issues and seemingly endless decisions about what and where we were going next.  So when we arrive at Club Med and the biggest decision of the day may be whether you want wine or not with lunch, it is complete unwind time.
Phuket is the largest island in Thailand (approximately 50km long and 21 km wide), it lies in the Andaman sea in the south of Thailand.  Formerly called Thalang it is not uncommon to see or hear the island called this by locals today.
Phuket officially has two weather seasons – wet or dry, wet often meaning just a brief late afternoon downpour, higher seas and higher humidity.
The Western side of Phuket is lined with postcard white sand beaches whereas the East is more mangroves and mud flats.  The Western beaches are pretty much lined with Resorts, as you would expect from a destination of such.
On  the Southern end of the Western beaches is the relatively peaceful family oriented Kata beach and centre beach front is Club Med Phuket.  Up the road is Karon beach and further along is the often overwhelming Patong, renowned for its tourist bars and clubs.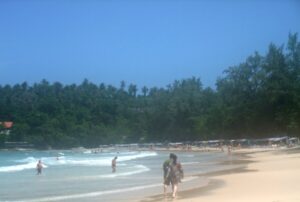 Kata beach is an attractive beach within a palm fringed bay.  It is 1.4 km long which makes for a leisurely morning or afternoon stroll.
Club Med security are at the ready to escort you over the quiet coastal road to the beach where resort sun loungers and umbrellas await.  From May to October the water is an attraction for surfers whereas for the rest of the year the waves recede to a gentle lap.
For those who don't want the wave, salt and sand effect of the sea then the pools as Club Med are ready and waiting.  The large family pools have life guards on duty and during the day offer entertainment such as water aerobics, water polo or even kids water golf.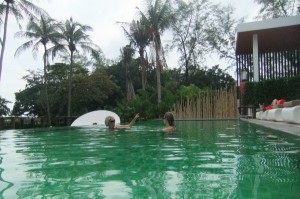 Wanting something more peaceful?  Then the jade green tiled quiet pool (adults only) is probably for you, cooler than the family pool and with a selection of sheltered and sun lounging options, the quiet pool is a haven at a far end of the resort.  In fact is it is so peaceful that I manage to enjoy an extended mid afternoon siesta.
In typical Club Med style, the resort stretches across 25 hectares of land giving a sense of seclusion and making you feel as though there is barely anyone else there.  The distance to our rooms also provides time to walk off each meal, in preparation for the next!   Unless you have extra strong will power then a holiday in Club Med is a veritable feast of flavours.
Up until now I have always travelled with a "When in Rome" philosophy, believing this to be the way to fully experience other cultures, this however,  is conveniently forgotten when I come across the array of oozing French cheese on offer.  A wedge of Pont L'eveque and a rich creamy blue, put the finishing touches on a meal that coconut mango rice just doesn't quite live up to.
Actually though, why not have both?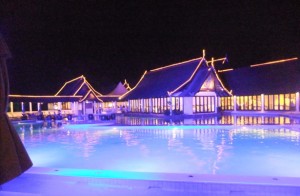 Club Med does multiple cuisines extremely well and although you are in Thailand you can also eat high quality Japanese, Italian, Chinese, or even an English style roast.  In contrast to most places offering large selections, Club Med keep each cuisine true to its origin and focus on quality.  Kids are well catered for and there is a tray on hand sectioned into the different food categories to guide them into healthy choices.  Healthy choices are also there for all, with salads, vegetable juices and labels identifying foods that get the tick.
For the rest of us who indulge in rosé and fromage you can either work it off in the Resort gym, head out for a round of golf, try a spot of archery or tennis, stretch yourself at yoga or take my pick and throw on the running shoes and head out of the resort to check out the neighbourhood.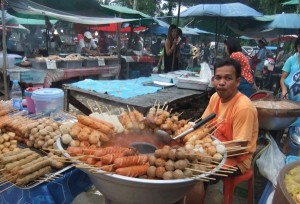 For those wanting to explore you can shop, eat and drink to your heart's content within a few minutes walk of the resort.  One of the great features of the resort is how easy it is to immerse yourself into Thai every day life. There are late afternoon markets a few minutes away that seem to pop up out of nowhere from 4 – 7pm twice a week.  Here you can choose from a selection of freshly cooked barbecue style food, standard rip off tee shirts, copy dvds and pick from mountains of freshly picked fruit and vegetables.
If you feel like an early start then a 6am visit to the Phuket food markets is a fabulous way to see the real side of local Phuket, prawns sell for as little as a few NZ dollars per kilo and the produce makes me yearn for a kitchen to cook in.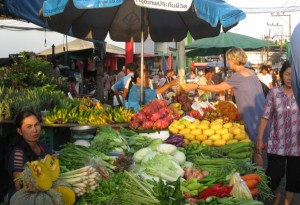 Thailand's tropical fruit is fabulous and although it varies with the seasons you can expect to choose from the likes of mango, jackfruit, rambutan, mangosteen, melons, pineapple and lychees.  We are lucky enough to be there in durian season – the king of fruit.  While its reputation precedes it, with some comparing its aroma to a toilet or dirty sports socks and many hotels and airlines banning it, I am probably lucky to be in Southern Thailand where they eat their durian younger and smaller and hence the flavour is not at all strong.  It is sweet with an almost crunchy texture but not at all juicy or astringent.    I am at an outdoor market so aromas are mingling and while I can get a sense of durian smell it is certainly not offensive.  A Malaysian friend we meet is quick to tell us that durian contains cholesterol and can have ill health effects.  I can't find anything to confirm this although apparently people do die from durian each year – when it falls from a tree and lands on their head!
Thailand is renowned for its beautiful food and dishes that may appear simple but are in fact a multi layered, careful balance of hot, sour, salt and sweet.  Fresh ingredients are paramount and wherever you go in the south, the aroma of lemon grass and fish sauce combined with throat catching chilli wafts from the multitude of street side cafes and mobile vendors.
Local cafes are cheap to eat at, if you feel like dining out then ask a local where they eat and you are sure to be well advised.  A great cheap cafe that we were taken to by a local friend is called Nok and is between Kata and Karon beaches.  It is next door to a bar called Ping Pong but this is not an advisable conversation to have with your taxi driver as you could end up anywhere.  To make it easy you can find it here using your phone. Many street side cafes including Nok do not serve wine – perhaps due to the inordinately high taxes placed solely on this beverage.  Local Singha beer is a popular choice and a soothing accompaniment to a hot curry or you can byo wine.
Food and wine aficionados may like to check out Mom Tri restaurant which is just up the hilll from Kata Beach.  Mom Tri is a respected Thai architect (designer of Club Med) and has award winning restaurant Mom Tri's Kitchen at Villa Royale.  The art gallery alongside is worth a look as well.
If you have the time and inclination to explore further from the resort you can easily pick up a tuktuk or taxi at the resort gates.  There is Mall shopping at Patong or Central Festival in Phuket town – selling shoes for Cinderellas but not for ugly sisters, cosmetics and some international brand clothes.  Zara in Central Festival being a draw card for NZ clothes shoppers. Sports shops are prevalent and you can pick up genuine brand items such as Nike at reduced rates although sizes offered can be limited.
Day trips are also on offer and you can do a full days boat trip of snorkelling at Phi Phi island or visit the impressive lime stone islands of Phang Nga Bay.
While you undoubtedly will see loads of fish at Phi Phi you could also see loads of people, snorkelling trips are highly popular and very busy in peak season.  However, being photographed at the same place where Leonardi di Caprio filmed the Beach is for some worth the trip it in itself!
Day tours by land include walks to the Big Budda and also the hidden temples.
Of course it isn't essential to leave Club Med and in fact by the time you have enjoyed a massage or facial at the Payot spa, tasted your way around the restaurant and enjoyed an a la carte style meal at the "quiet" restaurant, the time passes very quickly.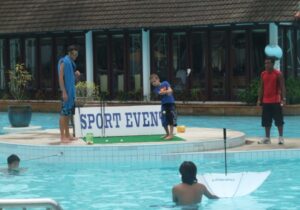 Kids are in their element at Club Med and I imagine for mine it is their dream holiday.  There are specially trained Circus GO's running trapeze lessons, great kids club facilities (not just for the littlies either) and always a GO on hand to organise a raft of activities.
The shows each evening are family style and mum and dad can safely drift towards the quieter recesses of the bar while the kids dance the evening away (although adults are of course included in the shows if they like).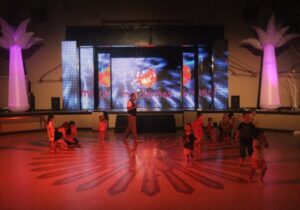 What sets Club Med apart from other resorts though surely is their total package philosophy.  Meals are inclusive as are most bar drinks, including wine, cocktails and beer.  Snack stations are in the bar for those needing a little something in between meals so there are no surprise charges at the end!
You really are so well looked after that at the end of it all, coming home to the reality of daily chores comes as something of an enormous shock!
Watch Deisha the Club Med chef make Tom Kah Gai
If Golf is for you then take a look what the boys at Sports Inc. have come up with.  Even if you are not a golfer the footage of Phuket is amazing.  Golfing Phuket.
Some of our favourite Thai recipes
Coconut Chicken Soup – Tom Kah Gai
Pad Thai  
Thai Fish Cakes
Thai Spring Rolls
Thai Yellow Curry
Thai style pork spare ribs
Thai Tamarind Chicken
Fragrant fish curry 
Getting There


Singapore Airlines flies to Phuket via Singapore.  Flights from Auckland are overnight  meaning you can be reclining at the pool by lunch time the next day.