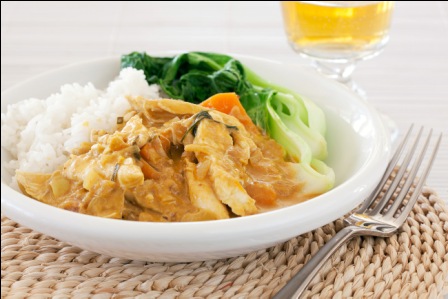 By
Ingredients
3-4

shallots, chopped (or 1 red onion)

2 tablespoons

rice bran or canola oil

2

cloves garlic, finely chopped

3

tablespoons Thai Yellow Curry Paste ( I buy Cock brand)

2

kaffir lime leaves, shredded (or finely grated lime rind)

1

stalk lemon grass (can buy prepared lemongrass in spice section of supermarket, use approx 2 tsp)

1

tablespoon grated fresh ginger

2

x 400ml cans coconut milk (or 1 can coconut cream and 1 can measure of chicken stock)

1 each

kumara and potato, peeled and choped

2 tablespons

fish sauce

2 teaspoons

lime or lemon juice

2 teaspoons

finely chopped palm sugar

3

chicken breasts, sliced into strips

1/4 cup

crisp fried shallots (from Asian supermarket)

coriander leaves
Method
Place shallots, oil and garlic in a large saucepan and gently cook until shallots are tender.  Add curry paste and increase heat, stirring while paste becomes fragrant.
Remove the tough outer leaves from the lemon grass and cut in half lengthways,  Finely chop the inner leaves at the bulb and add to the pan.  Add remaining lemon grass stem but remove when serving.  Add kaffir lime leaves, ginger, coconut milk and kumara.   Cook until kumara is almost tender and then add fish sauce, lemon juice, palm sugar and chicken.  Gently simmer until chicken is cooked through.  Add a little chicken stock or water to the pan if the liquid is too thick.
Taste and adjust seasonings to suit – it should have a balance of salt, sour and sweetness but is mild in terms of heat.  The flavour will depend on the curry paste you use.   Try adding extra fish sauce, citrus or sugar if flavours are not punchy enough, I also sometimes add a dash of soy sauce.  I always buy Coq brand Thai pastes from an Asian supermarket and keep them in the fridge.  They come in pottles and lasts for ages if kept refrigerated once opened.
Serve garnished with crisp fried shallots and coriander leaves.
You can use fish or prawns instead of chicken.
See our other Thai recipes here on foodlovers.