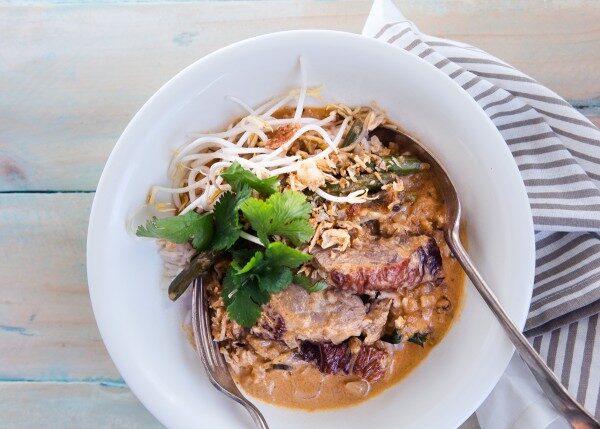 Ingredients
oil

1/2 cup finely chopped

shallots or red onion

2 cloves

garlic, finely chopped

2 tablespoons (or 3 if you want more heat)

Thai red curry paste (I use Cock brand)

2 teaspoons

grated palm sugar or brown sugar

2 x 400g

cans coconut milk

2

kaffir lime leaves, roughly torn (optional)

2 teaspoons

finely chopped lemon grass (or use grated lime or lemon zest)

good squeeze of lime juice

1 tablespoon fish sauce

550g

chopped chicken, boneless and skinless or 1 Chinese bbq duck (chopped) or use slivers of rump steak if you would rather have beef

mung sprouts

coriander leaves, basil leaves, steamed beans, bok choy etc...

chopped roasted peanuts

crisp fried shallots (available in Asian grocery stores)
Method
Once you have the ingredients on hand, making a tasty curry is only minutes away.
I keep lemongrass in the freezer and have a kaffir lime tree in the garden although the leaves are easily frozen too.
While it is good the day of making, it is even better when reheated the next day!
Heat a film of oil in a large saucepan (or wok) over a gentle heat and cook shallots and garlic for 10 minutes or until tender.  Add the curry paste and cook for a few minutes, stirring as needed, until the paste is fragrant.  Add the sugar, kaffir lime leaves and lemon grass and stir for a minute before adding the coconut milk.
Allow to simmer for 5 minutes and then add the chicken if making a chicken curry and gently simmer until the chicken is cooked through.
If making a duck curry then heat a frying pan and quickly crisp the duck and melt excess fat before transferring the meat to the curry.
Serve curry with steamed rice, mung sprouts, coriander leaves, basil leaves, beans or bok choy and sprinkle with chopped roasted peanuts and crisp fried shallots.