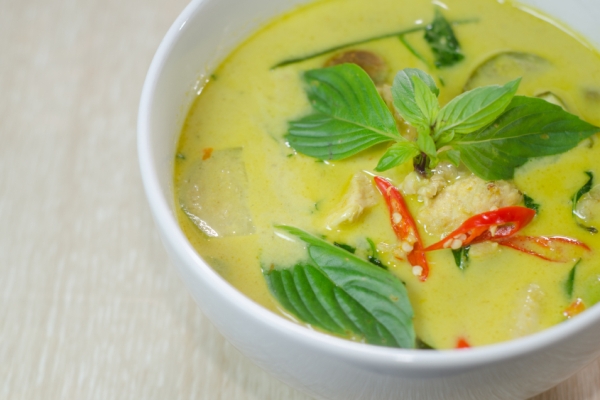 Ingredients
2 tablespoons neutral flavoured oil

4 shallots, finely chopped

3 tablespoons green curry paste

2 teasppoons finely chopped palm sugar (or brown sugar)

1 tablespoon fish sauce

2 kaffir lime leaves

1 stalk lemon grass, bottom 10cm, sliced in half

2 x 400g cans coconut milk

750g chicken breast, skinless and boneless, sliced into strips

basil leaves

coriander leaves

chopped red chilli for garnish (optional)

crisp fried shallots for garnish (optiional)
Method
Heat the oil in a saucepan over a low heat and add the shallots and curry paste,gently cook for 4 minutes, stirring at times.
Add the sugar, fish sauce, lemon grass, lime leaves and coconut milk and bring to a simmer.  Taste and adjust seasoning as needed.
15 minutes before serving add the chicken to the liquid and gently simmer until the chicken is cooked through.
Serve with rice, garnish with coriander, basil leaves, crisp fried shallots and/or sliced chilli.