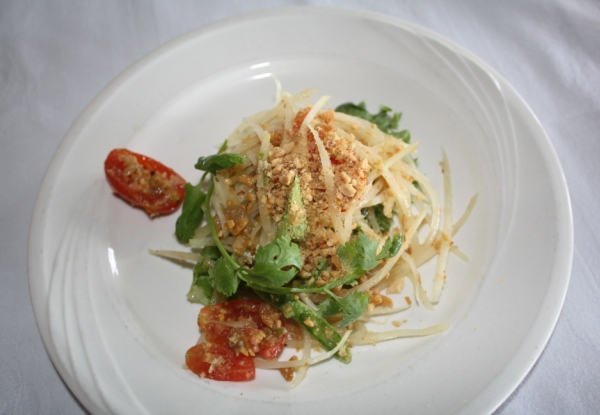 Green papaya is available at Asian style markets or green grocers.  However I think telegraph cucumber makes a perfectly acceptable substitute – especially if it is the difference between making the salad or not.
500g green papaya (or 1-2 telegraph cucumber)
1-2 red chillies
1 teaspoon sugar
100g green beans, roughly chopped
50g peanuts, lightly roasted
2 cloves garlic
150g cooked prawns, shell removed and roughly chopped
10 cherry tomatoes
2 tablespoons fish sauce
1 tablespoon lime juice
2 cabbage leaves
½ cup coriander leaves
Method
1. Peel the papaya and coarsely grate it into a bowl.
2.  Place the chillies, sugar and garlic in a mortar and pestle and pound until roughly chopped.  Add the peanuts and beans and mix to break up the pieces.  Add prawns and tomatoes and mix a little more, just until tomatoes are split but not pulp.
3. Transfer the ingredients to the papaya  add the fish sauce and lime juice and toss well .
4. Break each cabbage leaf into 2 pieces and place on small plates.  Top with salad and then scatter with coriander leaves.