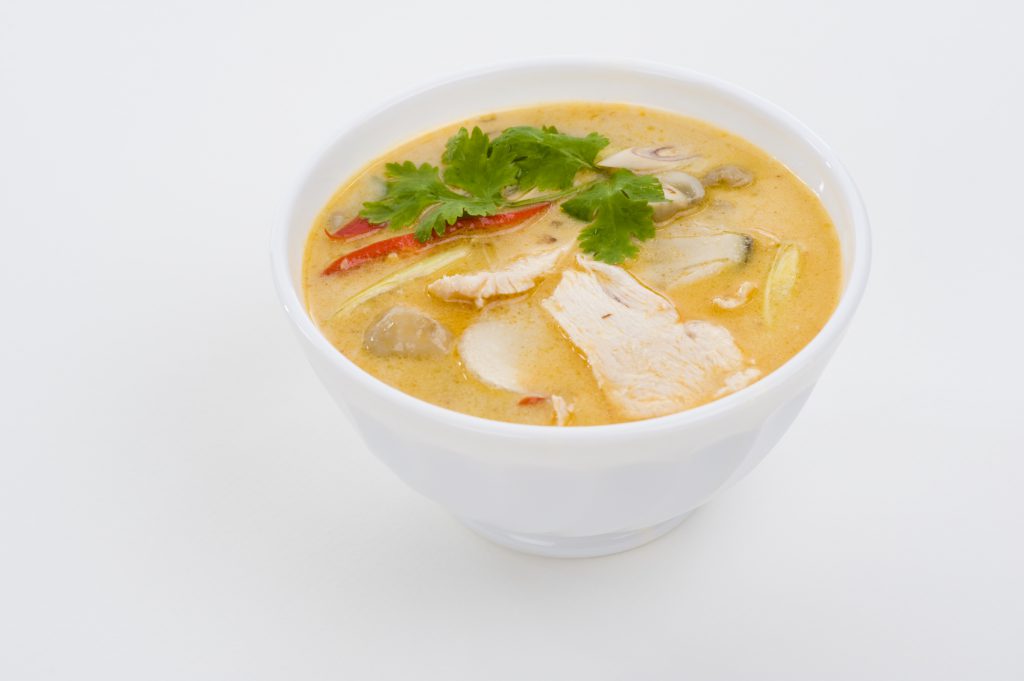 Lemon grass is available fresh in specialty green grocers or can be purchased in jars from the supermarket.
Galangal is available frozen from Asian specialty stores.  It has no substitute so it is in an ingredient worth buying when you find a store and then keeping it in the freezer and slicing or grating as needed.
2 cans coconut milk
2 cups chicken stock
2 stalks lemongrass, outer leaves discarded and then roughly chopped
3 shallots, finely chopped
2.5cm piece of galangal, sliced or coarsely grated
1 teaspoon finely chopped palm sugar
1-2 red chillies, finely sliced
1 cup sliced button mushrooms
1 cup cherry tomatoes
2 Kaffir lime leaves, sliced
2 teaspoons lime juice
2-3 tablespoons fish sauce
2 chicken breasts, sliced
coriander leaves
Method
1.  Place coconut milk and chicken stock in a saucepan and bring to a simmer.  Add lemon grass, shallots, galangal, palm sugar, chillies, mushrooms and kaffir lime leaves.  Simmer for 10 minutes to allow flavours to infuse.
2. Add tomatoes and chicken, simmer until chicken is cooked through.
3. Add fish sauce and lime juice, taste and adjust flavours if needed.  The soup should be a balance of salty, sour, sweet and spicy.
Sprinkle with coriander leaves prior to serving.
* Young green coconuts make excellent serving bowls for soup.  Remove the cap, drink the water and then fill with soup.