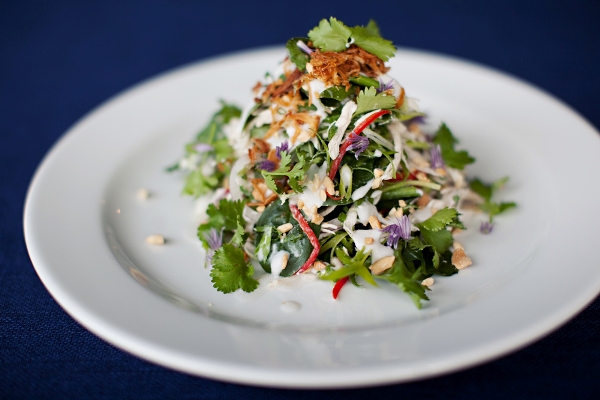 chilli and roasted peanuts
1 x 400 ml can good-quality coconut cream
2 free-range skinless chicken breasts
1 tsp sea salt
2 pinches dried chilli flakes
3 cloves garlic, peeled
50 g palm sugar, crushed with a mortar and pestle
juice of 4 limes (or juice of 1½ lemons)
3 tsp fish sauce
2 cups baby spinach leaves
1 fresh red chilli, seeds removed and finely sliced
½ cup mint leaves, washed and roughly torn
¼ cup Vietnamese mint leaves (optional)
1 cup coriander leaves, washed
½ cup basil leaves, roughly torn
¼ red onion, finely sliced
1 cup finely sliced (Asian-style) spring onions
3 tbsp deep-fried shallots (available from Asian supermarkets)
¼ cup blanched peanuts, roasted and roughly chopped
1 tbsp chive flowers (optional)
By
Method
Place coconut cream and chicken breasts in a small stainless steel
pot and bring to the boil over a medium to high heat. Reduce heat to
low and simmer for 5–6 minutes or until chicken is cooked. Remove
pot from heat and allow chicken to cool in the coconut liquor. Once
cool, remove chicken from pot, reserving coconut liquor, and shred
chicken into fine strips using your fingers. Refrigerate chicken until
ready to assemble salad.
Grind sea salt and chilli flakes together in a mortar. Add garlic and
continue to grind to a smooth paste. Place paste and reserved
coconut liquor in a small pot and bring to the boil over a medium to
high heat. Add palm sugar, remove from heat and stir with a wooden
spoon until sugar is dissolved. Add lime juice and fish sauce and
adjust seasoning with a little more fish sauce, if desired. Refrigerate
until completely cool.
To assemble salad, place baby spinach, red chilli, mint, coriander,
basil, red onion, spring onions and shredded chicken in a large mixing
bowl. Add 3–4 tbsp coconut dressing and lightly toss together. Divide
between four plates, drizzle with a little of the remaining dressing to
taste and finish with deep-fried shallots, roasted peanuts and chive
flowers, if desired.
Recipes printed by permission.
Simple Bevan Smith RRP $44.99
HarperCollins Publisher