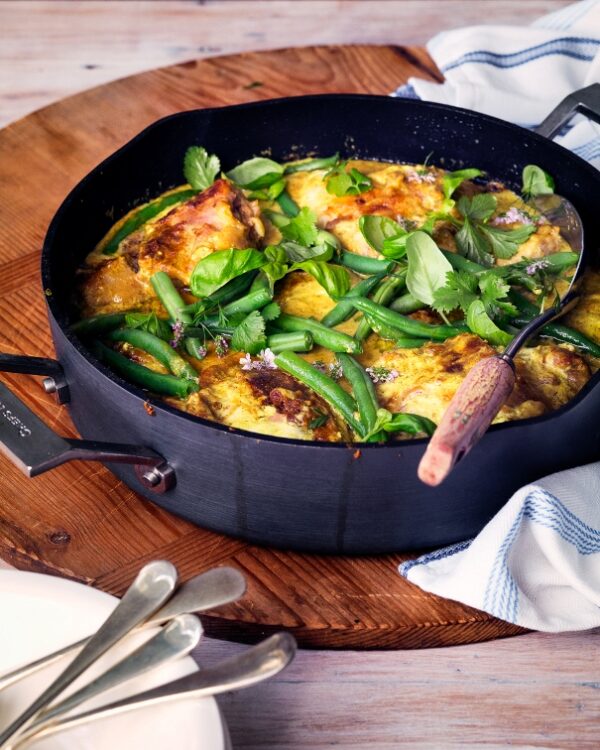 Ingredients
1

red onion, finely chopped

2 cloves

garlic, finely chopped

2 tablespoons

neutral flavoured oil e.g.rice bran

2 cloves garlic, finely chopped

3 tablespoons Thai Yellow Curry Paste ( I buy Cock brand)

finely grated rind of 1 lime and 1 tablespoon lime juice

1 tablespoon

freshly grated ginger

400ml

coconut cream

400ml

chicken stock

2 tablespoons

fish sauce

1 tablespoon

soy sauce

1 tablespoon

finely chopped (or grated) palm sugar

8 pieces

chicken ( bags of frozen chicken portions are economical)

green beans or broccoli

coriander/basil leaves (and flowers if you have them)
Method
Gently cook the onion and garlic in a film of oil in a large saucepan or casserole.   Add the curry paste and cook, stirring for a minute or two while paste becomes fragrant.
Add lime rind, juice, ginger, coconut cream, stock, fish sauce, soy sauce and palm sugar. Gently simmer, taste and adjust flavours if needed.
Add extra fish sauce, citrus or sugar if flavours are not punchy enough.
Heat a large frying pan with a film of oil and brown chicken in batches, until well coloured.  Add the chicken to the casserole and continue to simmer for a further 30 minutes until the chicken is thoroughly cooked.
Add green beans or broccoli to the pot for the last 5 minutes of cooking.
Serve topped with coriander and/or basil leaves and steamed Jasmine rice.