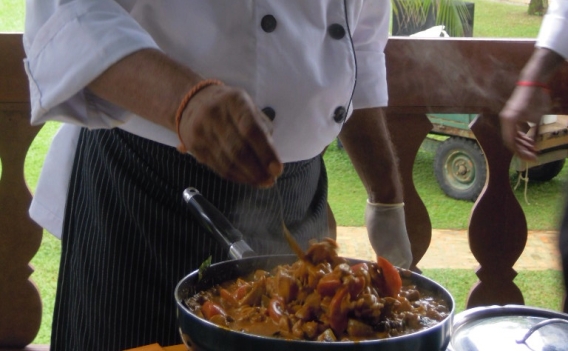 Prep time:

15 mins

Cook time:

30 mins

Finished in:

45 mins
Ingredients
750g

chicken breast or thigh meat

150g

shallots, peeled and finely chopped

3 cloves

garlic, finely chopped

1 tablespoon

grated ginger

4

cardamom pods

2

curry leaves

2

star anise

1/2

cinnamon quill

4

cloves

2 tablespoons

good quality curry powder

1 tablespoon

clarified butter

1 tablespoon

sunflower oil

1 cup

coconut milk

1/2 teaspoon

salt

150g

tomatoes, roughly chopped

200g

potatoes, peeled and chopped

1 cup

water
Method
Heat oil and clarified butter in a large frying pan, add all the spices and stir until fragrant.  Then add the shallots, garlic and ginger, stir well until shallots are tender.
Add the chicken and potato stir well and cook for 10 minutes, then add the curry powder and water and mix well.
Add the coconut milk and tomatoes. Cover and cook for 10 minutes, remove the lid and cook a further few minutes until sauce has thickened.  Serve with rice or Roti / chapatti.