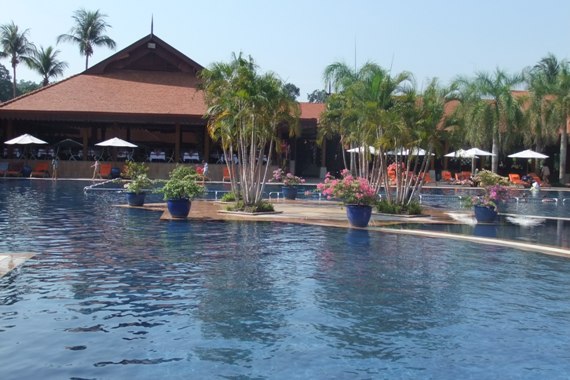 Helen Jackson
Having spent an adult life time of avoiding resorts in favour of self catering style accommodation, a recent trip to Club Med at Cherating Beach, Malaysia, has me reconsidering my stance.
Arriving sometime in the depths of the night we start our sojourn with a good sleep and ready to face a new day.  The rain from the night has disappeared and the only reminder is the haze yet to burn off to a tropically hot blue sky day.  From my end of the resort I have a leisurely outdoor walk to breakfast, wandering past  tradtionally designed bungalows on stilts that house guest rooms and blend perfectly into the surrounding lush landscape.
Entering the restaurant the towers of glistening chunks of pineapple, melons and star fruit are the first to catch my eye.  Alongside them are fresh juices of every description with a chef juicing sugar cane to order.
Moving to the pastries and bread is a reason to draw breath – the quality and flavour choices are seemingly endless and would match any respecting boulangerie in France.  While of course I knew that Club Med was French I wasn't prepared for something so Parisian in the heart of Malaysia.
The food area of the restaurant is spacious and is set out in food stations – I am loath to use the word buffet for fear of conjuring up something unpleasant which this certainly is not –  representing varying cuisines and styles of food.
The Malay area has taste sensations such as Nasi Lemak and the Chinese station has yum cha style light as feather steamed buns and dumplings.
A chef cooks omelettes to order, you just assemble the fillings you want on a plate, hand it over and within minutes a puffed golden omelette made with free range eggs is returned.
Overwhelmed for choice I stick to my routine of muesli and yoghurt but include a pile of the sweetest juiciest pineapple I think I have ever tasted.
Coffee and Tea are self help or you can head to the bar something a little more refined such as a macciatto or latte.
While I am childfree I do notice the fruit loops, coco pops and hot cakes with syrup that my children would gladly hold me to ransom over.
Lunch time again is an international showcase of taste delights.  Having always travelled with a "when in Rome" mentality I head towards the Malay, Indian and Chinese stations, representative of the main cultures that make up Malaysia.
Returning to my seat with an assortment of fragrant curries and rice, we settle in to the tropical heat with a bottle of crisp cold French Rose in hand. I feel slightly smug as I look at those with pizza, chips and sandwiches around me.
However smugness disappears when the dessert station appears – macarons, fanciers, profiteroles, chocolate brownie, mousse and cakes all are tempting  but I instead line up with the kids for creamy chocolate ice cream in a waffle cone – thank goodness for the decent walk back to my room!
Dinner repeats our lunch experience but with a whole new range of meals to choose from, in fact over the 4 days there are very few repeats which made your realise that if you see something you like then don't wait til tomorrow.  While there are plenty of lovely wines on offer we opt again for the rose – it works well with the heat.
(Remember too that aside from champagne and top end liqueurs, drinks are included in your rate and you pay nothing extra.)
My regret was finding the French cheese table later into our stay – the, Munster, Pont-L'Evêque, creamy Brie and sharp blue sat beside the gorgeous French style bread as mentioned above and were available for both lunch and dinner.
The main restaurant is generous in size and you can choose between the air conditioned indoors or the open side outdoors.  There is never a sense of overcrowding or queuing.
Those who want table service dinner can catch a "train ride" further along the beach but still within the resort, to the al la carte style restaurant.  You are more likely to find an adult clientele and it is away from the fun and festivities of the main area.
Of course though Club Med isn't just about food and there is a whole lot more to think about.
One of the biggest highlights of Club Med is its appeal to all ages and that an entire family can have a holiday doing exactly what they want.
My 9 year old is fascinated  by circus fetes and I know she would spend her days mastering hanging upside down high in the air of the trapeze, suspended by ropes with the safety of a net below.  Her 6 year old brother would be happier with the reverse bungy nearby whereas Miss 8 would fill her days at the pool and in the craft area of the kids room.
The teens have their own space as well – the teen room is fully equipped with electric guitars, drum sets and games, a haven away from those older and younger.
All of this is under the watchful eyes of the enthusiastic GOs (gracious organisers) that are always on hand to assist and inspire.
Ed could put some time into practicing his golf at the driving range or try his hand at archery while I would visit the gym in the morning for perhaps pump or yoga  and then be happiest enjoying some solitude with my book, reclining on a quiet lounger by the sea.
In fact one of the lovely things about Club Med Cherating is that you never really realise that there are loads of people sharing the same space.  Club Med own 80 ha, and although only 25% of this is used there is always somewhere to get away to that is peaceful.
My massage in a breezy canopy by the beach was such a quiet sensorial indulgence that I think it will be one of those things that will stay in my memory for ever.
At Club Med Cherating there is a real sense of sharing the land with the nearby jungle, monkeys provide cheeky chatter and antics while the monitor lizards move with prehistoric speed as they forage for food.  The well marked bush walk is a great way to feel up close and personal with the juggle but within the safety of a well marked track.
The turtle sanctuary next door provides a worthy service of rescuing freshly laid eggs from the beach over the middle months of the year before they are destroyed by hungry lizards or unsuspecting people.  The eggs are hatched naturally within the confines of the sanctuary and the young released into the ocean to begin their journey for survival.
As with all holidays the end came round to soon with my last lunch spent desperately making my way around the food stations lamenting over dishes I had yet to try – maybe next time!
Getting there – Malaysia Airlines flies direct to Kuala Lumpur, from there you have a quick 30 minute flight to Kuantan where a Club Med coach will meet you and take you 45 minutes up the coast to the resort.
Contact your local travel agent or call 0800 258 263 (0800 Club Med) or visit www.clubmed.co.nz