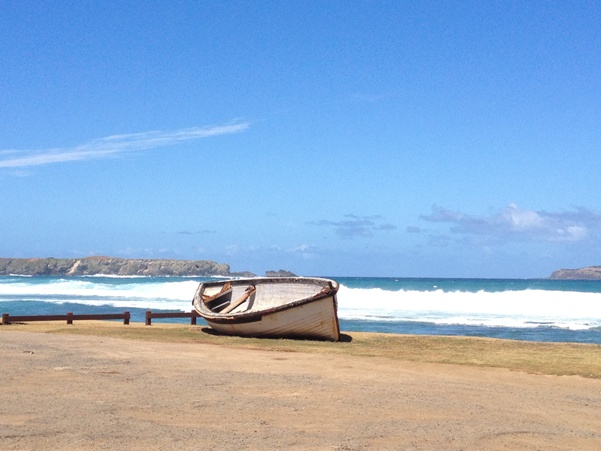 The close proximity of Norfolk Island to New Zealand makes it an ideal travel destination, but how much do most of us know about this isle in the Pacific?
If I am to be honest, not much, but all this is about to change.
At approximately 8km long and 5 km wide, Norfolk Island is literally a dot in the ocean between Australia, New Zealand and New Caledonia.
The flight from Auckland is brief, at only 1 hour 45 minutes there is barely time for a full length movie.
One of the first things I notice on arrival are the pines.  While the park areas have dense vegetation of ferns and palms, the remainder of Norfolk is pretty much cleared for agriculture.  Amongst the paddocks and along the roadsides though are towering Norfolk pines.  These once covered the entirety of the island but are now being carefully maintained.  New plantings occur regularly and each time one of their 1600 population becomes a centurion another 100 Norfolk pine seedlings are planted in their honour.
Norfolk Island holds a broad appeal to the traveller.  The short flight, historic sites and easy travelling make it ideal for the more mature traveller, while the 32km of mostly rugged coastline, clean clear water for diving and fishing as well as clearly marked bush tracks and nearby Phillip Island, hold huge appeal for those wanting a taste of nature at its best. The waters around Norfolk are teaming with fish with trumpeter, kingfish and trevally being the main catch, tuna are a treat but not a daily catch.
With no natural harbour there are jetties at both Cascade Bay and Kingston.  These are on opposing sides of the island to offer a choice for boaties, depending on weather conditions.  Boats are lifted by crane in and out of the water which includes the boats ferrying in the fortnightly supplies that arrive by ship.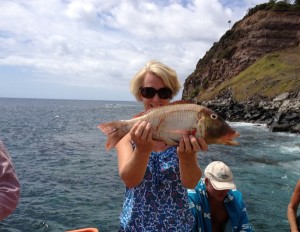 Fishing is not hugely commercial but there are a few fishermen such as Darren Bates who are happy to on sell their catch to restaurants and friends.  Those with a stomach for the swells are able to book an early morning fishing trip with Darren and he also runs cruises around the island.  Check out Advance fishing charters for more information. Having no head or stomach for fishing, I instead greet Darren on his return to shore, displaying just one of the many trumpeter from the morning's catch.  The fish are filleted on shore and then on their way to restaurant and home kitchens.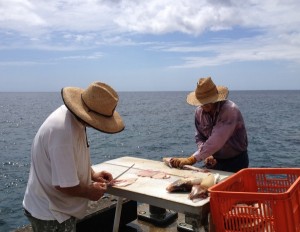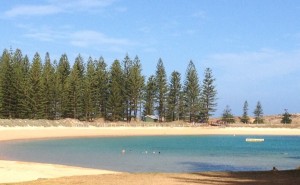 Emily and Slaughter Bay are the popular swimming beaches fringing historic Kingston. While they are literally a stones throw from each other, Emily is the more picturesque of the two, with golden sand and shimmering blue water it is perfect for family friendly swimming.
While Emily is the best for swimming, Slaughter is ideal for snorkelling, gear can be hired in Burnt Pine (or bring your own with you) and spend hours exploring the second most southern coral reef in the world (Lord Howe island being the most southern).  Fish life is prolific and while you may not see clown fish and some of the more tropical varieties there is still a huge array of varying sized and coloured fish along with the odd moray eel and if you are lucky you may spot a turtle.
For those wanting something extra special then ask directions to the rock pool near Captain Cook memorial – at low tide only.  A steep zig zag path down the cliff will take you to a rocky coastline.  Here you will discover a large natural rock pool that is wonderful for snorkelling.  It is just one of many off the beaten track treasures that Norfolk has to offer.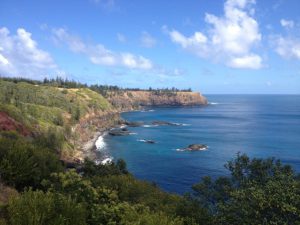 Turtles are in abundance in the waters off Norfolk and Emily Bay was originally called Turtle Bay but changed in honour of the Governor's wife.  The cliff top coastal bush walks such as Mt Pitt to Captain Cook lookout are a great place to both spot turtles and the prolific amount of seabirds that inhabit the rocky Northern Islets dotted along the coast.
If seabirds or hiking are your thing then you may like to take a boat trip to Phillip Island. 7km off the coast from Kingston, Phillip Island is inhabited solely by birds and the occasional group of Norfolk men who choose to spend a night at the "Phillip island Hilton" (a hut).  Those who are fit and capable climb from the boat and up a ladder onto the island to trek amongst the seabirds.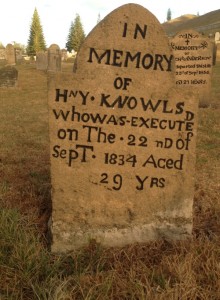 If all of this is sounding a little too energetic and adventure filled then Kingston is also a great place just to wander and soak up plenty of history and possibly ghosts.  

Originally a penal colony from as early as 1788, the ruins of the jail and neighbouring cemetery are a sobering reminder of the poor quality of life for some.  At the end of the Penal colony era, prisoners who survived the dysentery and disease that killed so many were relocated to Tasmania and given blocks of land.
Remarkably although there was roughly a 60 year period of the island being uninhabited from when the convicts left and the Pitcairn immigrants arrived, the Officers homes in Quality Row have been preserved as classic examples of gracious Georgian homes.  These are now used for museums and administration.   
On the seaward side you will see the grand Government House and also the picturesque Norfolk golf course.  Kingston is also a World Heritage listed area.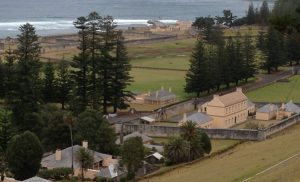 Although immersing yourself in history is not for all I urge you to visit Cyclorama, an amazingly detailed and beautifully 360° painted story depicting the Mutiny of the Bounty and the settling of both Pitcairn and Norfolk Islands.

Right beside Cyclorama is the Hilli cafe and restaurant, an ideal place to sit either
outdoors or in and enjoy island food at its best.  While potatoes, onions, garlic and ginger are the only produce imported to Norfolk Island, that is certainly no reflection on the quality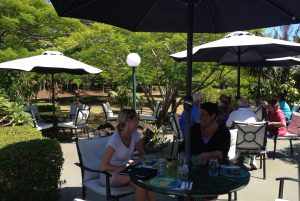 of the food offered in the many cafes and restaurants.

My roasted vegetable salad with Australian prawns is full of flavour, texture and a medley of fabulous fresh produce. 
Hilli not only have their own garden on site but they also have an extensive garden at owner Kim's property where produce is carefully managed to maintain a year round supply for their chefs.
Another restaurant growing a large part of their menu is Norfolk Blue, here Robyn and Jap Menghetti breed the blue hued cattle that are then processed on site and feature on their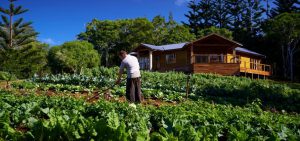 restaurant menu – not even 1 food mile with this!  Here the beef is served as hearty terrine, silky pate, in an Asian style salad, in risotto balls, as slow cooked ribs or roast and of course seared to order as a prime cut.
The cattle are thought to have derived from an Angus shorthorn cross and have evolved over the years on Norfolk.  For those not inclined towards red meat then be assured Norfolk Blue also has fresh local fish, Australian prawns, chicken etc..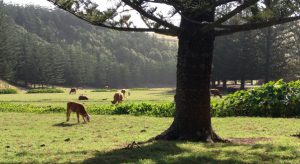 Cattle are a large part of Norlfolk Island and on the whole they take free range to the extreme and just wander at will.  I am assured that everyone knows which cow belongs to whom and periodically they are rounded up for identification, calf weaning etc…  Although many have pronounced horns, as I ventured on an early morning jog I was relieved to notice that the bulls were within paddocks and the geese were the only challenge. Thankfully the perimeters of Burnt Pine shopping area have cattle stops to keep the area a "cow free" zone.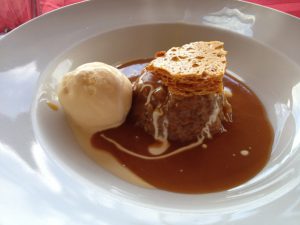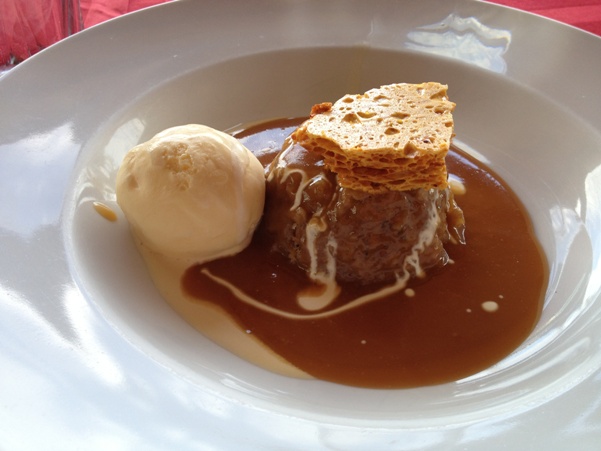 Most locals grow produce which is either exchanged by barter system or sold from honesty boxes at gateways or outside other retail outlets.
Norfolk Island is home to 21 varieties of bananas and while I have no idea which varieties I tried, they were so sweet and flavoursome that it is a reminder of the difference of eating local seasonal produce.  Banana bread, muffins and this scrumptious banana pudding were all served to us over our few days and I come home longing for a bunch of Norfolk Island bananas to give that essential flavour to my baking.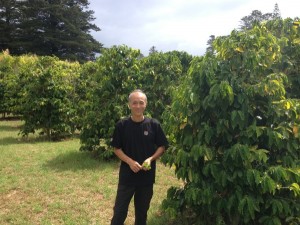 Along with bananas, guavas, citrus, green vegetables and a plethora of chillies, Norfolk Island's Fred Wong grows, dries and roasts coffee at Anson Bay, appropriately labelled Anson coffee.  Fred Wong, a Hong Kong import from many years ago, produces premium Arabica coffee for the local market. The coffee cherries which are ripe around Christmas time are all harvested by hand.  It doesn't take a mathematician to work out the picking rate and dried weight of coffee make this a real labour of love and talking with Fred shows the passion he has for his craft.  Fred's Anson Coffee is smooth and well flavoured, definitely the coffee to choose and, if you are lucky enough to find it, purchase a bag to bring home.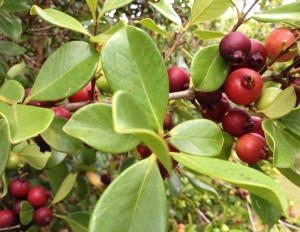 Guavas are an autumn delight and an environmentalists nightmare due to their invasive nature.  While they are beautiful just plucked and eaten they are also divine as jelly on toast, juiced or try a guava daiquiri at Dino's restaurant.
As well as their own celebratory days, such as Bounty Day, Norfolk Island also has annual jazz and country music festivals with rumours of a 2014 food festival being added to the mix (I will be there).
On the whole, the Norfolk islanders are well educated and travelled.  Many have lived off shore periods of time, be it for education and/or work.  Many return home once married for the wonderful quality of life that Norfolk affords young families.
There is a saying in Norfolk that people arrive walking fast but their pace slows to a stroll with every day they stay and I agree.  After my very brief trip to Norfolk, I feel completely rested and envious of island life. I will be back again and next time it will be with my family so they too can experience the magic that only remoteness can offer!
Getting There:  Air New Zealand flies direct to Norfolk island once a week.  For shorter trips you can travel via Brisbane.
Accommodation: Norfolk Island has a wide range of accommodation available, we stayed at the very comfortable Broad leaf villas, the villas come with a car and are a short stroll into Burnt Pine township or you can wander down the hill to Kingston.  Karleen who works at Broad leaf is an local expert on diving and snorkelling.
Where to Eat:  Norfolk Island has great restaurants, personally I would recommend Hilli, Dinos, Nofolk Blue and The Rock (great fresh fish).  For day time casual try The Golden Orb and The Olive Cafe.
Cooking Class:  Mastering Taste is a great way to meet others and cook in a kitchen with a fabulous view!  For details and pricing talk to Norfolk Island Tourism.
Talented Island chef Shari Bates takes these classes and also is available for catering.
High Tea:  High tea at a cliff top luxury property is a real treat.  For more details talk to Tania at Norfolk island tourism.
Pamper :  There are a few choices re personal pamper, my masasge at Ponderosa Spa was magic.
Shopping:  Local currency is Australian Dollars.
Diamonds and precious jewels are a feature as is English china, European shoes and cosmetics at tax free prices.
The toy store is enormous!
Everyday prices on alcohol is very reasonable so no need to bring Duty Free with you.
Information:  Norfolk Island Tourism is the best place to get information.