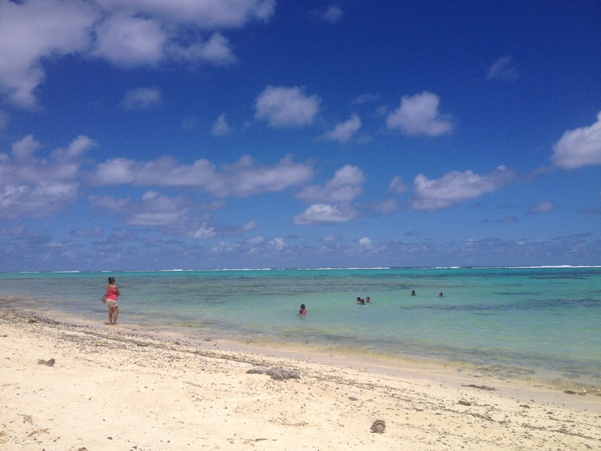 Some of us are habitual virtual holiday planners. We get excited about airline specials and reading reviews on Trip Advisor, yet never get much further than our chair in front of the computer.  Being one of these people, it almost takes me by surprise to see the snorkels and flippers lined up for packing and I realise we are actually really heading off to Rarotonga again – with our urchins in tow.
Rarotonga is where we have had some of our best family holidays, it is where the world of ipods and rushing stop and instead we find happiness in the simple things.
Arriving late-ish January in the "wet season" may seem slightly mad but luck is with us and the clouds drop their rain at night and the days are blue and balmy.   Daily temperatures sit at around 30 C with relatively high humidity,  as long as you are near water for a swim and have fans indoors, it is actually gloriously hot and tropical..
Our previous visits have been in April and September, with the latter proving great for whale watching. Humpback whales migrate to the summer feeding grounds of the South Pacific from May – October and in places where the reef virtually meets the shore you can often watch them breaching from the comfort of a bar or your restaurant table.
While January is not for whale watching, if you fancy seeing some large ocean dwellers then a fishing trip is easily organised.  Within seconds of passing the reef the water changes from the lagoon pastel palette of blues and greens to a deep rich indigo (well so I am told). It quickly drops down to depths of more than 1000 metres and is literally teaming with fish.  Our fishermen proudly bring in a good selection of yellow fin tuna and mahi mahi, showing off their catch is thankfully enough for Freddie (9) to forget his misery of sitting in the ocean swells – where despite his pleas to his Dad the answer has to be, "No I can't call mum to come and pick you up!"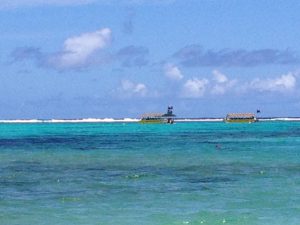 Luckily the fish within the reef are significantly smaller than this and snorkelling becomes my daily ritual , the quietness of the water feels calmly soothing.   The water of the lagoon is relatively shallow (as warm as a bath at times) and the fish life is prolific.  After checking out a few of the popular snorkelling spots we are convinced that a bit further south of the popular Fruits of Rarotonga, is where you see the most fish.
The famous Captain Tama lagoon cruises choose to anchor here for its passengers to enjoy a snorkel – which really says it all.  Angel fish, neons, huge trevally (it's all relative) trigger fish and parrot fish (to name but a few) surround you in spectacularly large numbers.  I keep my toes and fingers well away from the giant clams and have a slightly foggy mask to thank for missing the python thick moray eel swaying out from its cave.
Captain Tama lagoon cruises head off from Muri Beach Sailing Club (which has fab mojitos but you will eat better elsewhere), where you can also hire kayaks and paddle boards.  Our obligatory family paddle board over to the little Motu (island) is a pleasant way to spend a morning, although I soon find that quickly changing my body weight to follow fish or reign in a wayward son is not conducive for either staying upright or for any hope of a much needed abdominal workout.
Muri is a popular area for both holiday rentals and resorts and our rental house is on the outskirts of Muri within walking distance of shops for supplies and also the Sailing Club.
A short drive down the road at Titikaveka you will find clear white sandy stretches of water which are great for swimming. The water is a little deeper and you don't see any of the harmless but slightly squishy sea cucumbers that proliferate in Muri (some eat these you know).
As with all things, Rarotonga is changing with the times and most things you want to eat can now be bought locally. The fish shop by the airport is great for fresh fish with albacore, yellow fin tuna, mahi mahi and broad bill generally available (catch permitting of course). Prime Foods in Avarua sell quality beef, lamb and poultry from NZ and the Cook Island Trading Company (CITC) is a good starting point for dry goods and alcohol. Cheese, yoghurt, chilled dips and chocolate are pretty much price prohibitive but can easily be brought in with you in a chilly bin of luggage.
Beer prices are not too dissimilar from home although wine prices seemed to start at around $18 bottle.   Prices and currency are all in New Zealand dollars and there are Cook island coins which marry in with our currency.
A mountain of produce (along with arts, crafts and beautiful floral eis) can be found at the Saturday morning market at Avarua, which probably offers the most varied and fresh selection on the island.  Outside of Saturday fruit and vegetables can be bought at the numerous roadside stalls and also at Wigmore's Superette in Ara Tapu (between Titikaveka and the Rarotongan resort).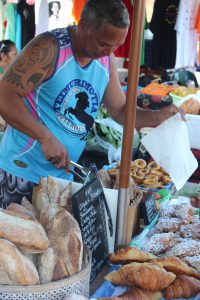 Those who are prepared to drive for their morning coffee will not be disappointed, Kiwi ex-pat Neil Dearlove demonstrates perfect barista behaviour at his home come coffee roastery in Matavera.  An orange cone at the gateway indicates that he's open for business (usually between 7.30-10.30 each morning), and if you are lucky you may also get warm croissants baked by Neil's son Reuben whose VMV labelled Artisan breads and pastries are also available at Muri Outlet store and the Avarua Saturday market.  His Portuguese custard tarts and almond croissants are impossible to resist!
Delilicious in Muri also makes a perfectly acceptable brew, and Coco Latte (opposite Wigmore's) has enjoyed rave reviews on Trip Advisor.
Rarotonga has a plethora of eating places, some relying more on their vista than the quality of their food, and prices can be up there.  Many of our evenings are enjoyed over a well chilled bottle of rosé, various homemade curries, and a pack of cards, with a few restaurant meals dropped into the mix.
Our best find is The Mooring at Muri.  Moko (the husband) runs a fishing charter (albeit, a rather colourful one) from the mooring and brings fish back to his wife and her team at the cafe (converted shipping container) to be fried, seared, grilled or served raw, in salads or as mouth wateringly good doorstop sized sandwiches! Sweet and refreshing , coconut milk is a perfect match with the fishy menu.  The cafe is weather-dependent as seating is outdoors (with sun umbrellas) and is open Sunday – Friday 10am – 3pm (ish).
Bamboo Jacks is a great choice for dinner at fair prices. It belongs to the same family as the legendary Trader Jack's and sits on the fringes of Avarua.  Beef rending, Pad Thai, Papaya Salad and Yellow Curry are all declared to being super delicious and the courtyard garden setting is calm and relaxed.
Tamarind House and Vaima are hard to beat for their serious ocean vistas and Tamarind in particular has a lovely atmosphere.   Prices are comparable to smarter NZ restaurants, we can recommend the fish curry at both and the teenagers gave thumbs up for Tamarind fish and chips.
Even though the maximum speed in Raro is 50km it's only 32km in circumference so most things are not too far away.  The island is flat aside from the mountain in the middle (which is worthy of a crossing), and can be cycled with ease.  If you don't have a car just  use the buses which constantly circle the island – one going clockwise, and the other anti clockwise – of course.
9 days and 4 books later, we are at the airport about to return to New Zealand.  As we cross the tarmac I remind the urchins to feel the heat on their skin, take a big whiff of sweet island air and store it as a memory until next time….
Tips and Hints
* Houses that sleep a family are easily found on www.rentraro.com
You can easily find houses that are clean and comfortable at very fair prices.  Feel free to email me on any specific questions.
We most recently stayed at Muri Moanui and can also recommend Muri Lodge.
* A car (and everything else) can be organised in about 1 minute from experiencerarotonga.co.nz This will then be waiting for you at the airport and can be dropped off at the same.
* Within 24 hours of arriving you need to go and fill in the paperwork to get a Cook island drivers licence.  This is merely a formality and a $20 cost.
* Rarotonga does have a winter – albeit and mild one. While you can still swim in July you probably won't find hot tropical weather that other pacific islands may offer.
* Fruit is at its best in summer and early autumn when you will get passionfruit, pineapples, mangos, melons and plenty of bananas and paw paw.  Mid winter the fruit is generally paw paw and bananas.
* Muri beach has a market on Thursday nights where you can buy food from stalls and sit and listen to local music.
* Tea tree is good for preventing infection from coral cuts.
* Summer and mosquitoes go together so have repellent at the ready once the sun goes down.
* Just because no one else wears helmets or seat belts doesn't mean you shouldn't :
* * There are water stations around the island providing filtered water for free – please make sure you find one and fill bottles rather than leaving the island with an excess of plastic rubbish.
* Also check out Experience Rarotonga facebook page.