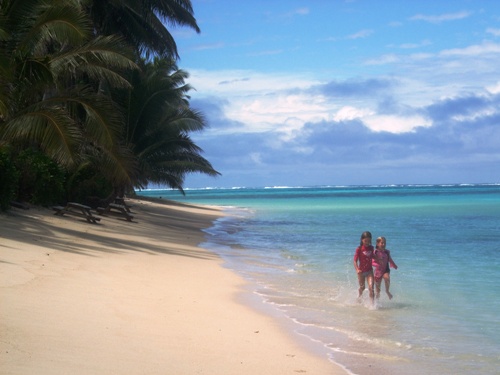 I thought there must be a pricing error when I buy an enormous stem of bananas for $6 – there are close to 100 bananas in varying greenish hues with some faintly yellow.  I struggle to our little soft top rental and perch the bananas beside me on the passenger seat.  The mangos, melons, oranges and pawpaw are in the back.
This is day 1 of our Cook islands holiday and I am out buying supplies. It is our second family holiday here – we are enamoured with the place and so much so that the local Real Estate signs get more than a cursory glance.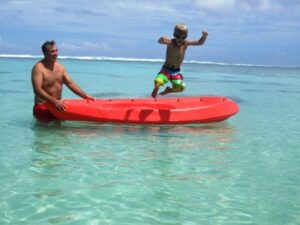 This time we are renting a house at Titikaveka on a particularly lovely beach.  In fact where we are situated is arguably one of the nicest stretches on the island.  We are at the southern end but there are plenty of places along this side of the island, where the lagoon provides a safe haven for swimming and water activities.  The snorkelling and swimming vary depending on where you are but we have struck it right with easy access to clear sand for swimming and also plenty of rocks and coral for viewing fish life.  The fish come up to shore level making it perfect for those who are new to snorkelling and the very young.
Most holiday rentals have kayaks and we have 2 at our disposal, Freddie (5) spends much of his 12 days kayaking along the front of our beach and back, within the points we have set for him.
All of the children snorkel and it strikes me at how special it is to be snorkelling along hand in hand with my 7 year old with both of us experiencing the same thrill of excitement.
Our house is spacious with a large covered deck, perfect for noisy children and also for whatever the weather throws at you.  Rarotonga is known for its variable weather and you do need to be prepared for the wet days that may happen.  Our attitude is that if we go for a couple of weeks then the odd wet day certainly won't spoil our time – it has so far worked out beautifully.
October to May are the hottest months whereas May – September is when the whales are about and chances are you will be able to view them from shore.  On our last visit we witnessed them leaping out of the water from the comfort of our outdoor table at Tamarind House restaurant.   A dive trip the day prior had witnessed the birth of a calf.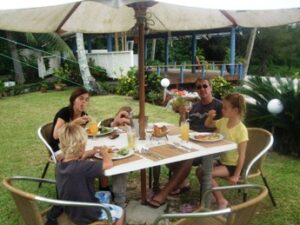 Tamarind House is a Rarotongan institution. We had several visits for both lunch and dinner with highlights being the Balinese fish curry made with fresh tuna and a Tuna Nicoise with the same deliciously fresh tuna.  Fresh fish comes in to the local fish shops daily and you can purchase broadbill and tuna at really reasonable prices.
While a local bus circles the island regularly we rent a car and also bicycles.  I manage a few circuits of the island – 32km, scenic and completely flat.
The most popular form of transport is motorbike and although we did a rooster tally one day we neglected to count motorbikes.  Thankfully the speed limit is 50 km as almost no one wears helmets and often the bike is well loaded with people and produce.
The mountainous peaks are in the centre of the island, these are covered in dense bush but accessible by tracks and ideally with a guide and lots of mosquito repellant.  Funnily enough we have never been bothered by any insects along the beachfront.
The supermarkets in the main township of Avarua have most products and I am thrilled that my daily latte habit can continue with many good cafes about.
Saturday markets at Avarua are not to be missed – get there early before the crowds (they open at 7am) and enjoy your produce shopping while breakfasting on fresh croissants and sipping on delicious smoothies,
Avarua also has pearl shops selling the famous South Pacific black pearls, these vary enormously in price and quality.
Windjammer is well known for its fine dining and while we planned to celebrate a birthday there we didn't make it this time.  The short evenings and lazy days saw us instead eating out or at home with the kids and then reclining with our books.
While we somewhat shamefully didn't experience much of traditional Cook island culture there are progressive dinners that are highly recommended and many of the resorts have island night celebrations .
We choose to stay in houses, it suits our budget and we are happy to hang out with the kids and cook casual meals for the family with visits to various cafes and restaurants when the mood takes.
For those wanting to completely relax there is family style accommodation at the various resorts with great kids clubs,  daily entertainment and pools.
Our 12 days pass in a blur of endless days reading, swimming, snorkeling and kayaking.  Walking across the airport tarmac on a balmy 30 degree evening I remind the kids to remember the heat and the tropical fragrance until we come back again next year and maybe then we will also fit in a much anticipated trip to Aitutaki.
 Points to ponder
www.rentraro.com is a great place to find houses – we stayed at Ocean Blue and white sand villas are just next door.  Not beachfront but roomy and with a pool is Muri Lodge.
Shop in Avarua or at Wigmores superette (Wigmores has great hydroponic greens)
Rarotonga does get a winter (very mild by our standards) so mid-year the tropical fruit supply is limited and you may need a jumper in the evenings.
Airport Duty free shopping while limited in range is very cheap in price so save your buying until you get to the airport on your way home.
Edgewater resort offers apartment style family accomodation where you can self cater or dine in.
Trader Jacks serves good pizzas and is great for a casual outdoor family meal.  They also have a more upmarket restaurant.
If self catering, arrive with a chilly bin of vacum packed red meat, yoghurt, cheese, sliced ham, perishable dips etc… These are expensive to buy but as long as they are commercially packaged then there is no problem with bringing them into the country.
Air NZ fly daily from Auckland to Rarotonga.  If considering Aitutaki you are often best to get tickets ahead of time from NZ as specials come up.