Baking with Citrus – Tammy McLeod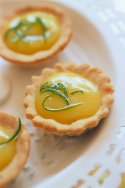 Lemon and lime flavoured baked goods are always warmly received. Tangy citrus flavours are a delicious contrast to the sweetness of a cake or slice. It is the rare person who turns down a piece of sticky lemon slice or lime syrup cake.Citrus fruit is in season now, in the middle of winter. It is as if Mother Nature is giving us something bright and cheerful to brighten up dreary winter. I always have a bowl of lemons in my kitchen, regardless of the season, as I find that lemon juice is a great way to give a flavour boost to a myriad of dishes. Limes are a little less common place, but when they are in season I juice them and then freeze the juice in ice-cubes, ready for use. Lime juice is a must in Thai cooking, but I also find the extra zinginess of limes are perfect in baking.
Lemons and limes are almost interchangeable in baking – if you don't have limes, you can always use a lemon. The zesty flavours are perfect in desserts – citrus tart is an all time favourite, originating in France,  (where it is known as tarte au citron) lemons or limes can be used and the smooth creaminess is a perfect after dinnner touch.  Lemon meringue pie is another all time favourite along with cheesecake and mousse.
It is always good to have something lemony in the tins. Sticky lemon slice is a perennial favourite and can double as a dessert with a dollop of whipped cream or yoghurt. Lemon syrup cake is another much loved tin filler. If you have baked a plain cake or loaf you can whip up a lemon or lime syrup (use the zest and juice of 2 lemons or 3 smaller limes with ½ c each sugar and water, stir over heat until the sugar is dissolved and then simmer until syrupy), drench your cake in the hot syrup and you have a fabulous syrup cake!
A simple lemon or lime icing (mix enough juice into icing sugar to give a pourable icing) can be drizzled over plain cakes, loaves or biscuits for a tartness to match the sweet of the baking. Lemon or lime curd is the perfect ingredient to add when wanting to make something effortless look fabulous! Try putting it in mini tart cases, use to fill the middle of cupcakes or muffins, swirl through cheesecake or ice-cream, serve with pancakes, use in steamed pudding instead of jam,- the list goes on.