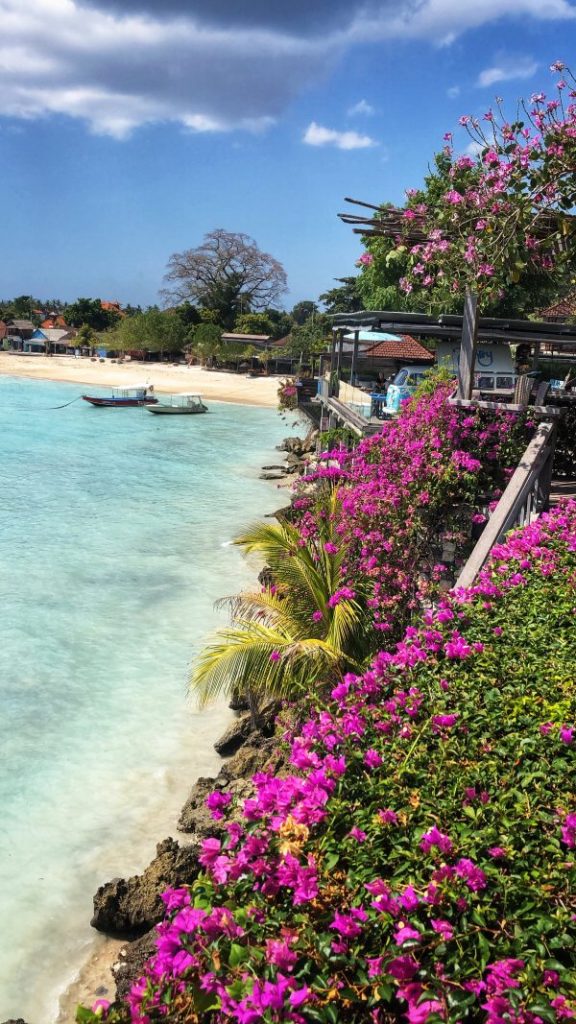 Warning:  If you are a family that likes riding elephants or zoos, apologies you won't find that here.
There is an eager air of anticipation as our boat is loaded with guests, dive gear and a reassuring ratio of staff.  We putter out into the calm turquoise Lombok strait (between Bali and Lombok) where the water is so clear that the bright yellows and purples of coral gardens can be seen without even getting your toes wet.
The aim was to dive with manta ray but the seas at Manta Point are too rough and it is not to be.
I day dream my way through schools of beautiful tropical fish, particularly at Mangrove Bay, where despite the traffic (there are lots of boats and tourists), it is easy to find your own pathway, just you and the tickly sound of thousands of fish munching.
The divers in the family are lucky that by the next day the swell settles enough for them to get up close and personal with manta rays (and turtles) with some bucket list big ticks.
We booked Planet Nomadas dive school before we left home, it probably wasn't essential but we didn't want to miss out. Their care, thoroughness and also friendliness would be hard to beat.  Our 17 year old doesn't have her Padi dive certificate yet but some time spent learning the basics in the pool meant she was able to dive with a buddy by her side.


I instead opt for a huge island walk and then recline on the deck of our cliff hugging villa in Nusa Lembongan and watch the surfers navigating the often turbulent coral surf breaks.
Nusa Lembongan is just over half an hour ferry ride from Sanur and is part of an island with Nusa Penida and Ceningan.
Lembongan has the most infrastructure and where we base our island time.  Ceningan is connected by the yellow bridge (scooters, cylcles and drivers are easy to find) and Penida an easy ferry ride.  The teens are keen to tick of the Instagram essentials e.g. Devils Tears.
Nusa Lembongan has an interesting mix of the stylishly cool and very local fare.  The former are beach front or hug the steep cliffs above the surf breaks, the sunset views making happy hour even happier.


The local warungs (small restaurant or cafe) are tucked away in random places but all easy to find by asking around, we have delicious takeaways from Ketut's Warung.  This family essentially open up their home each night, creating delicious Thai/Indonesian favourites for a minimal price.
For convenience we often find ourselves at The Deck, a few steps from our villa.  While modern and stylish, it still has many Indonesian favourites such as Nasi goreng and satays.

Wanting to also support local businesses, we vary our meals between little warungs that are akin to dining in someone's home and the more stylish (possibly Australian owned) cafes.  According to one of our chatty drivers, around 60% of businesses in Seminyak are now owned by Australians.
Life on the island is easy and Freddie (14) soon gets chatting and hires a board from a rental store to head out to the surf break with an older and wiser "mate" who is doing the same.
The only disturbance in my day is when hunger calls and it is time to go in search of yet another delicious meal.
I am blown away by the food choices in Bali. Travelling to tropical islands is often a time when you need to compromise on food expectations with both price and quality. Not so with Bali.  Every meal, every dish and every mouthful are to be savoured.  And, there is something for everyone, even the 14-year old whose vegetable preferences are shamefully limited.
Our Instagram obsessed teenage daughters are excited to have endless "gram" worthy smoothie bowls, mocktails and food with a view, while this reluctant omnivore is delighted with the vegetarian and vegan meal choices.


My vegetable intake is almost enough to make me smug although the daily consumption of Bingtang beer and peanuts (or Pringles) negates any sense of virtue.
When you travel with a family, cost is usually an issue but Bali is unbelievably cheap. A meal out is generally around $7 NZ per person.  Never have we eaten so well for so little and this in undoubtedly adding to the growing appeal of Bali as a family holiday destination.
Bali as an island is east to west approximately 153km and 112km north to south, with most of the tourism concentrated in the south west.
80% of the population are Balinese Hindu, in contrast to the other islands of Indonesia where Muslim is the main faith.
The people are warm, gracious and friendly.
While geographically the island isn't that huge, getting anywhere in Bali requires a lot of time and patience.  The traffic is hideous and within Seminyak we were often told that it would be quicker to walk than to get a taxi.
Despite the prospect of traffic we do have a day in the hills of Ubud. Leaving Seminyak at 7.30am means a straight forward trip, coming home mid-afternoon is nowhere near as pleasant.  Many times I contemplate abandoning the car and walking – surely faster.
The teens spend the morning at the reputable Casa Luna cooking school in Ubud, learning to make some of the classic dishes of Indonesia.  The recipes are tasty and while the kids have a good time, they would have preferred to be more hands on.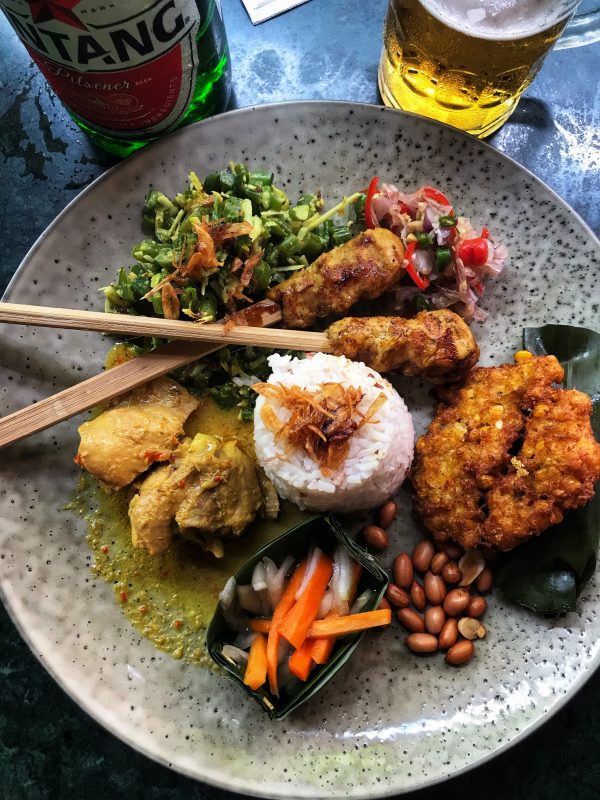 Ubud is lush and green, it is renowned for beautiful rice paddies and yoga retreats with many villas available for holiday rentals.
Accommodation in Seminyak is also easy to find, we prefer villas over resorts and there are plenty to choose from. There doesn't seem to be right or wrong areas to stay in but it probably is worth thinking about what you like doing most and plan where you stay accordingly.
For those that like the hustle and bustle of the shopping around Seminyak square then you perhaps will want to stay nearby.  We had a fleeting visit, vaguely perusing shops but the heat, constant hawkers, lack of room on the pavement (July school holidays for NZ and Australia) and the endless shops selling the same beach wear, soon had us fleeing back to our peaceful villa in Petitenget (would highly recommend) with its pool and quiet neighbourhood.  It's handy to be walking distance from restaurants and the Beachclubs are worth a look.  Our sunset drinks sitting in the colourful beanbags at La Plancha on the beach, are a novelty for one evening.


The teens have good intentions of a day at Potato Heads Beach Club but the cost of a day bed saw them instead heading to a place next door where you could sun lounge for free.
The restaurants in Seminyak are internationally interesting, we tend to eat local flavours or close to it but you can easily find Japanese, Italian, Vietnamese (highly recommend Saigon Street), Mexican (Motel Mexicola is a teen dream) and great Indian (Sarong).  Shelter Café is a personal favourite (the teens raved too) for breakfast or lunch.
Few people travel to Bali without having a massage (I'm an exception).  From the basic local businesses to those with white towelling robes and slippers, Seminyak is the place to have your stresses and worries rubbed away. Instead I opt for a pedicure and laugh when the person seated next to me is a friend from NZ.  Her husband and friends have a daily massage for the week that they are there.
Big and little kids seem to love Waterbom Park in the Kuta area.  We happily send ours (14, 16 and 17) off in a taxi from Seminyak, allowing us time to enjoy a peaceful lingering cafe breakfast.
Our keen 14 year old surfer finds Bingin beach at Uluwatu awe inspiring, we find a guide to take him, the waves are big, the surf is mean and the rips can be serious.
205 steep steps down the cliff towards Bingin beach is Bingin Ombak Warung, recommended to us by friends.  The coffee is good (actually all of our coffee is good) and the beer battered mahi mahi tacos are so damn delicious that we head back again for the same lunch 3 days in a row.


Aside from sitting at Ombak watching surfers, there is a resident dugong who surfaces close to shore with regularity and it becomes a game to look for him amongst the waves.  Freddie isn't so sure when one surfaces beside him on his board as "not all vegetarians are friendly".
There are many holiday villas along the cliff front and as the ocean views are so outstanding, I think next time we will brave all those steps (with luggage) and stay here, although I do love our own oasis next door to the popular Cashew Tree café and fitness school.  The Cashew Tree is home to great coffee, delicious food (although dinner can be fairly slow to arrive) with an awesome cooler displaying bliss balls, carrot cakes and other delights. They also have the best coconut based gelato ever.
Just along from Bingin Beach is the popular Padang Padang beach and then further from there is the famous cliff top Uluwatu temple.  Padang Padang beach is usually completely over crowded with people – and the fringes are over populated with cheeky monkeys intent on a free meal. As the tide comes in the beach gets even smaller and the monkeys bolder.   Many of the Uluwatu beaches are tide dependent in terms of whether there is a beach or not.  High tide literally takes over the beach but this may be due to the full moon as well.


The monkeys at Uluwatu temple are equally – if not more – annoying than Padang Padang and are known to steal anything not glued on, including shoes.  Thankfully we are there in the middle of a hot day and the adult monkeys are too hot to do anything but lie languidly in the trees while the younger entertain us by playing in small swimming pools that seem to be purpose built for them.
(I will post video when I work out how :) )
The grounds of the temple are interesting in themselves and the high cliffs provide dramatic ocean views.

The temple offers a little view of another culture, something that is easily missed in the fun of a hedonistic holiday.
Bali is an easy holiday and one where the whole family can get to enjoy it without compromise.
We leave feeling happy and satiated, having had 2 weeks of endless sunshine, warmth and wonderful experiences.
We would all come back again in a heartbeat.
*This trip was fully paid for by Helen Jackson and family.
*During the winter months you can fly direct from Auckland to Bali with both Air NZ and Emirates.
*This trip involved 3 Bali destinations, Seminyak, Nusa Lembongan and Uluwatu.