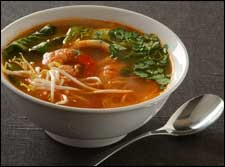 The Lemon Weed
Michal Haines
 Lemongrass is one of those plants that it seems you cant kill. Ideal really for those with far from green fingers, it seems to stand down right hideous soil, high temperatures, and lack of water. I got mine from my mother in law who simply ripped some out of her coromandel soil and put into the boot of the car and now it thrives in my garden, growing taller by the second and being mauled by my intrigued cat.
 The Thais call it takrai, the Malay, serai and Vietnamese, Xi, it surprisingly enough it is grown in Israel, South and Central America, Africa, India and Australia as a cash crop. In Sri Lanka it is used merely as a wind break on tea plantations. Interestingly, it is grown in Thailand as part of an on going project to move farmers away from opium crops into sustainable farming with the government guaranteeing outlets for these crops.
Propagated just as my own plant was-detached pieces from an established clump and replanted, it seems to me that all cooks should have a wee clump in their kitchen garden to work with. The Thai people say it keeps snakes away so that has to be a good thing. Apparently it doesn't like cold or too much wet but I haven't seen any noticeable damage to my own plant during the cooler months.
 A replacement for the lack of lemons in South East Asia, it's distinct flavour really cant be replicated. Intensely perfumed, tangy and on occasion bitter, it brings a zest to the traditional dishes of it's home region.
 The preparation of lemongrass can be a little tricky but done once, you will know what to do. The flavour one gets from fresh as opposed to dried, shredded or even preserved in brine is far superior.
If you are simmering lemongrass in a dish such as a Thai inspired soup, pound the root end with a pestle or meat mallet to break up the cells and begin that flavour giving oil on the inside to begin doing it's thing.
Add it to the liquid part to simmer away quietly and pick it out once you are ready to serve.
For a salad or dish that calls for sliced lemongrass, more preparation is needed.
Peel off the outer layers of flesh. These are very fibrous and can be very distracting to your diners when stuck in their teeth. The pale yellow lower portion of the stem will be very tender and easy to slice and is what you will be working with so cut the remainder off and either discard or freeze for adding a little flavour to soups, sugar syrups (great for cocktails!) or even infused sugars for baking.
Finely sliced, it will release those really intense oils and be soft enough to add to salads, pastes and stir fries.
The suggestion is made by some to try slicing it finely in your food processor but I either have a terrible food processor or just not the right blades as it doesn't seem to work for me. It may be worth a go if you are working on a paste.
 When purchasing, look for leaves that are bright in colour and a bunch that has a good heavy weight to it. These are both indicators that the lemongrass is not dried out on the inside. Some of your outer leaves will be semi dried but stay clear off those that look really dry and old. Naturally, the older and drier they are the more fiborous it will be when you cut it making for an unpleasant eating experience.
Bunches will keep happily in your fridge for weeks or pop into the freezer, well wrapped for those times when you cant find any about at all.
 The Chinese use lemongrass to treat coughs and colds and through out Asia are used in baths to reduce swelling, improve blood circulation and treat wounds and cuts as an antiseptic. An aid to digestion and anti-flatulence, a simple tea of bruised lemongrass stalks steeped in hot water is very refreshing. 
In the West it has been adopted for similar uses due to its antiseptic nature in soaps, creams and lotions, even air sprays as fresheners. Aromatherapy oils combine it as a high note to help circulation and muscle tone but it is thought to help headaches and even to help as an anti-depressant, reducing lethargy and stress.
 On a finishing note, it is also closely related to the citronella family so as an oil, it works well as an insect repellent also.
 What a wonder herb giving us so much taste and aid in our lives!
Easy Tom Yam Goong
A classic of Thai cooking, this is fast to prepare, really simple and gives you a real boost on those days when you are feeling a little under the weather or run down.
Serves 4
1 litre water
300ml chicken or fish stock
4 kaffir lime leaves
4 stalks lemongrass, tops discarded and bruised
5cm piece of galangal or fresh ginger, sliced
16 large shelled prawns
4 bird's eye chillies, chopped finely
2 limes, juiced
4 tablespoons fish sauce
2 stalks worth of coriander roots, well washed
Coriander leaves to garnish
In a large saucepan, heat the water and stock with the kaffir, lemongrass, galangal or ginger, chillies, coriander roots and fish sauce to a gentle boil.
Allow to bubble away quietly for at least 20 minutes.
Strain the soup, discarding all the bits and pieces and return to the heat adding in the prawns and the lime juice.
Adjust the flavour as needed adding a little more fish sauce for salt, a little more lime juice for sour or more chillies for spice. Cook for 2 minutes or until the prawns are cooked through then serve garnished with fresh coriander.
For more body, add a little coconut milk, rice noodles, a little pumpkin, …. Anything at all to help you feel revitalised.