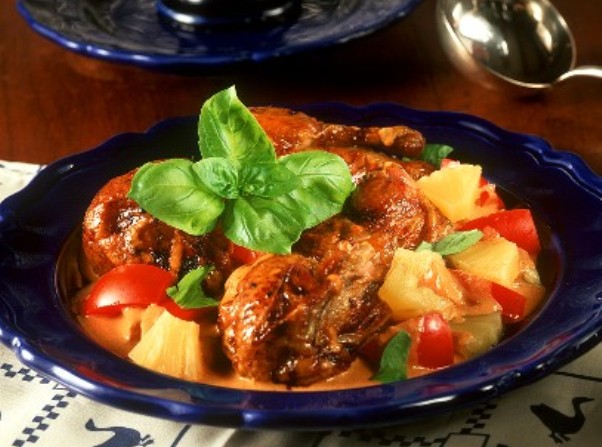 While curries are synonymous with hot climates and it is also easier to find the required fresh ingredients in summer, their aromatic spiciness is I think particularly warming and welcoming on a cold winters night.
Winter curries need some more creative thinking than those made in summer and while I am generally an advocate of living seasonally I do buy potted basil, coriander and whatever else I need from the supermarket during the winter months.
The fresh component to curries is loosely the defining difference between Thai and Indian curry pastes.  Indian curry pastes are generally made by grinding roasted spices whereas Thai curry pastes also integrate fresh herbs such as lemongrass.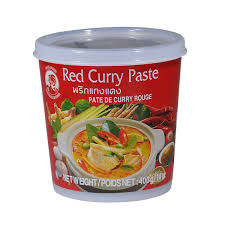 Making your own curry paste is an enjoyable activity but one that is best left for weekend meals when there is more time for preparation.  While I keep a stock pile of galangal, lemon grass and chillies in the freezer, for weeknight meals a good curry paste makes dinner much quicker and if you buy a reputable brand then you should get good flavour. I use the pottles of Cock brand curry pastes, these are kept in the fridge once opened.
You may like to try this recipe for Thai green curry paste.
A coffee grinder is a good way of grinding spices as long as you have no need for grinding coffee of course.
Curry pastes benefit from cooking over a gentle heat in some form of oil to release flavour and aroma.  Finely chopped shallots/onion and garlic are cooked with the paste as well.
Brown onions are not grown in the tropics, most Thai recipes will use shallots instead, which give a mild onion flavour.
Often with chicken or fish curries it is best to cook the curry mixture first giving it time for the flavours to develop and then add the chicken or fish when you want to heat the curry to serve.
Cheaper cuts of beef and lamb benefit from long slow cooking within the curry.
Most Thai curry pastes have the same basic ingredients but the proportions vary.  Chillies (red or green), galangal, lemongrass, red shallots, garlic and shrimp paste are pretty much essential and then kaffir lime leaves, coriander root and other herbs and spices may be added as well.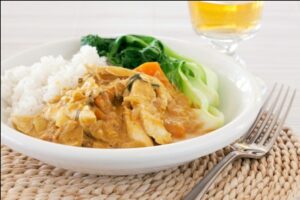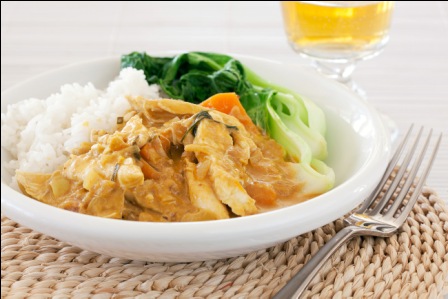 It may come as some surprise that Yellow curry paste is the hottest of all the pastes due to the inclusion of  little birds eye chillies, the yellow hue comes from turmeric.  It is aromatic and rich in flavour, while it can be extraordinarily hot Kaeng kari Gai is a mild yellow creamy curry that is ideal for young children and those wanting something mellow.
Thai Yellow Curry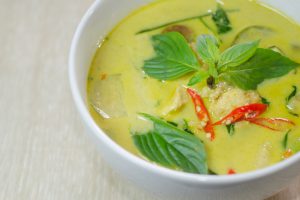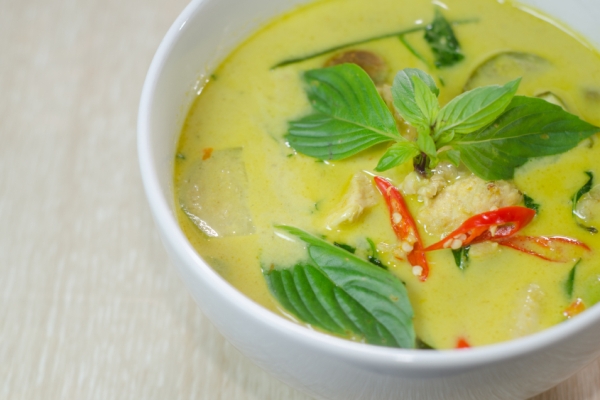 Green curry is made with fiery young green chillies and is very hot.  It does depend on who is making the curry as to how hot it is but in general it is a hot style of curry that also has a hint of sweetness.  The significant flavours of a Thai green curry are lemon grass, chilli and coconut milk.
Meat typically used in a green curry is chicken, pork or seafood.
Thai Green Chicken Curry
Red curries are made with mature red chillies and are  less hot than green curries.  Red curry is savoury in style
Red curry is often made with duck, pork or beef.
This Red Duck Curry is the dish that converted me to enjoying sweet and sour!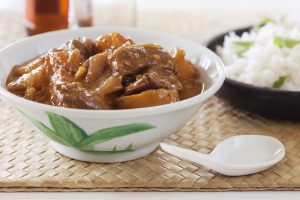 Southern Mussaman curry is Muslim in style and  possibly came to southern Thailand via Arab or Indian traders. Mussaman curry is generally rich in coconut cream and aromatic spices such as cardamom, cumin and cassia.
Beef Mussaman curry
A few years ago on a  trip to Club Med in Malaysia I discovered this delicious Indian style Chicken Curry.  Hoping it would work at home with local ingredients I was really pleasantly surprised to make a curry almost as good as the one tasted in Malaysia!
Lamb korma is also a popular curry choice, ours has ground cashews in it for texture but almonds can also be used.
While curry pastes can take time to gather ingredients and prepare this simplistic Fragrant Fish Curry is quick, easy and a great mid week dinner.
Butter Chicken has to be a family favourite and in our house there is always a container in the freezer for nights when it just gets too hectic to cook from scratch!  I use coconut milk/cream in mine as I can always be counted on having cans in the pantry.
Vegetable based curries are popular, pumpkin, potato, spinach and chickpeas give great texture and substance to vegetarian curries.
What is your favourite curry and do you have a recipe to share?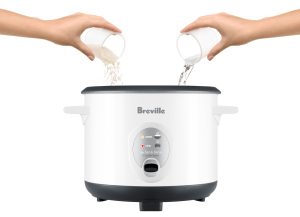 As well as crunchy bits for sprinkling (crisp fried shallots are available at Asian supermarkets), fresh herbs and maybe roti or naan, rice is pretty much as curry essential.
Cooking methods vary and cooking rice is the topic of our latest blog.
While I was happy steaming rice for our family, since getting my rice cooker it is one of my favourite kitchen friends.
We have 3 Breville the Set and Serve 8-cup rice cookers to giveaway.
RRP $89.95
To enter simply fill in your details below