As the rain pours down and the wind howls, my nest is warm and cosy and the aroma of a chicken curry is wafting around the kitchen.
While curries do originate in hot climates and are suited to the heat, there is nothing more soul warming on a cold winters' day than a thick luscious bowl of curry.
In winter I hanker after curries thick with coconut cream and chunks of potato, kumara and pumpkin.
I pretty much always have curry staples on hand, the pastes are in the fridge (I like using Valcom), coconut cream/milk in the pantry, coriander in the garden, kaffir lime leaves on the tree and chopped up lemongrass in the freezer.  The pantry always has the essential sauces e.g. fish and oyster.
Yellow chicken curry (image above) is a family favourite,  we load it with lots of chunks of potato and kumara and also add green beans and broccoli, making it a meal in a bowl.
For a vegetarian option Roasted Cauliflower and Eggplant Curry is also delicious and a lovely rich winter style curry.

Another favourite vegetarian curry is Pumpkin Spinach and Chickpea.  Yes you can of course serve it with rice but we often just heat some roti instead to mop up the sauce.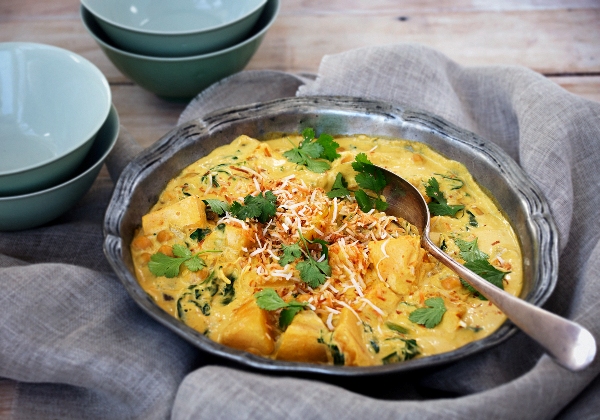 Lamb Shank Massaman style Curry is such a treat but if the price of lamb shanks make it off putting then try it with lamb shoulder chops instead.
When we are passing an Asian BBQ meat shop then a barbecue duck is often a treat, Red Duck Curry is glorious and just about the only recipe that I like to have sweet and sour as the addition of fresh pineapple is really delicious.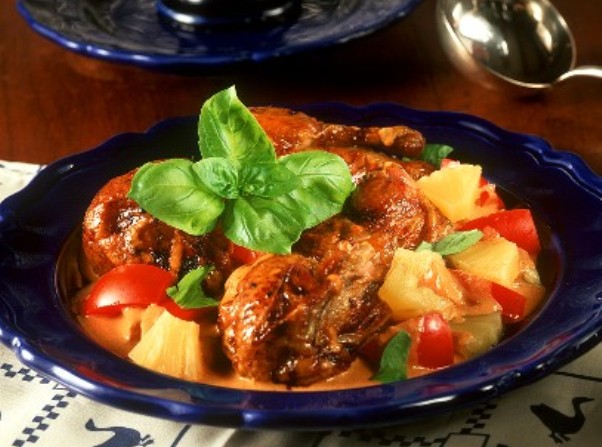 And while this isn't really a curry, I can't leave this Vietnamese lemongrass Beef out.
It is an ideal aromatic cosy winter dish.


What is your favourite winter curry?
Thanks to Valcom for sponsoring our feature.