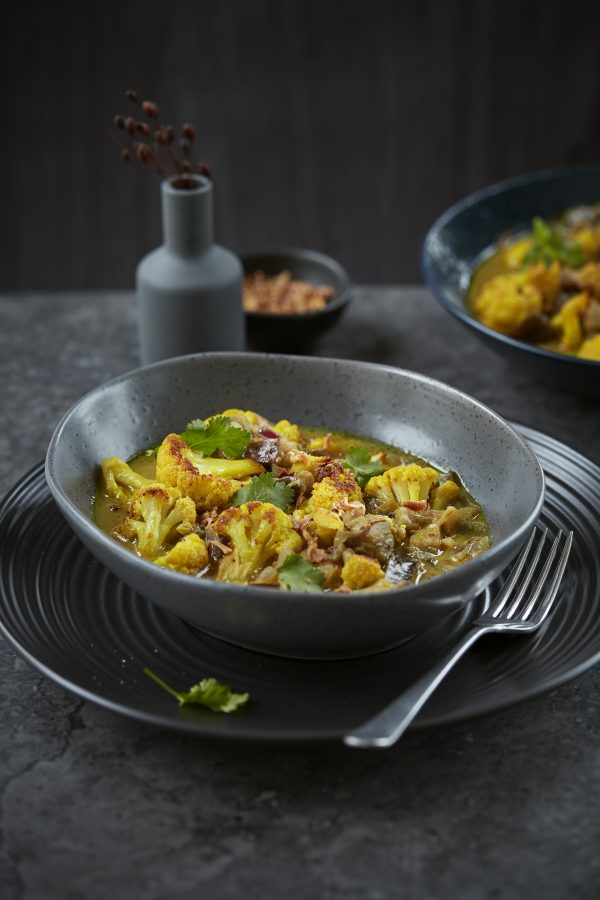 This is my new favourite curry for winter.
The flavours are sensational and it truly is worth making.
Ignore the long ingredient list, most of them are pantry staples.
If you don't want to use fish sauce then just make sure you add salt.
I use Valcom curry pastes as like their fresh flavour.
Ingredients
1 1/2 teaspoons

coriander seeds

1 1/2 teaspoons

cumin seeds

1 1/2 teaspoons

fennel seeds

1 teaspoon

ground turmeric

1 head cauliflower, divided into small florets

1/4 cup

oil (rice bran, canola etc...)

3 shallots, diced

1 medium eggplant, diced

2 cloves garlic, crushed and chopped

1 teaspoon grated ginger

2-3 tablespoons Thai green curry paste

2

kaffir lime leaves, torn in half

2 teaspoons

Valcom chopped lemon grass (if using fresh then use white part only)

2

tablespoons fish sauce

1 1/2 cups

vegetable or chicken stock

400g can

coconut cream

2 teaspoons grated palm sugar (or brown sugar)

Juice of 1/2 lime

a small handful of

coriander leaves

2

tablespoons crisp fried shallots
Method
Preheat the oven to 200 C (400 F).
Place the coriander, cumin and fennel seeds in a small baking dish and toast in the oven for a few minutes until fragrant.
Grind the spices in a spice grinder or with a mortar and pestle and then mix in the turmeric.
Arrange the cauliflower in a single layer in a roasting dish.  Drizzle over half of the oil and toss to coat. Sprinkle over the spices and also a sprinkle of sea salt.
Roast in the oven for 20 minutes until well coloured and tender.  Set aside.
In a large saucepan heat the remaining oil over a medium heat and cook the the eggplant until coloured.  Add the shallots to the pan and gently cook until they have softened.
Add the garlic, ginger, curry paste, kaffir lime leaves and lemongrass.
Cook stirring for 5- minutes before adding the fish sauce, stock, coconut cream and sugar.
Simmer until the curry boils and thickens.
Add the lime juice along with cauliflower.
Gently mix.  Taste and adjust seasonings if needed by adding a little more salt or lime juice.
Serve the curry topped with coriander leaves es and crisp fried shallots.