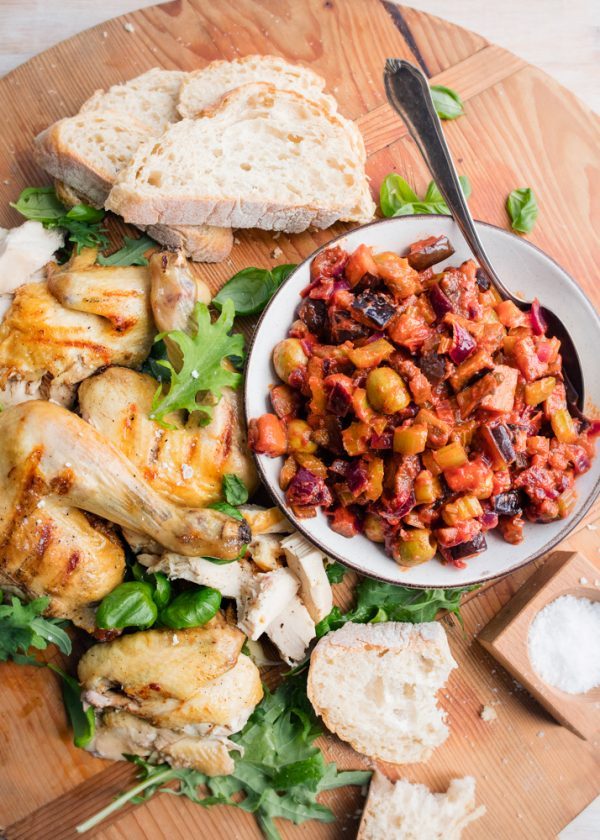 The flavours in this caponata are fantastic, it is perfect for warmer months and can be served hot or at room temperature.
Add a pinch of chilli flakes if you like and top it with fresh parsley, basil and/or oregano.
Ingredients
1 size 16 Rangitikei chicken

1/4 cup

olive oil

wedge of lemon

1

large eggplant

2 stalks celery, finely sliced

1

medium sized red onion, diced

2 cloves

garlic, finely sliced

1 cup passata (pureed canned tomatoes without the seeds)

1 tablespoon capers

1/2 cup

green olives

2

tablespoons red wine vinegar

2 teaspoons brown sugar

salt and freshly ground black pepper to taste
Method
Preheat the oven to 180 C (350 F).
Rub the chicken with olive oil and sit breast side up in a small roasting pan.  Insert a lemon wedge in the cavity and and season with salt and pepper.
Roast for 1 1/2 hours until juices run clear when a skewer is inserted into the thickest part of the thigh.  Allow to rest for 10 minutes before chopping into portions.
While the chicken is cooking, cut the eggplant into small chunks of approximately 1.5cm diamater.
Heat a generous film of oil in a large frying pan over a medium-high heat and quickly cook the eggplant until it starts to colour.  Turn as needed.
Remove the eggplant from the pan and set aside.
Reduce the heat to low, add a little more oil to the pan and then the celery, garlic and onion.  Cook for 5 minutes before increasing the heat to medium and cooking for a few more minutes, stirring as needed.  The vegetables should still have texture but will have just started to soften. Return the eggplant to the pan along with the passata, capers, olives, vinegar and brown sugar.  Allow to boil for a couple of minutes, stirring as needed.  Taste and then season as required with salt and freshly ground black pepper.
Serve straight from the pan or at room temperature.
Serve chicken with caponata, crusty bread and rocket leaves.