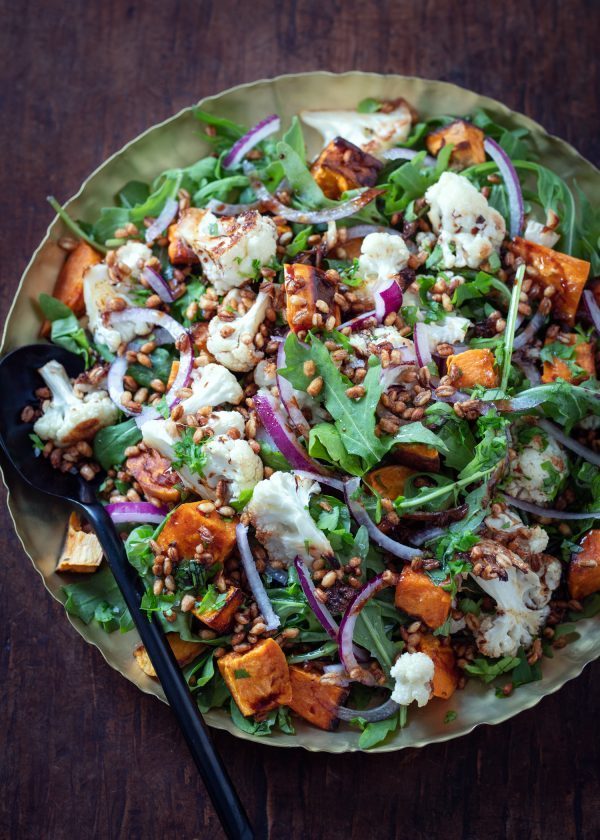 Roasted cauliflower is a personal favourite and the crunchy barley in this salad really gives it the most amazing texture and nuttiness.
The barley can quickly become very crunchy so make sure you don't over cook it.
I cook the cauliflower and kumara in separate dishes, reason is that I find the cauliflower is strong and can permeate the kumara.  It is better to combine them once cooked.
Pomegrante dressing is lovely, tahini dressing would also be great or just use your own favourite vinaigrette.
Ingredients
1/2 cup

pearl barley

2

orange kumara, peeled and roughly chopped into 2-3cm chunks

olive oil

salt and freshly ground black pepper

1

head cauliflower, divided into florets

2 handfuls

rocket leaves

1

small red onion, finely sliced

1/4 cup

chopped parsley

1 1/2 tablespoons

pomegranate molasses

1 teaspoon

Dijon mustard

1 tablespoon

white wine vinegar

2 teaspoons

honey

1/2 cup

olive oil
Method
Cook the pearl barley in a saucepan of boiling water for 25 minutes or until just tender to the bite.  Drain well and then spread out onto a tray lined with paper towels to try and get as dry as possible.  Allow to cool completely.
Heat enough oil in a small-medium sized deep sided saucepan to a depth of about 2.5cm.  When the oil is hot enough that a grain of barley instantly sizzles then fry the barley in batches until golden and crisp.  Drain well.
Heat the oven to 180 C, arrange the kumara in a single layer in a roasting dish, season drizzle with olive oil, season with salt and pepper and cook for about 30 minutes until tender and the edges are coloured.  Allow to cool for a few minutes.
Arrange cauliflower florets in a separate dish, season, drizzle with oil and cook in the oven for 20 minutes until coloured and tender. Cool until it is warm not hot.
Gently toss the cauliflower, kumara, onion and rocket in a large serving bowl.  Drizzle over the combined dressing ingredients.  Sprinkle over the barley and the parsley.
Serve warm or at room temperature.