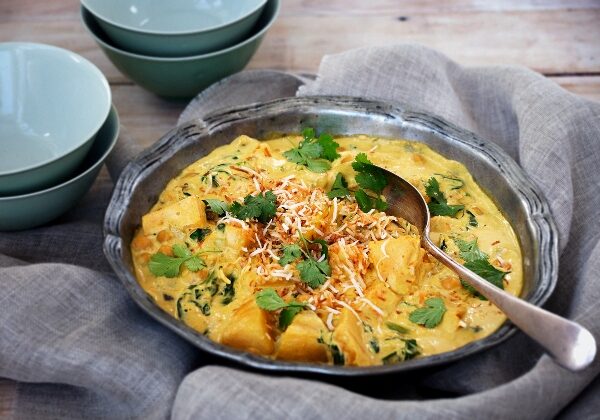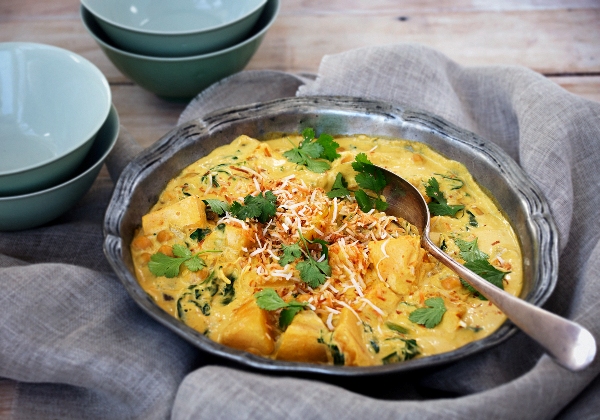 Ingredients
1

red onion, finely chopped

2 tablespoons

rice bran oil

2 cloves

garlic, finely chopped

500g

pumpkin, roughly chopped

3 tablespoons (depending on brand)

Thai yellow curry paste

1 tablespoon

grated ginger

juice and finely grated rind of 1 lime

2 x 400ml

cans coconut milk

2 tablespoons

fish sauce

2 teaspoons

palm or brown sugar

400g can

chickpeas, drained and rinsed

2 handfuls finely chopped spinach

1/4 cup thread coconut, lightly toasted

coriander leaves for garnish
Method
Place the onion, oil, garlic and pumpkin in a large saucepan and gently cook until the onions is starting to soften.  Add the curry paste and ginger and cook, stirring, while the paste becomes fragrant.
Add lime juice and rind, coconut milk, fish sauce, sugar and chickpeas. Cook until pumpkin is almost tender and then add the spinach.  Gently simmer until spinach has wilted.
Serve topped with toasted coconut and coriander leaves.
*The curry should have a balance of salt, sour and sweetness but is mild in terms of heat. The flavour will depend on the curry paste you use. Try adding extra fish sauce, citrus or sugar if flavours are not punchy enough, I also sometimes add a dash of soy sauce. I buy either Valcom fresh curry pastes or Coq brand.