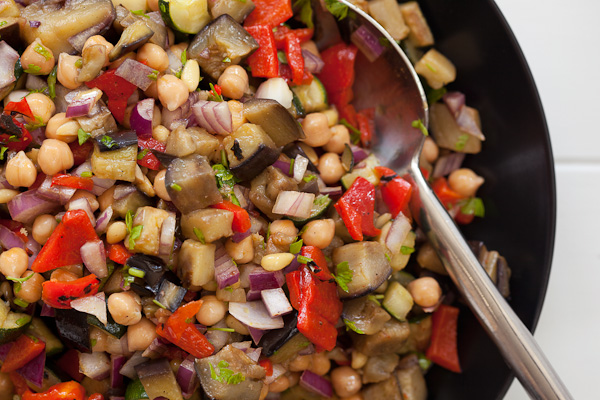 Ingredients
2

courgettes, chopped into 1 cm dice

1

eggplant, diced into 1cm pieces

1

red capsicum

1

clove garlic, crushed and chopped

1

red onion, finely chopped

1

400g can chickpeas, drained and rinsed

2 tablespoons

chopped parsley

1/4 cup pine nuts, lightly toasted

1 tablespoon each: extra virgin olive oil and lemon juice

1

teaspoon ground cumin

salt and freshly ground black pepper
Method
Heat a little oil in a frying pan and cook eggplants and courgette over a medium- high heat until starting to colour and just tender.  Remove the pan from the heat.
At the same time grill capsicum until blackened all over, allow to cool slightly and then rub skin off, remove seeds and membrane and chop.
Add the capsicum, onion, chick peas, pine nuts and parsley to the pan and toss to combine.  Mix the lemon juice, olive oil, cumin and season with salt and pepper.  Drizzle dressing over the salad and serve warm or at room temperature.