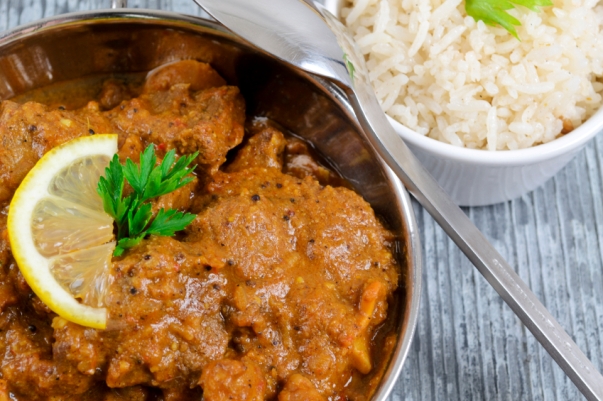 Ingredients
100g roasted unsalted cashew nuts
2 cloves garlic, crushed
2 tablespoons grated fresh ginger
1 teaspoon cinnamon
1 teaspoon ground cardamom
2 teaspoons ground coriander
1 teaspoon ground cumin
1 teaspoon chilli flakes
1/2 teaspoon tumeric
2 onions, finely chopped
3 tablespoons oil
3/4 cup natural unsweetend yoghurt
600g lean lamb pieces
400g can crushed tomatoes
2 tablespoons chopped fresh mint and parsley
3 tablespoons lemon juice
Method
1. Place the cashew nuts, garlic, ginger, cinnamon, cardamom, coriander, cumin, chilli,and turmeric into the bowl of a food processor, pulse until well combined.
2.  Heat the oil in a large saucepan and cook the onions over a gentle heat until tender, add the spice mixture and cook stirring regularly for 1-2 minutes.
3. Add the yoghurt, lamb and tomatoes, season with salt and cover and cook over a low heat 40 minutes or until tender.  Add water to the pan during cooking if it starts to look a little dry.
4. Add mint, parsley and lemon juice.Cover cook 15 minutes more, taste and adjust seasonings to suit.
Serve sprinkled with sprigs of herbs or chopped herbs and accompany with steamed Basmati rice and naan bread.