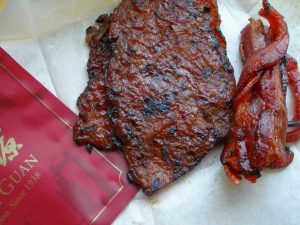 Virgil Evetts
Did I mention I was going away? Probably not. Ive got this whole middleclass guilt thing going on so, the fact that I've been planning a holiday in Tuscany has been more than a little embarrassing to me. Its just too bloody bourgeois. Well you know now, and as I write these words I'm enjoying the sticky heat and fabulous food of Khao Lak – an idyllic corner of southern Thailand. I'm here for a another few days, then its back to my beloved Singapore, and then on to Italy by way of London.
I'm still gathering my thoughts and impressions of the local food here, and will certainly report in more detail soon; but for now it's suffice to say that it's very good indeed, and they sure are generous with the duck in the local turmeric-rich yellow curry.
Any way, we spent 2 days in Singapore on the way here and will bounce back there a few time before we get back to Auckland in October. Singapore is hands down one of my favorite places on earth. It's a fabulous transit city because it's super clean, super efficient and the food covers all Asia has to offer and then some. The only down side is that its just about the hottest place you will ever visit, but you get used to that if you pace yourself. And with so much incredible, and generally very cheap, food on offer it's hard for anyone of a food-obsessive disposition to get far without another fragrant, succulent distraction.
I ate myself silly in Singapore, as I always do, but the food discovery that has me literally losing sleep with excitement is Chinese sweet cured pork, or bak kwa (pictured). This is roughly equivalent to bacon, or perhaps a sort of salami, but instead of being heavily salted is cured with sugar and various distinctly Chinese spices (I detected star-anise, ginger, soy…). It is then 'toasted' over a charcoal grill, giving it a rich, smoky complexity and slightly caramelizing the sugars. Bak kwa is available in a number of forms – most commonly as sort of thin patty – but the variety I really fell for is made from slices of pork belly -rather like streaky bacon. This stuff has excited me more than any new food has managed in a very long timem and I'm quite determined learn how to make it when I get home.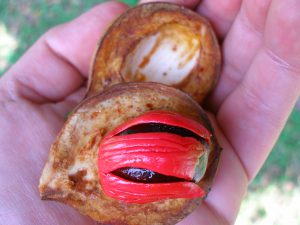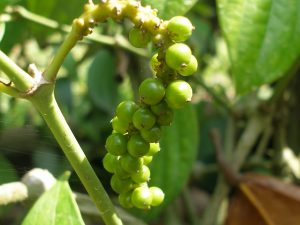 Wanting to get out of the noisy buzz of the Singapore CBD, we spent a morning out at Singapore Zoo. This is a great zoo by any standards, but the highlight for me (apart from the magnificent baboon enclosure) is always the tropical food crops garden. This pretty little corner of the zoo sits on the edge of a reservoir, and is crammed full of tropical fruit, vegetable and spice plants. Highlights included the nutmeg trees which were covered in (and dropping) ripe fruit (pictured), the pepper vines (pictured) and the thickets of pandan which scented the air around much of the zoo with their lovely, vanilla-jasmine rice perfume.
Anyway, this was meant to be a short blog-post and it's already running out of my grasp, so if you can excuse the icky-ness of travelogues for a few weeks, I'll keep you up to date with what I've been eating, seeing and doing – of a food nature anyway – on a vaguely regular basis.
Talk soon!
PS it's just started to rain – and I mean RAIN. It's hotter than a sauna and the frogs are singing. Just lovely.