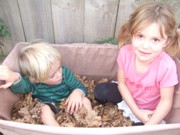 As each season arrives there is a huge pleasure that comes with the firsts of everything, whether it be daffodils, asparagus, lambs or in this case picnics.
Last weekend had its bumps, our 4 very active and strong minded children were treading on top of each other and there were way too many rumbles for anyone to put up with.
Sunday afternoon came and tired of trying to resolve tensions I decided instead to put my energy into a family picnic dinner.
The kids were almost unanimous their food choice of sausages in bread – "but mum do we really have to have pork and fennel or can we have those really good sausages on white bread like we have at school on sausage sizzle day…?"
How can a battle worn mother argue with that? Especially too when Ed looked at me with beseeching eyes wanting to know if he can have the same. 
Off I went on a quick trip to the supermarket for the most processed sausages I could find, sliced white bread as well as the strongest bottle of white wine…. Yes I am making the last bit up but I was really in need of something strong.
The sausages were cooked in record time, the bread buttered and the picnic rug set up.
We all sat down to eat – me to my asparagus with boiled free range eggs, nice cheese, wine and ciabatta and the rest to their sausages with tomato sauce in bread.
Suddenly as if my magic the grumblings and rumblings stopped and it had little to do with the sausages.
We were all sitting together at the end of a sunny afternoon, cosy on the picnic rug enjoying something we hadn't done for many months.
After eating, we all played hurdles, high jump over the broom and ball catching and there were no fights!
While we are only a few days past – 3 year old Freddie says at least twice a day "remember when we had that lovely dinner outside…"
There really is a lot to be said for quality family time and sitting down together to enjoy food – regardless of what the food is!