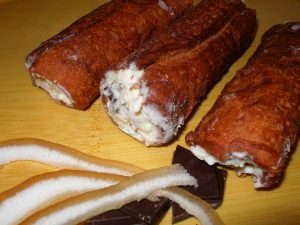 Virgil Evetts
I'm a bit lily-livered when it comes to deep-frying. I used to own a bench-top deep fryer, which makes the process pretty fool [ergo flame] proof, but I got sick of cleaning the perpetually greasy thing and hated the smell of stale oil that hung around the house after every use.  So it was eventually sentenced to death,  via the inorganic collection, labelled 'works but very unpleasant'. This was no doubt a good move for my waist, which isn't quite as waspishly thin as it once was, but I do sometimes pine for a deep-fried treat or two. I've had a particular hankering lately for cannoli. These exquisite Italian pastries are almost unknown in New Zealand, which in my weaker moments is enough to make me consider emigration. Just recently I've been feeling very weak indeed, but apparently the Italian government doesn't recognise pastry deprivation as grounds for refugee status.
 So armed with a deep-frying thermometer and a couple of litres of oil, I've been doing my best to conquer my fear of stove top deep-frying and to get my head around cannoli making- with some rather tasty results.
Cannoli, if you haven't yet had the pleasure of making their acquaintance  are a delicious blend of naughty and nice-  crunchy deep fried pastry shells filled with a seemingly rich but really quite healthy blend of  ricotta, bittersweet chocolate chips and good quality glace peel. They may not sound like all that, but there is a reason why cannoli, once a strictly Sicilian specialty are now just about the most popular pastry in all of Italy. They're very, very good.
Cannoli pastry is bit weird- it contains unusual ingredients like wine and vinegar, but it's really a doddle to make- far more forgiving than most of its kind, and is sure to please even those obnoxious types who piously claim to lack a sweet tooth. Whatever.
My recipe is the result of a fair bit of trial and error. It works and I like it, which are the only criteria I really care about.
Most Italian recipes stipulate a lot more sugar in the filling than I've suggested here and they also have a tendency to include various nuts, glace cherries and other things jewelled and sickly. It's a point of personal taste really but I prefer to take a simpler, less cloying approach.
You will need some sort of form to hold the pastry while it fries. In Italy, proper metal cannoli forms are available. I've made do with a wooden broom handle cut into roughly 10cm lengths.
Cannoli
Makes about 6
Pastry
1 ½ cups plain flour
2 tablespoon butter
2 tablespoons sugar
2 tablespoons cocoa
1 egg
1 teaspoon red wine vinegar
2-3 tablespoons dessert wine, Marsala or Port
Pinch of salt
Vegetable oil [not olive or peanut] for deep frying.
 Filling
500 grams ricotta
¼ cup caster sugar
½ cup coarsely chopped glace peel
½ cup bittersweet/dark chocolate chips
1 tsp pure vanilla essence
For the pastry
Mix the wet ingredients [use an electric mixer if you have one] into the dry and work into a firm, slightly elastic dough. If too dry and crumbly add a little extra wine, if too wet add more flour. Roll into a ball, cover with cling film and rest in the fridge for around an hour.
Pre heat the oil to about 170 Celsius.
On a smooth, lightly floured surface, roll out the dough to a thickness of about 5mm. Cut into strips the width of your forms. Roll the pastry around the forms and cut at the joint. Seal the joint with a little water or egg white. Carefully lower the pastry/forms into the hot oil in batches of 2 or three. Fry for about 2 minutes each, turning the forms to ensure the pastry is evenly cooked. Remove and drain on kitchen paper. Once cooled carefully slide the pastry shells from the forms. You may need to use a paring knife to help with this.
For the filling
Use a fork to lightly whip the sugar into the ricotta. Gently fold in the chocolate and fruit. Use either a piping bag with a wide nozzle or a small teaspoon to firmly fill the cooled pastry shells.
Serve  with coffee, grappa or just on their own when no one's about. They make a very fine breakfast too.
So that's my deep-fried weakness [enough to make me risk stove top immolation] what's yours?
Won tons? Deep-fried camembert? A nice plate of chips?
Name your poison.