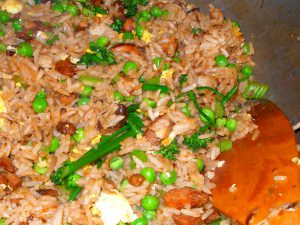 Virgil Evetts
One of the topics that bounced around the table at our very convivial Foodlovers get-together last week, was how hopelessly smitten we Aucklanders are with the cuisines of Asia. I have a bad habit of forgetting that not everyone shares this very regional fetish, so apologies for forcing the likes of shiitake and red curry down your throats from time to time – so to speak.
But you see, those of us up here in the nation's biggest (and most reviled) city are positively spoilt for choice when it comes to Asian ingredients.   Every conceivable sauce, spice, fruit and vegetable is effectively within our arm's reach through the legion of Asian supermarkets spread across town.   And pretty much every Asian cuisine is well represented through the myriad restaurants, food halls and noodle-dives which have sprung up to service our large and diverse migrant communities (although it's important to remember that the Chinese were among our earliest settlers so are hardly new arrivals).  On top of that, Auckland's relatively gentle climate allows us to grow an amazing array of Asian kitchen essentials including kaffir lime, lemon grass, galangal – and even turmeric at a push.  So, all things considered, can you really blame us for being a bit hung-up on dishes from the (north) east?   Conversely, it's quite understandable that those of you out in the back-blocks and far from anything resembling an Asian grocery store, tend to have more of a Euro-centric leaning in the kitchen.
Auckland's Asian influence didn't really get going until the 90's, so it didn't really figure into the food of my childhood-  my mother like most professional chefs of her day  was schooled in all things classically European, or more specifically, French.   Asian didn't get a look-in.   One of the few exceptions to this was her excellent, if somewhat bastardised, fried rice. This was one of my favourite meals – still is I suppose – and I always rather assumed that, like wiener schnitzel and spaghetti bolognaise, it featured in the culinary repertoire of most kiwi homes.
Homemade fried rice is often thought of as a leftovers dish – basically an amalgam of whatever pale and flaccid surplus happens to be lurking in the back of your fridge.   I don't agree with this at all, particularly in regards to vegetables, which should always be super-fresh and crunchy.
On the subject of fried rice, many recipes issue dire warnings about the importance of starting with completely cold cooked rice.  Failing to take heed will apparently result in a disastrous stodgy mess and probably lead to your eventual shame-related death.  This may be true of some lesser rices, but I've found that both jasmine and basmati (my two favourite rices – and in that order too) can be tossed into the pan, piping hot, without so much a hint of stodge or a blushing demise.
Virgil's Fried Rice
2 cups cooked jasmine rice – hot or cold
3 eggs
1 onion- finely chopped
4 cloves garlic- crushed
1 cup frozen peas
½ cup mushrooms – finely chopped
1 cup finely chopped fresh vegetables of your choice ( e.g celery, broccoli, bok choy, spring onions)
1 cup finely chopped marinated * meat of your choice (e.g. chicken, beef, pork)
3 tablespoons dark soy sauce
1 tablespoon five-spice powder
1 tablespoon dark sesame oil
 1 teaspoon rice vinegar
Peanut oil for frying
Roughly whisk together the eggs with a pinch of salt.  Lightly brown on both sides in a smoking-hot, oiled pan.  Set aside and coarsely shred when cool.
In separate batches flash-fry vegetables (not the peas) and mushrooms then set aside. If including meat stir-fry until cooked and all marinade has been absorbed/evaporated. Set aside.
Using a well-oiled deep pan or wok, sauté the onion and garlic until lightly browned.  Add the rice and, using gentle movements, fold together with the onion.  Add the soy, sesame oil, five spice and vinegar and continue folding until the rice is evenly coloured.  Now add all remaining ingredients.  If using peas directly from freezer (I usually do) allow rice to rest for 5 minutes+ before serving.  Season to taste.
I serve this with chilli oil and rice vinegar or lime juice
 *Basic meat marinade
4 tablespoons dark soy sauce
3 tablespoons brown sugar
3 cloves of garlic- crushed
1 teaspoon fresh crushed ginger
1 tablespoon dark sesame oil
1 pinch 5 spice powder
I don't know anyone who dislikes fried-rice, but presumably they're out there somewhere.   But I do still wonder – do other people think of fried rice as a home-cooked classic?
And if so, care to share?