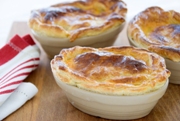 Pie Making – Alison McKee
Sing a song of sixpence, pocket full of rye,
Four and twenty blackbirds, baked in a pie…
Pies, for obvious reasons, were originally called 'coffyns' or 'coffins.' Savoury spiced meat fillings and sauce that were encased in a pastry shell. The pastry shell was inedible and its sole purpose was to serve as storage and serving vessel for the meaty filling. In the Elizabethan era cooks went to great lengths to make large pies that were visually exciting, moulding crusts in the shape of animals, painting and decorating the lids with leaves and flowers, ornate pastry curls and twists, and heraldic symbols. As the children's rhyme reminds us they were held in high culinary regard and 'fit' for Kings.
New Zealanders' are said to consume $130 million of takeaway pies per year. And I have to confess to occasionally consuming one usually on a cold rainy day and often in secret as pies have such bad 'press' these days! However, nothing beats the taste of a home baked pie and the smell of baking pastry. A cold winter's night, a bottle of red wine, a fire, an individual serving of Beef and Oyster Pie or Beef, Guinness and Mushroom Pie , Gordon Ramsay's Pommes puree and early to bed – bliss.
I admit for some cooks pastry making, especially puff pastry, can be a daunting, but worthwhile, all day affair. Luckily there are several pre-rolled varieties available at leading supermarkets. Pie fillings should always be at room temperature to avoid premature melting of the butter/fat content. Make sure you glaze the top of your pies, preferably with whole beaten egg, several times to 'build-up' colour and to seal the edges. Place pies that are not firstly blind baked on a heated oven tray to help the bottom layer of the pastry to crisp. Ensure you bake the pastry until golden brown. This allows the butter to caramelize and adds a depth to the pastry's flavour. If you are in a rush scrunch up handfuls of Filo Pastry, pile them on the top of your pie and spray the pastry scrunches liberally with olive oil spray. Alternatively bake the pastry in individual portions, rounds or squares, and place the pastry on top of the precooked filling as you plate up.
Culinary historians suggest that 'pie' is a derivation of the word magpie – in that the magpie collects a variety of things. Call me old-fashioned but I prefer to stick to classical recipes such as Chicken and Mushroom Pie, Chicken and Mustard Pie and Chicken and Leek Pie rather than the new 'Pie' flavours such as 'Authentic Indian Butter Chicken Pie' that commercial bakeries dream up to tempt our taste buds! Not all pies necessarily have a pastry lid as in the case of Cottage Pie, Shepherds Pie, Lamb Shank and Parsnip Pie , Helen's Favourite Potato Top Pie and of course Fish Pie. And not all pies are best served hot; take, for example, English Pork Pies with meat jelly binding the filling to the crust, served cold and matured for several days with pickles or mustard, and of course the quintessential New Zealand picnic fare Bacon and Egg Pie.
And talking of children's rhymes…
What! Lost your mittens,
You naughty kittens,
Then you shall have no pie!