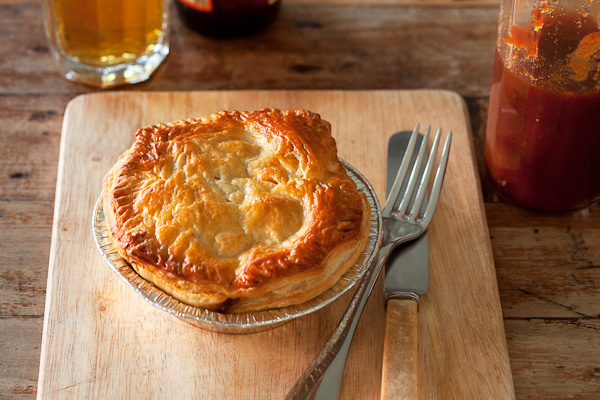 New Zealanders are big on pies, whether it is a late night visit to a service station, a ready to eat lunch while on the move or a luscious homemade creation, there is nothing quite so satisfying as a hot pie.
Winter and pies go together, they are essentially hot and of course hearty, just the sort of thing to ward off the winter chills.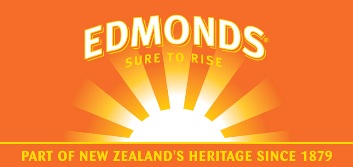 Edmonds offers a variety of Flaky Puff, Butter Puff, Savoury Short, Sweet Short and Filo pastries, available in the freezer section of most supermarkets.
This winter more than ever before Pies seem to be the new buzzword – radio stations are taking votes for your favourite pie filling, a couple of fast food chains have added pies to their menu and celebrity chef Dean  Brettschneider has just released his new book – Pie: 80+ Pies and Pastry Delights (follow the link and enter the draw to win your own copy)
The word "pie" as typically dictionary defined generally means a filling of meat, fruit or vegetables enclosed in pastry but there are many variations.  For example,  pecan and banoffie pies have no tops, fish pies often have not pastry at all and a whoopee pie doesn't really have any pie criteria other than its name.
Also when is a pie a tart or is a tart a pie?
Regardless of name or definition the one thing that we do all agree on is that pies are great to eat.
Pie fillings often make or break a pie.  Ingredients must be fresh and of good quality, otherwise the flavour will be compromised.
Gravy surrounding meat should be neither too thick or too runny, particularly if the pie is designed to be hand held.
While cheaper cuts of meat work well in  pies, no one wants to find large portions of fat so trim as needed prior to cooking.
Remember that often the filling will need to be made the day before, this gives time for long slow cooking and then chilling before baking.  Hot fillings make for soggy pastry bottoms.
Pastry for pies can be butter puff, flaky, short – savoury or sweet, or filo.  The difference between puff and flaky pastry can be somewhat confusing but in essence puff pastry is the premium of rich pastries, where layers of butter or margarine are rolled between the layers of dough to help the pastry  lift and puff.  Puff is time consuming to make which means that most of us prefer to buy it ready made, however with time on your hands it is a rewarding venture.  When choosing ready made puff pastry then look for pastry using real butter eg Edmonds Butter Puff Pastry.
Flaky pastry (also called rough puff pastry)  on the other hand has flecks of butter running through the dough which means that it still puffs but is not as rich as puff pastry.
Short pastry is more crisp and biscuit like in texture, typically butter is rubbed into the flour it is then bound with egg and a little water.
Puff and flaky pastry do not contain eggs although pastry looks much prettier when it is brushed with egg wash before cooking – this is often just egg yolk lightly mixed but a little water can also be added to the yolk.  Egg yolk will make a shinier glaze than if you use the whole egg.  If eggs need to be avoided then brush with milk which will still help with shine but it isn't as good as an egg glaze.
Tips for making great pies.
Gently fit pastry into the dish it is going to cook in, take care not to stretch it as it could then shrink during cooking.
Refrigerate pastry in the dish/tin prior to cooking for about 30 minutes.
If making puff pastry then make sure all ingredients are cold before you start.
Short pastry needs cold butter and ice cold water to mix.
Pastry can be made well ahead of time and then wrapped in clingfilm and frozen.
Ensure that the filling going into the pie is cold.
Make sure the oven is preheated to the correct temperature before the pie goes into the oven.
Cutting air vents in the top of the pie will allow steam to escape during cooking and will prevent the pie from overflowing.  Novelty shaped funnels can be bought, these are positioned in the middle of large pies and act as a steam vent.
Brushing sweet pies with warmed apricot jam as soon as they come out of the oven will create a shiny sweet glaze.
We have been busy baking and photographing some of our favourite foodlovers pies so you too can get pie baking and feel the warmth!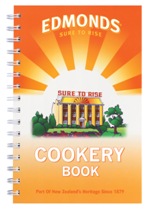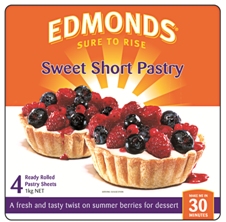 To celebrate pie making with Edmonds we have 4 x Edmonds Frozen Pastry vouchers valued at $20 each along with a copy of the Edmonds Cookbook, to give away.
Simply email your name and address to [email protected] with
Edmonds in the subject line.
Competition closes August 12th 2012.