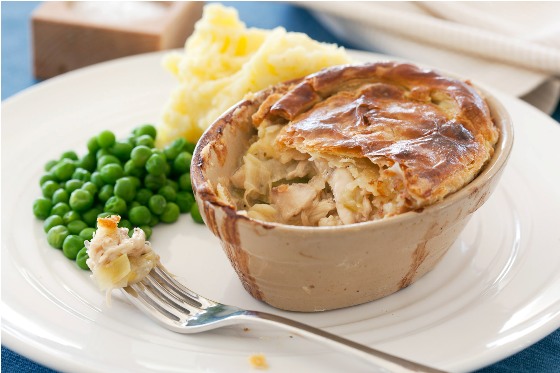 Ingredients
150g

cream cheese

125g

butter

1/2 teaspoon

salt

1 3/4

flour

1.6kg

chicken

1

bay leaf

4

leeks, white part only and a little into the green, thinly sliced

1

onion, finely chopped

50g

butter

3 tablespoons

flour

3 tablespoons

cream

2 tablespoons

chopped parsley

2 tablespoons

chopped chives

1

egg yolk, mixed with a fork
Method
Place cream cheese, butter, flour and salt in a bowl of a food processor and blitz just until mixture forms a ball.  Wrap the pastry in plastic clingfilm and refrigerate until ready to make the pie.
Put the chicken into a large saucepan and cover with cold water, add the bay leaf and any carrot, onion or parsley offcuts.  Cook for 1 hour or until chicken is thoroughly cooked.  Remove from the heat and allow to cool before removing chicken from the liquid and straining the solids from the liquid – discard solids but keep the broth.
Allow stock to cool and scoop off fat as it rises.
Cook leeks and onion in butter in a large frying pan until tender.  Add flour and mix well and then add 3 cups of the cooled chicken stock.  Bring to the boil, stirring and allow to simmer and thicken for 10 minutes.
Add cream, parsley and chives and season to taste and then set aside to cool.
Remove flesh from chicken discarding skin and bones.  Flake into bite size pieces.
Mix the chicken into the cooled sauce.
Preheat the oven to 180 C.  Roll the pastry out and line a 24cm pie dish – pour over the filling and cover with pastry.  Seal the edges and brush with egg yolk.   Prick the pastry twice to allow steam to escape.
Bake for 40 minutes or until puffed and golden.