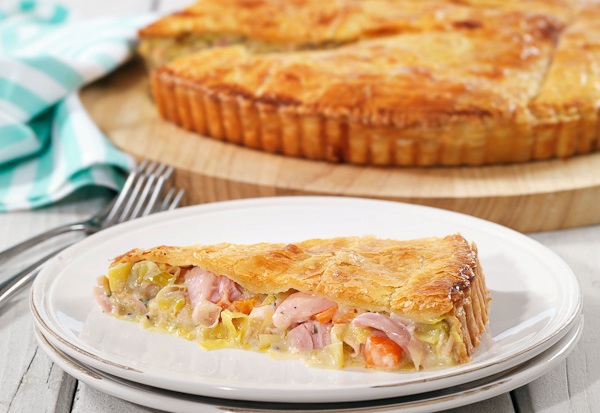 By
Ingredients
4 sheets (approx 750g) frozen butter puff pastry

4 leeks, white part and a little into the green, thinly sliced

2 carrots, peeled and diced into 1.5cm chunks

2 teaspoon fresh thyme leaves or 1 teaspoon dried

75g butter

1 tablespoon wholegrain mustard

3 tablespoons flour

2 cups chicken stock

125ml (1/2 cup) sour cream

2 tablespoons chopped parsley

salt and freshly ground black pepper

1 Tegel Smoked Whole Chicken 1.1kg

1 egg yolk, lightly mixed
Method
.
1. Combine leeks, carrots, thyme and butter in a large frying pan and cook over a very gentle heat for 20 minutes until leeks are tender.
2. Add mustard and flour and mix well, cook for 2 minutes and then add chicken stock and parsley.  Bring to the boil, stirring at times and allow to simmer and thicken for 10 minutes.  Remove pan from the heat and then stir through the sour cream and taste and season with salt and pepper.  If using commercial chicken stock you may not need any extra salt.
3. Set filling aside to cool.
4. Place pastry in a single layer on the bench to thaw.
5. Remove flesh from the chicken discarding skin and bones. Chop into bite size pieces. Mix chicken into the cooled leek filling.
6. Preheat oven to 200°C. Line a 28cm deep pie dish with pastry.  Spoon the filling into the dish and cover with pastry. Seal the edges and brush with egg yolk. Prick the pastry twice to allow steam to escape.
7. Bake for 30-40 minutes or until pastry is puffed and golden.