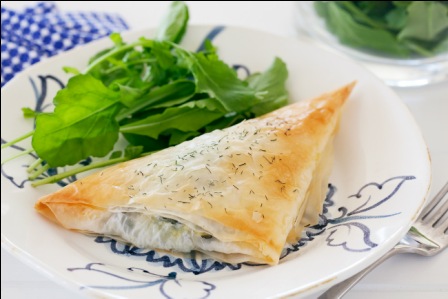 By
Ingredients
300g

spinach, stems removed

2

cloves garlic, finely chopped

1

meidum sized red onion, finely chopped

2

size 7 eggs, whisked

1

teaspoon dried dill or 1 tablespoon fresh (plus extra for spinkling over before cooking)

2

tablespoons chopped mint

2 teaspoons

finely grated lemon rind

200g

feta, crumbled

1/2 cup

grated Parmesan cheese

12

sheets filo pastry

40g

butter, melted
Method
Preheat oven to 180 C.
Wash spinach and place in a saucepan, cover and steam over a moderate heat just until spinach has wilted.  Remove from heat and when cool enough to handle squeeze excess water out and roughly chop.
Meanwhile cook onion and garlic in a little oil over a gentle heat until tender.
Place spinach, onion, garlic, eggs, dill, mint,  feta and parmesan in a bowl and mix well.  Season with ground pepper – add salt if your feta is very mild but otherwise it should be salty enough.
Place 4 sheets of filo on a bench and brush butter between each layer.  Cut  in half lengthways.  Starting at a narrow end spoon mixture onto the filo towards a corner.  You will be using about one sixth of the mixture.  Fold the corner with the filling on it diagonally over to form a triangle.  Continue to fold in this way retaining the triangle shape.
Continue with remaining pastry and filling.
Place triangles on a cold baking tray, brush with remaining butter and sprinkle with extra dill leaves.
Bake for 15 minutes or until golden and crisp.
* You can make these triangles finger food size and also offer Moroccan Lamb Pastries