Puddings Back in Style – Tammy McLeod
When it comes to something sweet to eat after a meal in winter, the word pudding conjures up delicious, hot, tummy filling food. As children we had pudding with dinner most nights – more often than not it was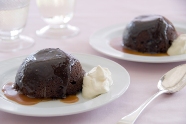 simply ice-cream and tinned fruit, but I do have fond memories of Mum's fruit sponge, steamed golden syrup pudding and of course chocolate self-saucing.
These days pudding is more of an occasional treat rather than every night. Even the word "pudding" has been superseded by the word "dessert". But I prefer the word "pudding" and the old fashioned favourites are still the ones I like best.
The great thing about puddings is their versatility. They are quick to make and you can dress them up or down through presentation and variation to make them equally suitable for a mid week family meal or a planned dinner party. The easiest way to dress up a pudding is to make individual servings in small ramekins. These always look impressive, as though you have gone to a lot more trouble than you actually have. Adding the seeds of a vanilla pod, or vanilla paste to whipped cream is also a great way to turn simple cream into a classy accompaniment.
Here are a couple of my favourite simple puddings which can be made that bit more styley by using the above techniques.
Chocolate self saucing pudding is a perennial favourite. I bake it in individual ramekins and make the batter and sauce using dutched cocoa for extra depth and richness. I also add chunks of dark chocolate to the batter which gives the occasional spoonful of molten chocolate. I like to serve this with natural yoghurt to cut through the richness of the pudding.
Rice pudding is a much overlooked pudding. Once again, it is nice served in individual ramekins, but a large dollop of rice pudding can look equally impressive in a lovely serving bowl. I prefer to make my rice pudding on the stove top as I don't like the skin that forms when baking it in the oven. Another nice thing to do is to stir through small chunks of quince paste or your favourite jam. Served with lightly whipped cream flecked with vanilla seeds or lightly poached fruit and syrup, rice pudding can be the star of any dinner party and can be served hot or cold.
Apple Roly Poly
Chocolate Bread and Butter Pudding
Butterscotch Self Saucing Pudding
Caramelised Apple Bread and Butter Pudding
Golden Dumplings
Pear and Ginger Crumble
Rhubarb and Apple Crumble
Rice Pudding with Quince Paste
Rice Pudding
Sticky Date Pudding
Tamarillo and Banana Pie
White Chocolate and Rum Rice Pudding