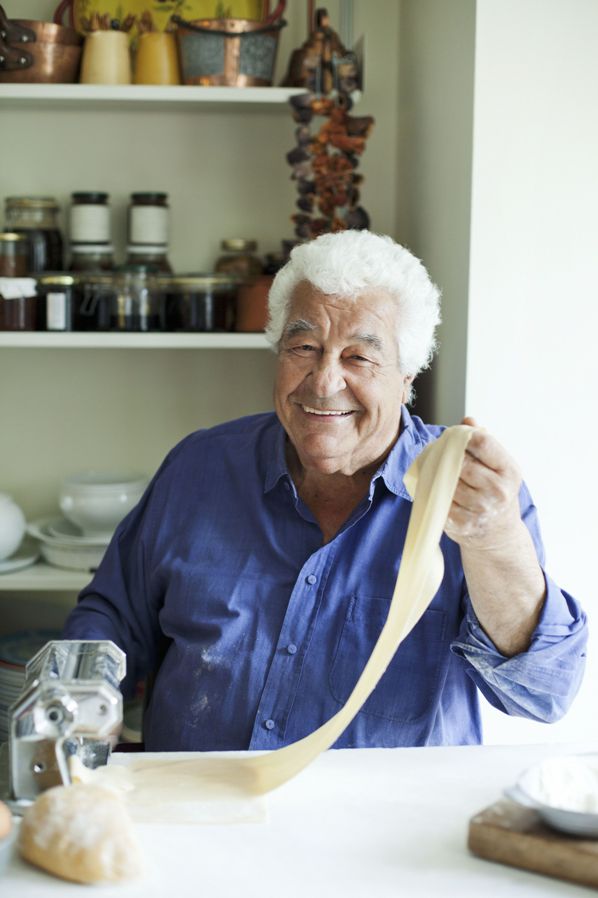 All eyes turn to Gusto at the Grand next month as celebrated chef Sean Connolly welcomes the godfather of Italian cuisine, Commendatore Antonio Carluccio (OBE, OMRI), to his kitchen for A Carluccio Christmas at Gusto at the Grand.
On 26 November the two chefs are joining forces to curate a traditional Italian Christmas feast paired with specially selected wines. The exclusive lunch is followed by a question and answer session led by Sean with Antonio talking about his life and love of his native Italy's cuisine.
Antonio Carluccio is a much respected Italian cookery writer, cook, restaurateur and food expert and has been championing Italian food for more than 50 years. He met Connolly at the Slow Food Festival in Turin in 2010, where the two forged a firm friendship that has lasted for many years.
Recognised as one of New Zealand's leading chefs, Connolly spearheaded Gusto from inception and cites Carluccio as his main inspiration for the Auckland restaurant.
"I am very excited to be joining my good friend Sean for the first time at Gusto," says Antonio Carluccio. "We both share the same philosophy of simple, authentic Italian food and passion for fresh seasonal ingredients, all of which guests will be able to experience at our luncheon."
Sean Connolly says, "Antonio's culinary knowledge on Italian cuisine is astounding and we're thrilled to be bringing him to New Zealand for this one-off event. I'm really looking forward to sharing my kitchen with the master of Italian cooking."
A Carluccio Christmas at Gusto at the Grand takes place from 12 noon until 3pm on Thursday 26 November at SKYCITY's Gusto at the Grand on Federal Street, Auckland.
Tickets to A Carluccio Christmas at Gusto at the Grand are limited and are available to purchase as tables of 10, costing $1,200 ($120 per head) which includes lunch and wine pairing. Tickets can be reserved by calling 09 363 7061 or emailing [email protected]
About Gusto at the Grand
Gusto at the Grand is SKYCITY's premier Italian at Auckland's Federal Street. Award-winning Australasian chef Sean Connolly brings to the city an Italian restaurant where the ingredients speak for themselves and the dishes are rustic and true to traditional values. Delivered to table in a relaxed setting, the food is simple and served in the hum of a five-star international hotel. Gusto (pron. guh-stoh) is open seven days a week from 6.30am for buffet breakfast and a la carte lunch and dinner as well as for room service for guests staying at SKYCITY's Grand Hotel.
Gusto at the Grand, 90 Federal Street, Auckland, New Zealand: Reservations 09 363 7030; www.gustoatthegrand.co.nz / [email protected]
About Antonio Carluccio
Commendatore Antonio Carluccio is an OBE, OMRI and a much loved and respected Italian cookery writer, cook, restaurateur and food expert. He was raised in the rural north west of Italy giving Antonio a rare and privileged breadth of culinary knowledge. It was in Piedmont at the age of seven that Antonio started his life-long pastime of hunting and collecting mushrooms and fungi with his father.
About Sean Connolly
Sean's philosophy on great dining is all about bringing people together. He takes pride in offering a relaxed, uncomplicated atmosphere that complements his fresh and honest, produce-driven fare, simply prepared to let the natural flavours shine through. He began his career in the UK before travelling to Australia, opening a string of award-winning restaurants including Sean's Kitchen in Adelaide, The Morrison in Sydney, his two hatted restaurant Astral and The Grill by Sean Connolly, as well as Gusto at the Grand in Auckland.