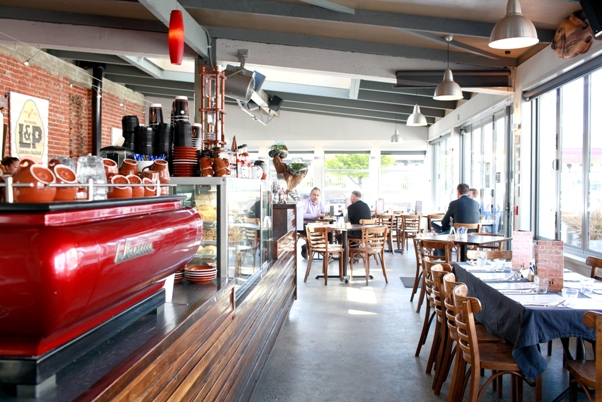 78 cafés vie for title of New Zealand's best
The time gap between becoming a finalist and picking up the gong in any competition can be fraught with nervousness for those in contention.
So spare a thought for the 78 finalists in the NZ Café of the Year 2016 who have a tense month as they wait to find out how successful they have been.
The NZ Café of the Year 2016 finalists have been announced today as have the regional People's Choice café winners with the ultimate accolade announced on 7 December.
It's the fourth year of the Restaurant Association of New Zealand sanctioned competition which this year selects finalists from six regions to go head to head for the title of best café in the nation.
One winner is selected in each of four categories – Best Metro/CBD, Best Suburban, Best Rural and Classic Kiwi – from which the supreme winner of NZ Café of the Year for 2016 is chosen. The People's Choice winner is determined through the public vote.
As well as the glory, the supreme Café of the Year also takes away a $40,000 editorial package in Dish Magazine, a 'Great Cafés of Melbourne Tour' valued at $10,000 and use of Renault Kangoo for a year.
The finalist cafés in each region and the six regional People's Choice winners listed below will all feature in a Top Cafés of New Zealand microsite. The site will serve as a guide to top cafés across the country.
The winner of the Supreme Award, overall People's Choice Award as well as the regional winners are announced on 7 December.
The judges are from The Restaurant Association of New Zealand (head judge Kerry Tyack) and event supporters are Wattie's, Meadow Fresh, Renault and Dish Magazine.
Mystery shopper judging is underway and cafés are adjudicated on a range of factors including atmosphere and appearance, menu, meal and coffee, service and staff interaction and overall impression.
Convenor of assessors, Kerry Tyack says the journey has been intense but enjoyable.
"There have been vast differences in the style and product offering between chic urban cafés and the warm and welcome atmosphere of rural mum and dad operations.
"Assessors have had world standard coffee and the most comforting of home-made tea and scones. We have come across the predictably professional and the surprisingly scrumptious. Every entrant has brought something unique to the table. Choosing between them is turning out to be more difficult than we ever imagined," Mr Tyack says.
This year more than 700 cafés entered to try and take the title from last year's supreme winner, Ironic Café in Dunedin. Full info can be found on the 2016 NZ Café of the Year website – www.nzcafeoftheyear.co.nz.
People's Choice winners for each region (determined by the public with 40,823 votes cast by café lovers)
Auckland                        Nick's Café – Waiuku
Upper North Island          Piccolo Licensed Café, Taupo
Lower North Island          Café Jacko, Palmerston North
Wellington                      Sweet Vanilla Kitchen, Lower Hutt, Wellington (regional finalist 2014)
Christchurch                    Pukeko Junction Café & Deli, Leithfield, North Canterbury
South Island                   Jester House, Tasman, Nelson (Supreme Café of the Year Award Winner 2013)
NZ Café of the Year 2016 Finalists
Auckland
Best Metro / CBD
Foxtrot Parlour, Ponsonby, Auckland
Scratch Bakers Headquarters, CBD Auckland
Wellesley St Kitchen, CBD Auckland
Best Suburban
Corellis, Devonport, Auckland
La Fourchette, St Heliers, Auckland
Luscious Café, Onehunga, Auckland
Classic Kiwi
Aroma Shed Café, Pakuranga, Auckland
Carriages Café, Kumeu, Auckland
VOLT Espresso, Newmarket, Auckland
Best Rural
Frenchot, Waiheke Island, Auckland
Red Shed Palazzo, Karaka, Auckland
The Jetty Licensed Café, Helensville, Auckland
Upper North Island

Best Metro/CBD
Abracadabra Café and Bar, Rotorua
Elizabeth Café and Larder, Tauranga
Victoria's Café Kitchen Bar, Taupo
Best Suburban
Central Deli, Mt Maunganui
LOLA Breakfast Bar & Licensed Café, Dinsdale, Hamilton
Violets Coffee @ Pit Lane, Frankton, Hamilton
Classic Kiwi
Baxters Café, Whakatane
Food For Thought, Thames
Sweet Painted Lady Café, Matamata
Best Rural
Colenso Country Café, Coromandel
L'Epicirie, Whakatane
The Refinery, Paeroa
Lower North Island
 Best Metro/CBD
Element, Whanganui (regional winner in 2014)
Little Black Bird Eatery, Hastings
Maina, Hastings
 Best Suburban
Aurum Coffee Roasters & Café, Parkvale, Hastings
Gusto Restaurant and Café, Moturoa, New Plymouth
Classic Kiwi
Aromas Coffee Lounge, New Plymouth
KR's Café & Catering Ltd, Feilding
Mothered Goose, Bulls
Best Rural
Café 39 South, Owhango
Essence Café, Feilding
Kristy's Café, Whanganui
Source, Taradale, Napier
Wellington
Best Metro/CBD
Prefab, Wellington CBD
The Flight Coffee Hangar, Te Aro, Wellington
Victoria St Café, Wellington CBD
Best Suburban
Benedicts Café, Lower Hutt, Wellington
Café Polo, Miramar, Wellington
Franco's Trattoria, Seatoun, Wellington
Classic Kiwi
HOME Café, Thorndon, Wellington
Mount Cook Café, Mount Cook, Wellington
Tiki Lounge Café, Lower Hutt, Wellington
Best Rural
Saddleback Café, Ohariu, Wellington
The Clareville Baker and Café, Carterton
The Village Grinder, Masterton
Christchurch
Best Metro/CBD
Café Kudos, Middleton, Christchurch
Café Metro Merivale, Christchurch
Columbus Coffee Riccarton, Christchurch
Best Suburban
Red Post Café, Culverdon, Christchurch
Thyme Café, Prebbleton, Christchurch
White House Black, Hallswell, Christchurch
Classic Kiwi
Little River Café, Little River, Christchurch
Meshino Espresso, Christchurch
Mocca, Timaru
Best Rural
Arabica Licensed Café, Ashburton
Legends Café, Pleasant Point
Waipara Springs Winery & Café, Waipara
South Island
Best Metro/CBD
Kiki Beware, Refreshment Room, Dunedin
Nova Dunedin, Dunedin
Vudu Café & Larder, Queenstown
Best Suburban
Graze, Lake Hayes, Queenstown
The Bespoke Kitchen, Queenstown
Vanilla Bean Café, Richmond, Nelson
Classic Kiwi
Chantilly Café, Blenheim
Maggies Kitchen, Greymouth
Vogel Street Kitchen, Dunedin
Best Rural
Kai Whakapai Café/Bar, Wanaka
Melrose House Café, Nelson
Penguin Café/Bar, Takaka
About Café Of The Year
NZ Café of the Year was launched by Image Centre Group (ICG) in 2012. More than 400 entries were received nationwide in the first year, 660 in 2013 and more than 1,000 in 2014. Regions are Upper North Island, Auckland, Lower North Island, Wellington, Christchurch and the South Island.
About The Restaurant Association of New Zealand
The Restaurant Association of New Zealand has hundreds of members covering the length and breadth of the country, representing every facet of the restaurant and hospitality industry.
The industry employs more than 100,000 people at nearly 15,174 restaurants and food outlets and generates sales in excess of $8 billion. Restaurant Association offers its members business tools, support and advice for growing their businesses and breaking new ground in the fast growing hospitality arena.
About Image Centre Group (ICG)
Auckland-based ICG is a diversified communications business with interests in printing, retail advertising, digital communications, video production and publishing.  Founded in 1989 as a pre-press provider, ICG now employs more than 200 New Zealanders across eight brands with one vision – to satisfy the brand or communications strategies of all its customers.  Full info at www.icg.co.nz
Issued for NZ Café of the Year by Pead PR
Contact:
Victoria Ellis, Pead PR, Tel: 0-9-918 2378, Mob: 022 657 7499 email: [email protected]