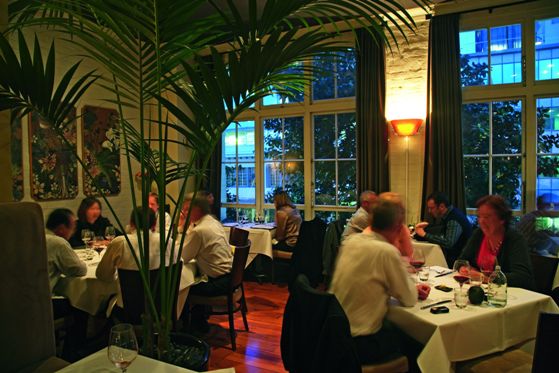 MEDIA RELEASE May 30, 2011
For the second-year running, upmarket CBD restaurant The Grove has won the Metro Audi Restaurant of the Year Award.
Announcing the award at a dinner tonight [Monday], Metro editor Simon Wilson said, "The Grove creates a wonderful fusion of sophisticated standards with warmly inviting hospitality.
"The room is smart but very comfortable, the service is impeccable and superbly friendly, and the food is exquisite, without being unduly fiddly.
"Whether it's a business lunch or a romantic dinner, a family celebration or a night out with old friends, The Grove provides a memorable experience for many different kinds of diners."
It's the ninth year for the Metro Audi Restaurant of the Year Awards, with judging done throughout the greater Auckland area.
The awards feature a Top 50 and several category awards, as well as the Supreme Award.
This year there was also a new award, the Audi Progressive Restaurateur of the Year Award, given to the restaurateur who is judged to have done the most to progress the standard of dining in Auckland. It was won by Makoto Tokuyama, the owner and chef at new Ponsonby restaurant Cocoro.
"There are many very fine new Asian restaurants in Auckland," said Wilson. "It's the biggest single trend we discovered in our judging this year. And most of them owe a debt to Makoto Tokuyama. He's the guy who has really raised the bar for the whole sector."
The Top 50 features nine brand-new restaurants. "When times are tough the really good places get sorted from the rest," said Wilson. "Some older places have not managed to keep up. But we were delighted to find so many new restaurants where they know the only way to succeed is with really high standards."
Cocoro was a big winner on the night, taking home the awards for Best Asian Restaurant and Best New Restaurant, as well as the Audi Progressive Restaurateur of the Year Award, and also being a runner up for the Supreme Award and a finalist for Best Wine List.
The other big winners included Coco's Cantina on Karangahape Rd, and Casita Miro on Waiheke.
Coco's Cantina was judged Best Casual Bistro and was runner up for Best Service. Its owners, sisters Renee and Damaris Coulter, were finalists for the Audi Progressive Restaurateur of the Year.
Casita Miro won Best Rural Restaurant and was runner up for Best Casual Bistro. Owner Cat Vosper was the winner of the Restaurant Personality of the Year Award which is judged by text voting from the public.
For further comment:
Simon Wilson, Editor, Metro 09 308 2736, 0273 780 518
The full list of winners is:
METRO AUDI RESTAURANT OF THE YEAR 2011
Supreme Winner The Grove
Runners-up: Cocoro, The French Café
AUDI PROGRESSIVE RESTAURATEUR OF THE YEAR Makoto Tokuyama, Cocoro
RESTAURANT PERSONALITY OF THE YEAR Kat Vosper, Casita Miro
Best Fine dining restaurant The Grove
Runner-up: The French Café
Best smart dining restaurant O'Connell St Bistro
Runner-up: Cibo
best upmarket bistro The Engine Room
Runner-up: Ponsonby Rd Bistro
best casual bistro Coco's Cantina
Runner-up: Casita Miro
best ASIAN restaurant Cocoro
Runner-up: Moochowchow
best italian restaurant Non Solo Pizza
Runner-up: Totó
best Rural restaurant Casita Miro
Runner-up: Te Whau
\Best value for money Thymes Tables
Best New Restaurant Cocoro
Best ServiceThe French Café
Runner-up: Coco's Cantina
Best dish John Dory with paua, miso and vanilla, at Sidart
Best Wine List
Clooney
Runner-up: O'Connell St Bistro
Best SHORT Wine List
Basque Kitchen & Bar
Runner-up: Winehot